After more than 135 years of selling delicious food, beer, wine, coffee, and other provisions in the heart of Napa Valley, it's hard to put a price tag on the celebrated general store Oakville Grocery. But Jean-Charles Boisset, the proprietor of Boisset Collection—a portfolio of luxury properties, including several wineries, in California and his home region of Burgundy, France—recently did just that.
In January 2019, he bought California's oldest continuously operating grocery market from the Rudd family. (His purchase also included the former Durant and Booth mansion next door—and the store's second location, in Healdsburg.) He was inspired by vivid memories of his first visit to the landmark shop during a family outing in 1982.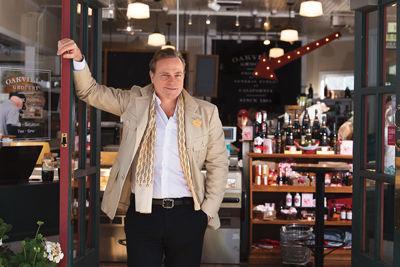 "I remember buying some fine cheeses, charcuterie, mustard, marmalade, and a selection of nice crusty breads that were all made with local ingredients," Boisset says. "We felt at home, relaxed, and enjoyed our experience so much. … It was a dreamy feeling that only exists in America, where you can really find everything."
Oakville Grocery dates to 1874 and has had a variety of owners over the years. But the market's biggest changes seem to be coming now, since Boisset took the reins.
While the shop's charming old-world feeling remains—as do its original hardwood floors and shelves—the menu has been updated. It features an array of artisan sandwiches, salads, cheeses, cured meats, sauces, preserves, and baked goods—most of them handcrafted by local purveyors. Boisset takes great pride in sourcing ingredients from eco-friendly, organic, biodynamic, and sustainable businesses.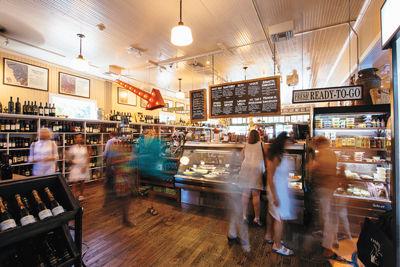 The wine selection has also been upgraded, going from just a few brands to more than 250 local bottles stored in a temperature-controlled vault. And several high-end cult wines are available by the glass; earlier this year, Screaming Eagle was poured at $600 a glass.
The latest addition to the complex is the 1881 Napa Wine History Museum and Tasting Salon, which has been installed in the restored Durant and Booth property. On its walls, visitors can view a series of historic photos and maps that honor Boisset's family roots, some of the region's old-fashioned farming styles, and Napa Valley's early innovators. Here, guests have the opportunity to taste many offerings from the Boisset Collection's new line of boutique 1881 Napa wines, with bottlings representing the 16 appellations of Napa County. If wine tasting isn't on the agenda, there is also a wide range of craft beers and ciders on tap, as well as coffee drinks prepared by Ohm Coffee Roasters.
"We are not changing the visions of our forefathers; we are simply enhancing them," Boisset says of the new Oakville Grocery. "For that reason, our goal is to do things extremely well in all categories we are focused on." 
To tell the stories of the artisans and purveyors represented at the market, Oakville Grocery has teamed up with our editorial team to produce the Napa Sonoma Live podcast. Tune in to hear those discussions and learn more about Boisset and his recent acquisition here.