From epicurean treats to Wine Country candles, here are four boutiques you must add to your shopping to do list.
---
Gourmet Treats: Napastäk Napa Valley
Napa
Napastäk, meaning "rabbit" in Armenian, opened in Oxbow Public Market last summer. In addition to selling ingredients from all over the world, this epicurean chefs' shop recently launched an eponymous line of flavored balsamic vinegars (try the prickly pear) and a line of hand-crafted pastas made from scratch. Visit the shop, and you are likely to be offered free samples of these items and others: Proprietor Lusine Hartunian believes sampling is a critical part of the shopping experience, and in early 2015, Napastäk will start pouring its own labels of wine as well. 610 First St., Ste. 14, (707) 226-7300, napastak.net.
Housewares Boutique: Mr. Trombly's Table
Duncans Mills
After selling tea from the tiny Mr. Trombly's Tea store for half a decade, Brian Trombly opened this outpost across the deck to sell housewares, dishes, and more. Look for kitchen utensils, cookie cutters, placemats, tablecloths, and breadboards. Also available are a variety of spices and condiments (olive oil, mustard, and vinegar) from local vendors such as Cazadero's Best Dog Ranch and Sonoma Harvest. Trombly prides himself on sourcing as much as he can from area producers and strives to offer sustainably made goods, making the experience about as Sonoma County as you can get. 25171 Main St., (707) 865-9610, mrtromblystea.com.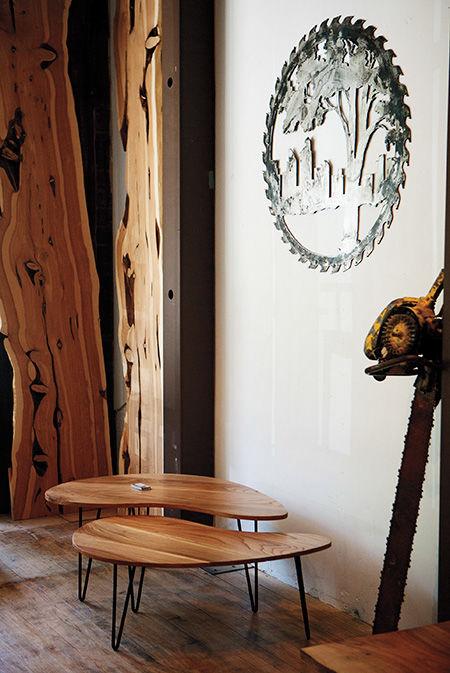 Hand-Crafted Furniture: Urban Lumber Company
Healdsburg
Reclaimed wood is the star of the show at this narrow furniture shop just off the plaza in downtown Healdsburg. Owner Seth San Filippo developed his own six-foot-wide band saw for slicing and dicing giant tree trunks, and the resulting pieces are crafted into stark and stunningly beautiful tables, many of which feature at least one edge with the tree's natural bends and folds. Nearly all of San Filippo's wood is sustainably sourced from the Eugene, Oregon area, which keeps the gorgeous natural resource out of landfills. 328 Healdsburg Ave., (707) 756-5044, urbanlumber.co.
Candle Shop: Vineyard Tales
St. Helena
Most used wine bottles end up in the recycle bin. Thanks to Vineyard Tales, a new shop in downtown St. Helena, there's another option: candles. Last fall, Felipe McAlister and Briston Sullivan opened a special chandlery that "upcycles" old bottles into candles. Customers can purchase premade candles or bring in their own empties to be cut and made on demand. Vineyard Tales' candles are made with soy wax and eco-friendly wicks, and many of them are crafted to capture the scents of wine and the winemaking process, including yeast and oak barrel. 661 Main St., (707) 968-5086, vineyardtales.com.