Seeing the success of San Francisco's Ferry Building and its condensed sibling Napa's Oxbow Public Market, Healdsburg has thrown its hat into the epicurean mercantile ring with the Shed. The new two-story warehouse resembling a metal barn boasts a café, bar, and market, and aims to attract locals and visitors alike. Bordered by Foss Creek and conveniently positioned across from the Saturday farmers market, the Shed's floor-to-ceiling glass garage doors roll up to create an indoor-outdoor ambience enjoyed year-round.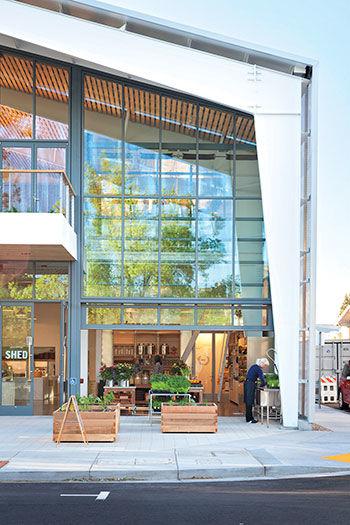 "It's meant to be a distribution center for farmers to honor the tradition of agriculture and wine in the region," says owner and partner Cindy Daniel. "It's also a resource for the community and fills in some of the gaps in Healdsburg."
Various aspects converge into one integral tenet, which as Daniel underscores "is about illustrating what is good food." Peruse fresh produce from local farmers, purchase select edibles by bulk, procure cooking and gardening tools, or sample sips from 21 taps at the fermentation bar. Take a seat for breakfast or lunch after stocking up on provisions for dinner—and that's just on the ground floor.
Embodying "a food jewel box," as Daniel puts it, the Shed's first level features three distinct areas: a pantry and larder (with a working flour mill from Austria), a home goods section, and gardening supply outpost. The upstairs loft provides high ceilings, breathtaking views, and ample space for classes and special events. From lessons on making vinegar to hosting a small wedding, there's a draw for everyone. "There are different layers of storytelling here," says General Manager Kenny Rochford, "so people are equipped to take it further if that's what they want to do."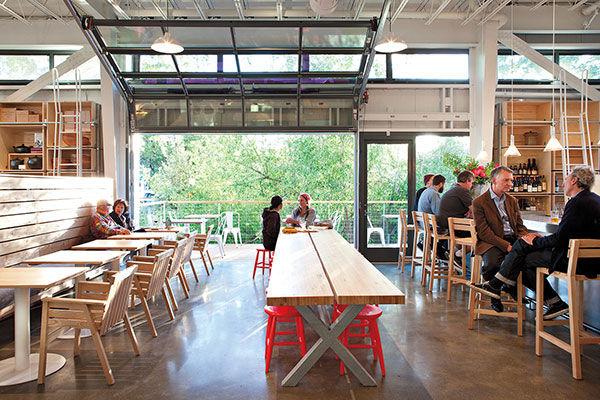 As Daniel quips, "It's a little bit of a lot of things woven together." Translation? This whole is greater than the sum of its parts.
25 North St., Healdsburg, (707) 431-7433, healdsburgshed.com.