One of the hottest places to be right now in Napa Valley isn't a winery or restaurant: It's the Oxbow Public Market, the gourmet shopping metropolis. Here are a few don't-miss marvels for your next visit.
---
1. Mix it up at the distillery.
→ You'll find everything you desire and more at this speakeasy-style cocktail emporium. Owner Arthur Hartunian stocks more flavors of bitters than you'll find anywhere else. (707) 226-6529, napadistillery.com.
2. Tour your taste buds.
→ Name the spice, and you'll find it at Whole Spice, where colorful and fragrant herbs from around the world abound. Harissa, a hot chile pepper–based spice blend, is a best-seller. "We can't make enough of it," says proprietor Shuli Madmone. (707) 256-0700, wholespice.com.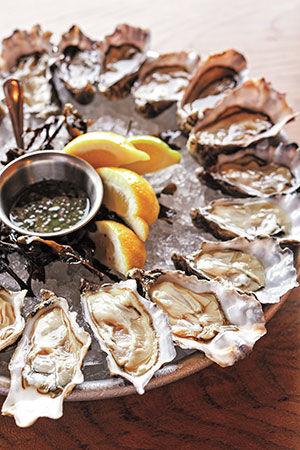 3. Slurp local oysters.
→ Nothing beats fresh, briny Sweetwater oysters with Hog Island's signature sauce enjoyed on the market's patio. (707) 251-8113, hogislandoysters.com/bars/napa.
4. Become a butcher.
→ Make salumi or break down a whole hog at one of Fatted Calf's courses. Classes include lunch (and a doggie bag to take home). (707) 256-3684, fattedcalf.com.
5. Grab tomorrow's breakfast.
→ Stop by The Model Bakery to pick up fluffy, house-made English muffins made famous on Food Network's The Best Thing I Ever Ate. (707) 259-1128, themodelbakery.com.
6. Stop and smell the roses.
→ Follow your nose to the Monkey Flower Group cart for flowers grown locally and curated by floral designer Jaime Giorgi. (707) 418-8615, themonkeyflowergroup.com.
7. Bring Wine Country home.
→ Get a rustic collection for your dinner table or a Napa-made bag for wine on the go at the Poor House. (707) 294-2066, poorhousenapa.com.
8. Savor a gluten-free treat.
→ Indulge your sweet (or savory) tooth at Cate & Co., where everything on the menu—including sandwiches and cookies—is gluten free. (707) 226-1940, oxbowpublicmarket.com/merchants/cate-co.
9. Buzz-worthy.
→ Visit Marshall's Farm Honey cart for raw, pure honey from Napa Valley and the Bay Area. (707) 556-8088, marshallshoney.com.
10. Finally, wash it all down.
→ Happy hour at chef Todd Humphries' Kitchen Door features wine on tap, and $1 chicken wings on Tuesdays and Wednesdays. (707) 226-1560, kitchendoornapa.com.