The downtown Napa scene changed dramatically 10 years ago with the opening of Oxbow Public Market. Gone are the days when Wine Country tourists drove past Napa, heading up valley toward the iconic wineries of Yountville and St. Helena. "Twenty-five years ago, nobody knew there was a 'Napa' in Napa Valley," says Craig Smith, executive director of the Downtown Napa Association. Smith recalls pre-Oxbow Napa—specifically the east side of the river—as a sleepy, blue-collar town with no real scene to speak of. Indeed, the founders of Oxbow took a chance opening a venue dedicated to the craft of cuisine in the predominantly industrial town. But with perseverance, Oxbow Public Market proved to be a major stepping stone in transforming downtown Napa into the California culinary capital it is today.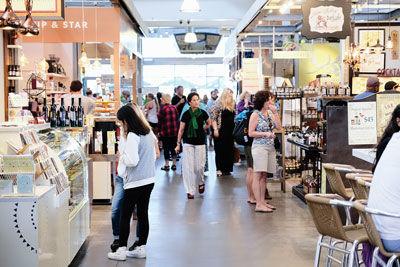 Though wildly popular now, Oxbow had growing pains during the early years, recalls Steve Carlin, the market's founder and developer. Most of it came down to timing: Oxbow's opening in 2007 was shortly followed by the closure of the town's biggest tourist attraction, Copia; Napa Flood Project construction blocked the bridges connecting the east and west sides of the Napa River; and, of course, the nation was on the verge of a major economic crisis. But Carlin held strong to his vision of creating a communal space where local artisans could showcase and sell their work—be it food, wine, or art—directly to consumers.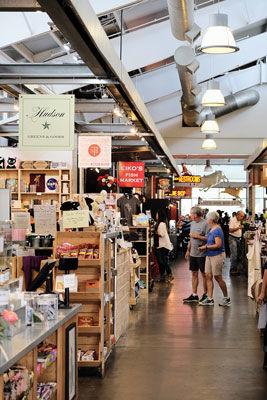 What Oxbow provides, Carlin explains, is a steady, safe space that encourages retailers to market their brands in a real and personal way. The effects have been notable: Many of the once-boutique businesses that have taken up residency in Oxbow are now globally recognized names, including Gott's Roadside, The Model Bakery, and Kara's Cupcakes. But big or small, vendors at the market still maintain a grassroots mentality, and guests benefit by making direct contact with the people behind the product.
It's that original farm-to-fork outlook that continues to serve the local Napa community and attract tourists from all over the world. To celebrate its success, Oxbow Public Market will host events throughout 2018, including a monthly local's night, culinary demonstrations hosted by the market's restaurateurs—such as Eiko's chef Tateki Noma breaking down an entire salmon—and live entertainment, as well as specials. oxbowpublicmarket.com.