NAPA
Franciscan Estate, St. Helena
An early adopter of wine-blending seminars, Franciscan Estate offers a sophisticated setting for a wine-blending experience called the Magnificat Team-Building Blending Competition, which is equal parts class and contest. You'll pass by the winery's iconic outdoor fountain on your way down a long hallway lined with ribbons and large-format bottles. Once you take a seat in the elegant Wine Library, you'll receive your challenge: Divided into two groups, you'll compete for the approval of a wine critic (your guide).
Squaring off across the table from your rivals, you'll use beakers and pipettes to create your best approximation of Franciscan's high-end Bordeaux blend, Magnificat. Be ready to bring your A-game—the competition can get fierce. Good luck!
$75 per person, includes one bottle per team. 1178 Galleron Rd. at Hwy. 29, St. Helena, (707) 967-3993, franciscan.com.
Judd's Hill, Napa
For something completely different, check out the Bottle Blending Day Camp at Judd's Hill. The focus here is on fun, and if you happen to learn something, that's OK, too. If your group is large enough and weather permits, you'll have camp on the "vineyard-view crushpad" overlooking the vineyard that sources Kairos Cabernet Sauvignon on Silverado Trail.
Pouring wine into graduated cylinders and flasks, you'll measure and mix high-contrast purple "juice." Lots of vino will be sipped, swirled, and spilled as you assemble your favorite blends that will be peer-reviewed by your camp counselors. The fun continues with group bottling, hand corking, and capping before affixing your personalized label.
Judd's Hill specializes in large groups (up to 100 people), which makes the camp a popular destination for team-building sessions. You'll also leave with a lot of your proprietary wine—a bottle per person for groups of eight or more. Why not take home a pallet? At the blending camp, Judd's Hill uses barrel samples of Cabernet Sauvignon, Merlot, Petite Verdot, and Cabernet Franc from Napa Valley appellations.
Group pricing starts at $95 per person. 2332 Silverado Trail, Napa, (707) 255-2332, juddshill.com.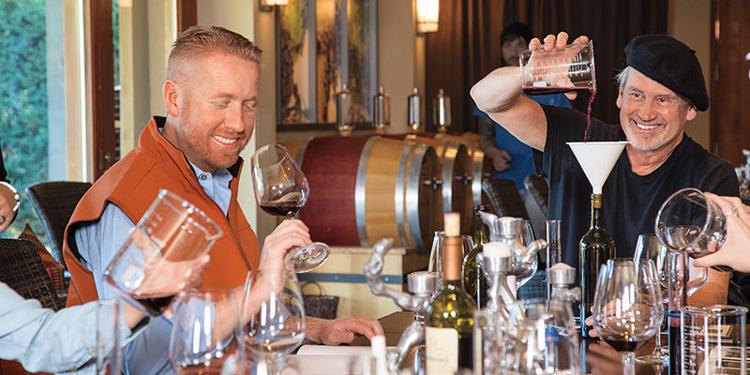 Conn Creek, St. Helena
In 2006, Napa Valley's Conn Creek Winery built a room dedicated to wine education. Stacked with barrels of Cabernet Sauvignon from 14 Napa sub-appellations, the room became the training ground for industry professionals wanting to explore Napa Valley's terroir with their eyes, nose, and mouth.
More than 10 years later, the Conn Creek Barrel Blending Experience is a Napa institution. Get ready to take notes: Staying true to its early history, the seminar is intensely educational.
After stopping in the tasting room to sample Conn Creek's top blend, Anthology, you'll enter a hushed room with dramatic spotlights, where—with the help of an aroma wheel that matches terms to flavors—you'll learn to recognize the characteristics of Napa cab growing areas. Then, you'll measure and mix a blend using laboratory beakers and pipettes. Your task? To create a Bordeaux blend using the provided 2016 Napa Cabs and a smattering of Merlot, Cabernet Franc, Petit Verdot, and Malbec varieties.
Once you've mixed your preferred proportions, you'll bottle, label, and cork your masterpiece, then take home a bottle of your own wine and gallons of enological know-how.
$125 per person, which includes a bottle of your own wine and a tasting of Anthology. 8711 Silverado Trail, St. Helena, (707) 963-9100, conncreek.com.
SONOMA
Ram's Gate Winery, Sonoma
If blending isn't your thing, consider the Day in the Life experience at the beautiful Ram's Gate Winery, a producer of single-vineyard wines. Begin with a morning ramble in the Ram's Gate Estate Vineyard. Your guide (most often the estate's winemaker) will discuss trellising, viticulture, soil types, and exposures.
Get ready to get your hands dirty: If there's thinning or leafing to be done on the vineyard canopy, you'll do it. Weather permitting, head over to the estate garden to pick vegetables for lunch, stopping in the apiary to witness the winery's busy bees producing honey that pairs impressively with Chardonnay. Descend to the barrel hall for the wine-making task of the day, which can include sorting grapes or bottling.
Finally, guests will enjoy a five-course flight  in the tasting hall featuring a seasonal pairing of bites designed to complement the wines. The cuisine by executive chef Taylr Behnam Cuneo pairs seductively with Ram's Gate's sultry wines.
$295 per person, offered through Nov. 15. Price does not include wine. 28700 Arnold Dr., Sonoma, (707) 721-8700, ramsgatewinery.com.
Ravenswood Winery, Sonoma
True to its roots, this legendary Sonoma Valley house offers a blending experience for the ages. Called Blend Your Own Unwimpy Wine, the event echoes Ravenswood's longtime commitment to bold reds.
Once inside the cool environs of the Vineyard Designate room (previously the Ravenswood bottling room), you'll craft what's known as a field blend using Zinfandel, Petite Sirah, and Carignane varieties. The 2014 blending juice is sourced from top vineyards as far afield as Sonoma's Dry Creek Valley AVA and Napa's St. Helena AVA.
Your knowledgeable wine guide will explain the chemistry of winemaking, including the makeup of the fruit, acids, and tannins. Donning a cowboy hat in honor of the winery's founder, Joel Peterson, your guide will also throw in more than a few quips and famous quotes as he or she recalls the history of Zin in California.
Eschewing fancy equipment, you'll measure your blend in a graduated cylinder. Then, you'll cork your 375 ml bottle (a split) and, in a time-honored wine tradition, seal it with a hot red wax.
$75 per person, including a 375 ml bottle of your blend. 18701 Gehricke Rd., Sonoma, (707) 933-2349, ravenswoodwinery.com.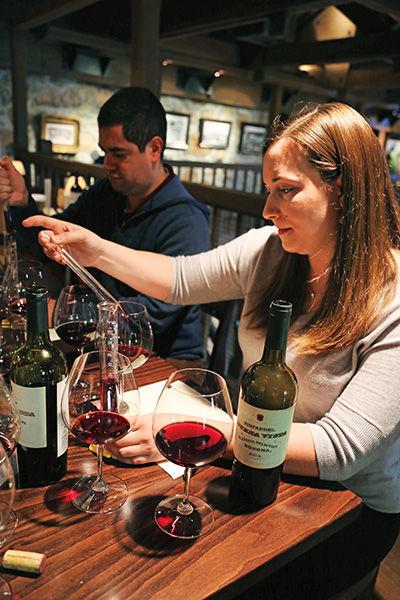 Buena Vista Winery, Sonoma
If you've ever imagined being a winemaker in the late 1800s, consider a trip to Sonoma's historic Buena Vista Winery. Slipping on a long black wool coat and top hat circa 1857 (the year Buena Vista was founded), you'll head deep into the cavernous wine caves of this stone winery for the Be the Count blending experience.
Pass through the tasting room and the white-on-white Bubble Pass lounge to arrive in the Cave of Curiosity, where you'll blend wine surrounded by historic tools and treasures. Keep company with such oddities as glass-encased white owls, golden crowns, and a wine guide who sometimes speaks in sonnets.
You'll create an eclectic blend from Grenache, Syrah, Zinfandel, and Merlot, then choose your favorite from one of three blends. Once you've picked, you'll bottle, cork, and add a personalized label before leaving with a bottle of your magical vino.
Do not miss the historic wine museum upstairs, which showcases an impressive collection of wine tools and corkscrews.
$100 per person, including bottle of wine. 18000 Old Winery Rd., Sonoma, (800) 926-1266, buenavistawinery.com.