A weekend escape to Napa or Sonoma County conjures up images of plush resorts, picturesque bed and breakfasts, and swank vacation rentals. But for those who want to explore the region's great natural beauty, camping can be a fun alternative. Of course, given the glamorous nature of Wine Country, you don't have to worry about roughing it, even when you're sleeping in a tent or a trailer. These upscale retreats offer the best of both worlds: a true outdoorsy experience with many of the luxuries of a high-end hotel and the fun-filled amenities of a resort. Best of all, you can tell your friends you went camping—even though you didn't have to sleep on the ground or deal with bug bites.
AutoCamp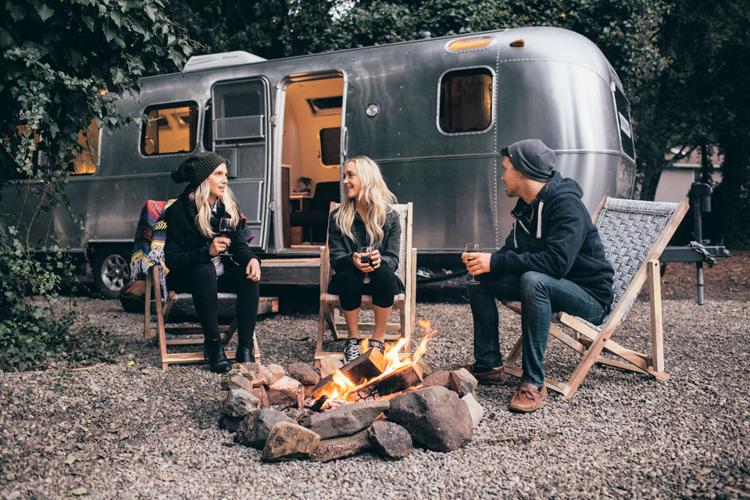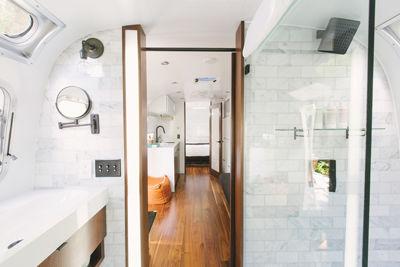 A trailer park has never been so stylish! Two dozen shiny silver Airstream trailers surround a hip midcentury-​modern clubhouse nestled in a grove of redwood trees near the Russian River. Each of the trailers has its own shower, memory foam mattress, TV, sound system, kitchenette, and private firepit with a grill (and cooking gear) for genuine campfire cookouts. Spend an extra $30 on a Premium Airstream trailer, set along a seasonal creek, to get a more private space. Ten luxury tents (with wooden floors and queen beds) and one cabin complete the glamping complex—all connected with Wi-Fi, of course.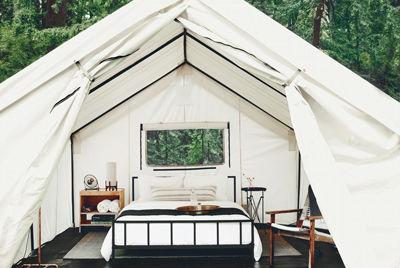 AutoCamp offers other amenities,too. A cool-looking clubhouse has a communal firepit, around which visitors can share travel stories with fellow glampers. A general store sells essentials like beer and wine (as well as snacks and camping basics), and for the tent-goers, there's also a shared bathroom and shower area. Best of all, the Russian River is a short walk from the campsite, while the town of Guerneville is about a mile away—making it an easy walk to restaurants, bars, and shops for those looking for a quick escape from camping life.
Tents from $210 per night; trailers from $235. autocamp.com.
Mendocino Grove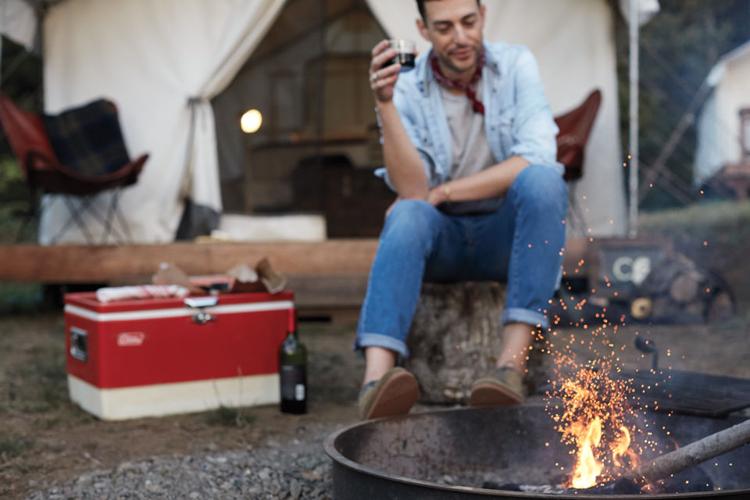 To the north, along the coast, the popular glamping destination of Mendocino Grove has more than 60 canvas-walled, wood-floored tents spread over 37 acres of woodlands on the border of Mendocino Headlands State Park. In addition to exploring the scenic area, visitors can laze on a hammock at the campground; saunter to the meadow for a game of horseshoes, bocce ball, or cornhole; or borrow a board game or a book at the Commons house. The tents are light and airy, with comfortable beds, electricity, heated mattress pads, cotton linens, and lanterns. They share a centrally located bathhouse (towels, shampoo, and soap provided) with indoor and outdoor showers that are more resort-style than gritty backcountry.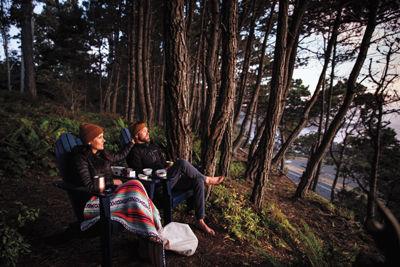 Most tents have one bed for two people, but larger floor plans include double bunk beds for families and sleep up to six people; some are dog-​friendly, as well. Each tent comes with a private firepit, a picnic table, and chairs on its small deck. While you'll have to provide your own camping or cooking gear, those items are available for rent or purchase at the Commons area, which also has a 24-hour tea bar. Try to get there for the Friday Night Dinner, served around the campfire, where you can get a simple soup-bread-​dessert meal for $20, and wash it down with a local wine or beer.
From $139 per night for a two-person tent to $279 per night for a group tent that sleeps four. mendocinogrove.com.
Bothe–Napa Valley State Park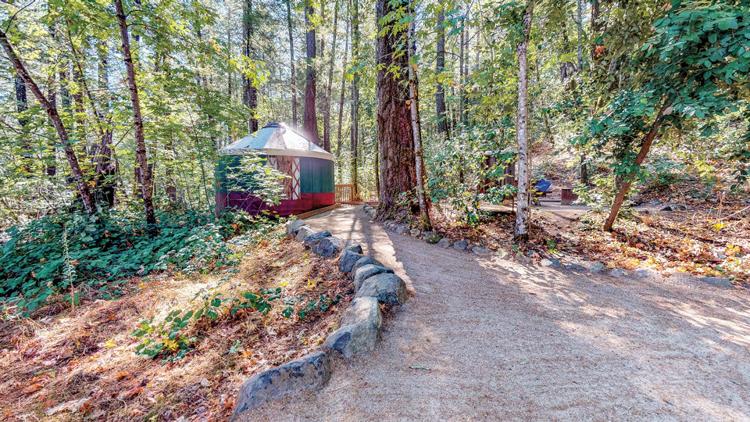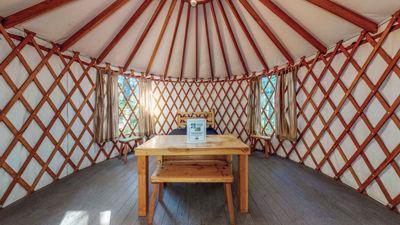 Napa doesn't offer quite the spectrum of glamping options that Sonoma County does, but style-seeking campers can find 10 yurts at the Bothe–Napa Valley State Park. Each of these circular tents features a platform bed, tables and chairs, a private firepit and picnic table, and nearby bathrooms and showers. Extra cots are also available, which means the larger units can sleep up to six people.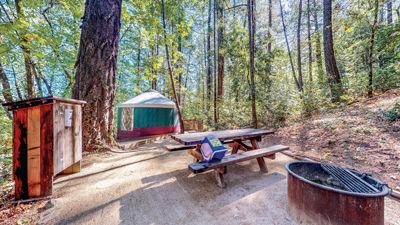 The yurts don't have heat, electricity, or Wi-Fi, and you'll have to bring your own bedding and towels, but they certainly are a step up from tent camping and cheaper than many other fully equipped glamping locations. For those looking for a little more comfort, the park also offers five restored cabins complete with kitchens, gas heaters, and bathrooms.
As for amenities, the park offers guided hikes and Junior Ranger programs on summer Saturdays, and the visitor center is open on weekends and busy weekdays. Guests can use the pool for a $5 fee.
Yurts from $60 per night; cabins from $150 per night. napavalley​stateparks.org.
Petaluma Koa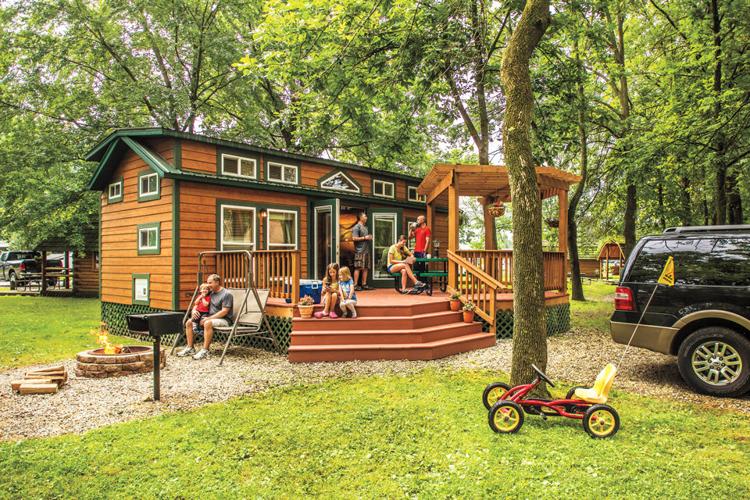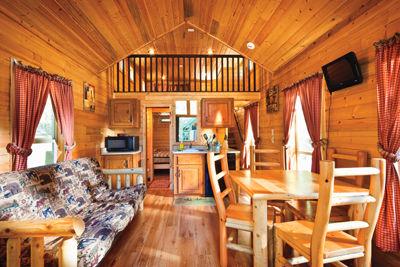 With its combination of campsites and resort-style amenities, this expansive Sonoma County property could easily be labeled "country club camping." Its giant pool, playgrounds, huge trampoline, climbing wall, karaoke machines, hayrides, and petting zoo (featuring cute dwarf goats) make the Petaluma KOA the Disneyland of campgrounds.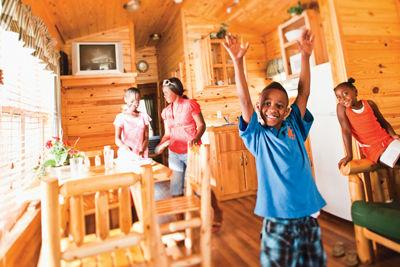 While plenty of tented campsites and RV spots are available for those choosing a rougher option, glampers may prefer the deluxe cabins. More than a dozen units feature their own bathrooms, kitchenettes, and TVs, and some have private decks and patios. Pull-out couches mean the larger units can accommodate up to six people—ideal for families and groups who want to be connected to the outdoors but still retain most of the comforts of home.
Basic cabins from $90 per night; deluxe cabins from $160; deluxe cabins with lofts from $195. koa.com/campgrounds/san-francisco.
Safari West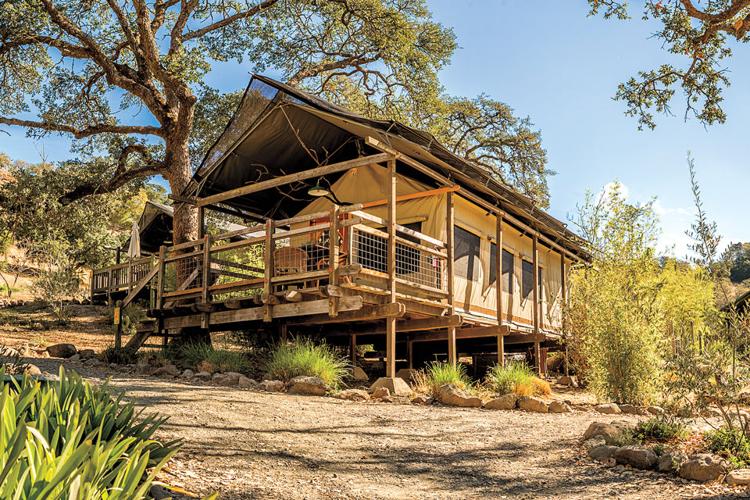 Wind ruffles the walls of a canvas tent. Hoots, squawks, and honks echo off the hillside outside. But you're happily tucked under an electric blanket on a cushy bed, secure in a large African-​style tented cabin, complete with electricity, a  bathroom, and some with bunk beds for the kids. Your dreams of seeing African wildlife on the savanna are about to come true the next morning on a game drive with Safari West.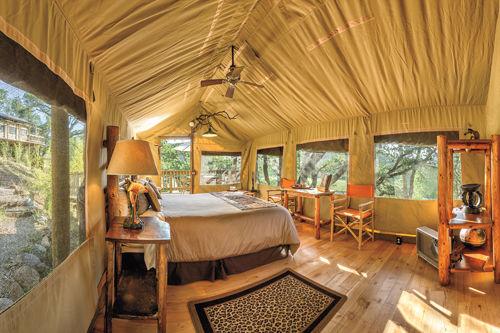 Safari West's 400-acre preserve in rural Santa Rosa is home to nearly 900 animals, including some that wander freely across forested hills, while others patrol their large fenced-in enclosures. Hop aboard an old-school modified Jeep to catch a glimpse of a zebra on the game drive, which takes you down bumpy dirt roads to find herds of animals. (Morning and late afternoon are the best times to see animal activity.) An expert guide shares fun facts along the way, then takes guests on a walking tour of the enclosed habitats.
Back at camp, you can toast the sunset from the balcony of your tent, watching giraffes at nearly eye level across the fence. For dinner at the on-site restaurant, racks of ribs roast over an open fire on a grill big enough for an elephant. Buffet-​style chicken, noodles, beans, and salad complete the meal, with beverages available at the bar.
From $310 per night. safariwest.com.
Additional Glamping Options
Boon Hotel and Spa
In Guerneville, near the Russian River, the full-service Boon Hotel has three luxurious tents set up in the summer months. Each boasts wood floors, platform beds with organic linens, robes, and a minibar. Shared bathrooms are a short walk away. For a different spin, book the cozy Boonito vintage mini-trailer. boonhotels.com.
Casini Ranch Family Campground
Located on 110 acres along the Russian River, this Duncan Mills campground primarily serves tented campers and RVs, but also offers cottages and trailers for rent, with units sleeping up to 10 people. The property includes a large beach with a boat-launch ramp and bonfire area. Fishing is permitted. casiniranch.com.
Glamping Hub
This Airbnb-style website offers links to both commercial glamping outposts and owner-rented units, spanning everything from tents and yurts, to upscale cabins, a "Hobbit hut," a tree house, a water tower, and even a clothing-optional retreat for those so inclined. glampinghub.com.