Restoring a dilapidated Victorian home in downtown Napa was never part of Lauren Ackerman's plan.
"I thought, 'Somebody should save this house.' I never dreamed it would be me," says Ackerman.
A successful businesswoman-turned-vintner and philanthropist, Ackerman was drawn in by the 1888 Queen Anne Victorian.
"The minute I came in, I was hooked," Ackerman says of the Randolph Street property, originally built for $7,500 (compared to a typical cost of $1,000 at the time). Over the years, the home changed hands several times, and while improvements and changes were made, Ackerman faced costly deferred maintenance expenses.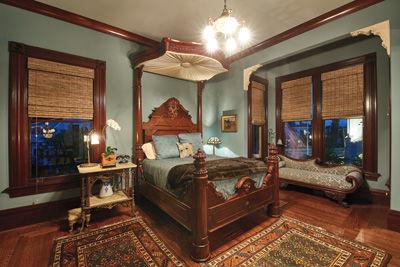 After nine months of negotiations, she began the five-year process of restoring the historic Napa home in 2010.
Ackerman was determined to get the restoration right. "If I wanted it to be authentic, I had to know what was real," says Ackerman. To that end, she spent six weeks studying the
Victorian era at Oxford University.
She scoured antiques stores and the Internet to furnish the Ackerman Heritage House with everything from silver flatware, clocks, and embroidered chairs, to the antique china used for the monthly Sunday afternoon tea.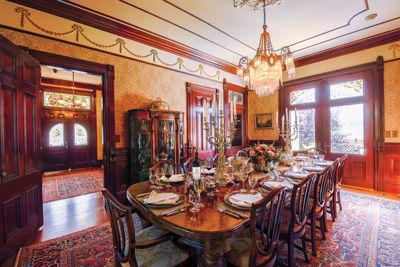 After painstaking rehabilitation, the showplace now boasts modern upgrades such as a gourmet kitchen. Visitors can join in a chef-led food and wine pairing lunch that serves Ackerman Family Vineyards and Lloyd Cellars wines (Rob Lloyd is Ackerman's winemaker), alongside three courses prepared with locally sourced ingredients. The chef's menu changes seasonally and might include the likes of baked artichoke heart on toast, porcini-encrusted salmon, and a chocolate waffle. A minimum of two guests is required.
The Aviary, a restored 1910 carriage house in the garden behind the Ackerman Heritage House, is now a wine-tasting room. Tastings range from $55 to $75 and are available by appointment only. Afternoon tea with a house tour is $67, and the food and wine pairing lunch costs $195 per person. Reservations are required for all activities. The Ackerman Heritage House is also available for private events. ackermanfamilyvineyards.com.