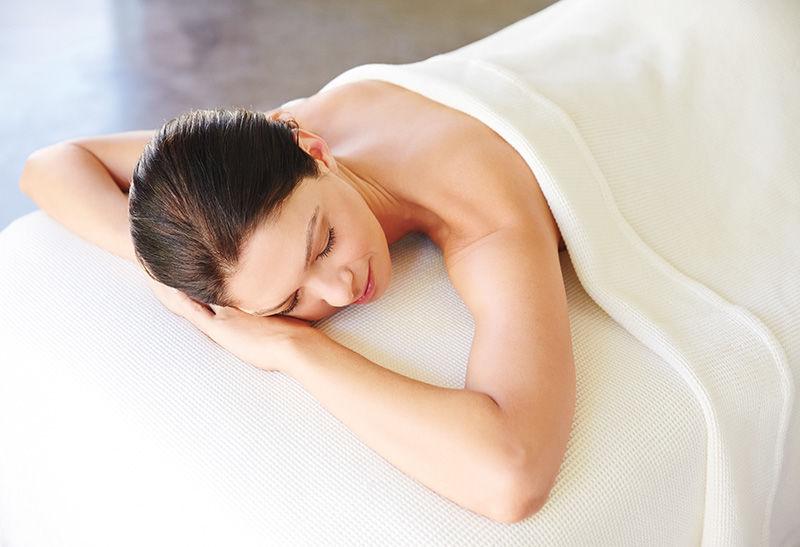 Looking to experience the best that wine country has to offer? Then you've come to the right place. But we're not talking about the best Pinot Noir or Chardonnay: The ultimate weekend should include a trip to the spa. Check out these five destinations offering everything from private hot springs to Prosecco in front of the fire, and plan your next spa adventure.
---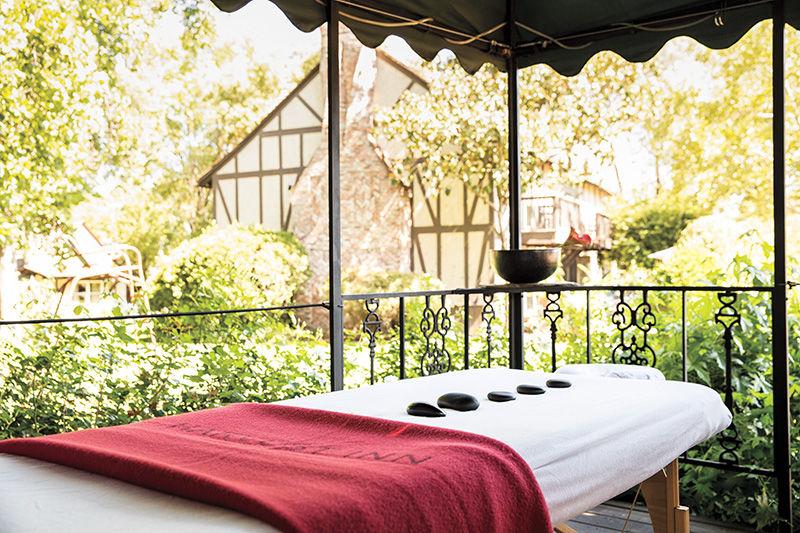 Garden Escape
Harvest Inn by Charlie Palmer
St. Helena
Nestled on eight and a half acres of exquisite gardens, the Spa at Harvest Inn is located poolside with five treatment rooms—two cottage style—surrounding an outdoor patio. A full menu of spa offerings is available, including massages, facials, and body treatments. In warm weather, opt for the Redwood Grove massage area overlooking the Whitehall Lane vineyards. The romantic gazebo is the perfect spot for enjoying a couple's massage or a gentle breeze as you relax. The Harvest Inn also features a sculpture garden and a new Charlie Palmer restaurant, the Harvest Table, so you can pamper all your senses—even your taste buds.
Our favorite: The Massage Trio treatment, a medley of spa favorites. The experience begins with warm towels and your choice of aromatherapy oil blends followed by a hot-stone massage and an invigorating foot scrub. You'll receive head-to-toe attention, as the treatment ends with a soothing head or foot massage.
Bonus: The thoroughly indulgent addition of a warm mini-waterbed to the massage table makes for a blissful spa experience.
1 Main St., St. Helena, (707) 963-9463, harvestinn.com.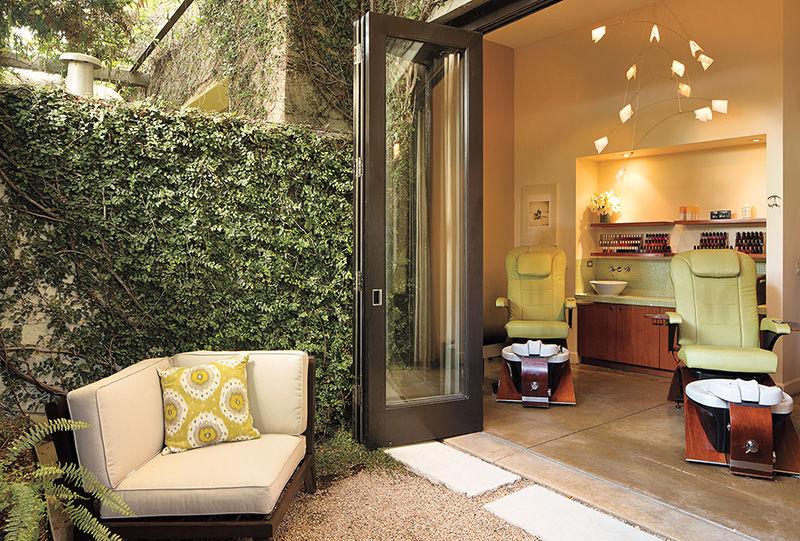 Seasonal Sensations
Hotel Healdsburg
Healdsburg
Just off Healdsburg Plaza is the Spa Hotel Healdsburg, a cozy nook offering treatment options based on a garden-to–massage table philosophy. Locally sourced ingredients and seasonally designed treatments help guests enjoy the flavor of Healdsburg, spa style. The spa's six rooms also include a couple's massage suite for romantic getaways. Or choose a spa package such as lunch at nearby Pizzando or True Romance, featuring sparkling rosé and truffles made by the Dry Creek Kitchen pastry chef.
Our favorite: A scrub with Meyer lemon and sage, followed by a 50-minute, Swedish-style ginger butter massage. These invigorating treatments begin with a scrub of pomace sourced at Lambert Bridge Winery, followed by an application of ginger butter created by Michele's Apothecary, a local skincare company. Postscrub, steaming towels are placed on your back, leading to a massage with a blend of warm ginger essential oils. The combination of scrub and moisturizers leave your skin smooth and silky, while the flowing pace of the massage gets your circulation moving.
Bonus: The Jacuzzi and pool area is a lovely space to enjoy quiet reflection before or after treatments. It's gracefully covered by wisteria and decorated with soothing blue tiles that evoke a complete hydrotherapy oasis.
327 Healdsburg Ave., Healdsburg, (707) 433-4747, hotelhealdsburg.com.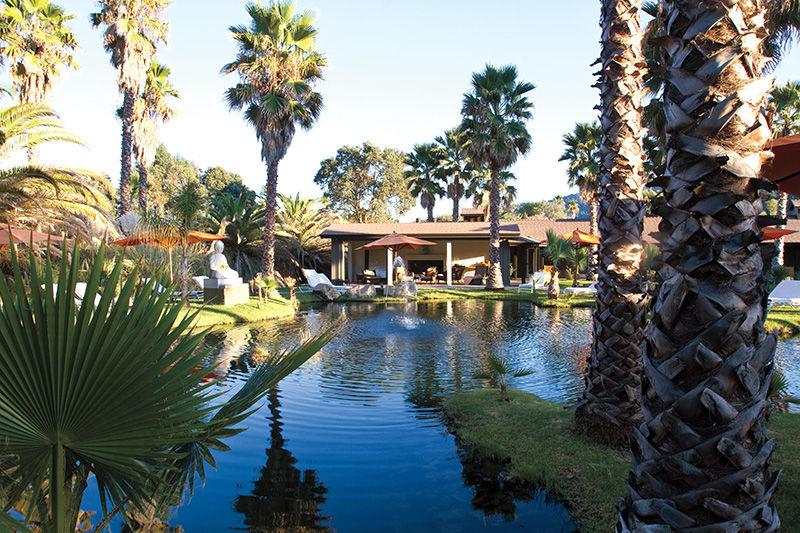 A Natural Wonder
Indian Springs
Calistoga
Imagine floating in a mineral spring pool under a night sky, gazing at the moon and stars above as the steam from a natural geyser billows around you. At Indian Springs Resort and Spa—one of Wine Country's most magical natural wonders—this dream comes true. The historic charm of Indian Springs has attracted spagoers for decades, and a recent renovation of the property has only enhanced the already notable destination. The spa is the crown jewel, featuring mud baths that use mineral waters from the property's geyser. With a number of treatment rooms situated around secluded gardens, this spacious spa boasts several lounge areas, both indoor and outdoor. The geyser-fed pool next to the spa stays open late and offers many amenities, including cucumber water and endless towels.
Our favorite: The 100-minute massage. This indulgent treatment is 100 minutes of pure bliss that focuses on areas of tension, with expert attention to detail. With its Swedish-style techniques and luxurious oils, the experience will leave you feeling tension-free.
Bonus: Relax before or after your treatment in the tranquil Buddha Pond spa garden, which offers a meditation pond of mineral water, where you can bask in even more of the Indian Springs mojo and feed your spirit.
1712 Lincoln Ave., Calistoga, (707) 942-4913, indianspringscalistoga.com.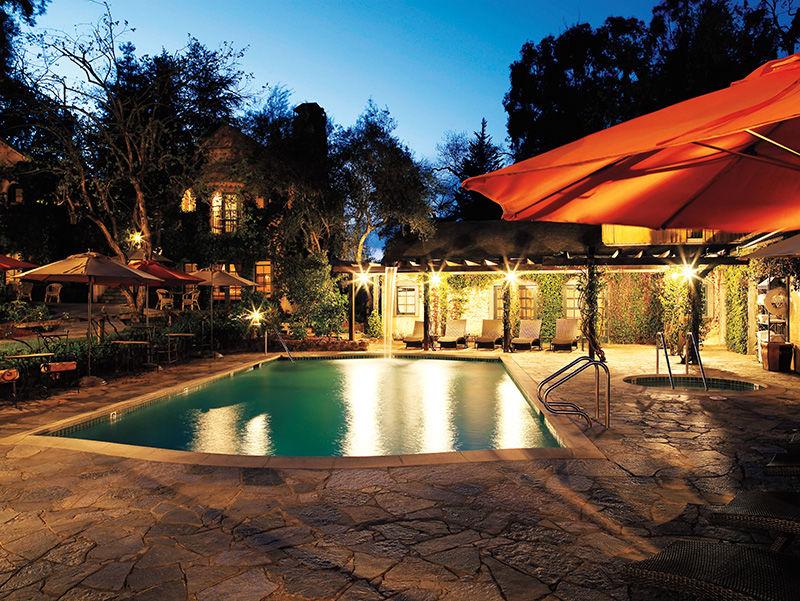 Mediterranean Hideaway
Kenwood Inn and Spa
Kenwood
A Mediterranean-style villa welcomes you to Kenwood Inn and Spa set amidst the rolling vineyards of the Valley of the Moon. Enter a private world of fragrant gardens, bubbling fountains, and artisan craftsmanship, as you relax and enjoy all that Wine Country has to offer. The Kenwood Inn Spa, located near one of three heated pools, is a cozy ivy-covered cottage with several treatment rooms and a covered outdoor massage area. Entering the lounge, you will be greeted by a warm fire and your choice of Prosecco, tea, or fruit-infused water. The spa showcases vinotherapy-inspired treatments, which incorporate the healing powers of the grape to help promote anti-aging of the skin.
Our favorite: The 80-minute hot-stone massage: a warming, muscle-melting treatment. The experience starts off with a spritz of peppermint-lavender water and an application of face cream. The masseuse places a hot stone under your neck and, starting at your feet, massages your body with additional hot stones. Hot towels are applied after the massage, leaving the body warm and oil free. Heated stones tucked between the toes midway through the massage make this a head-to-toe experience.  
Bonus: Elegant spa snacks are a Kenwood Inn specialty. Relax in the lounge with a complimentary glass of Prosecco and biscotti.
10400 Sonoma Hwy., Kenwood, (707) 353-6966, kenwoodinn.com.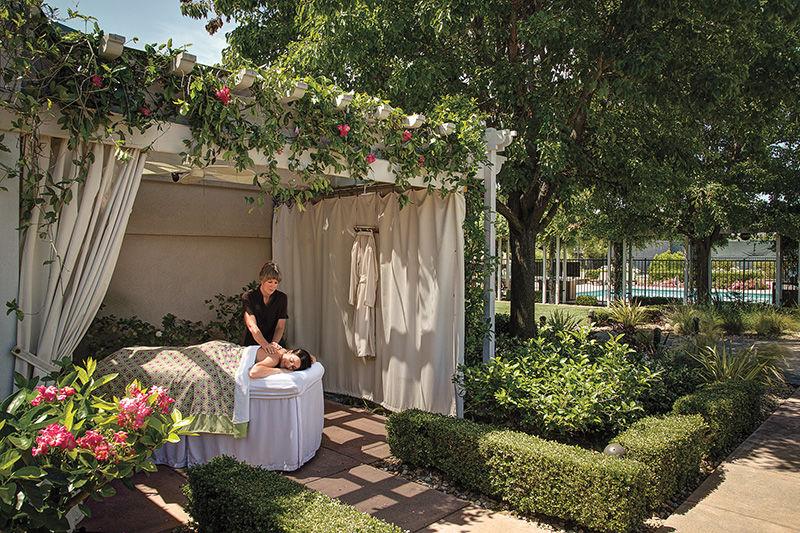 Full-Service Resort
Silverado Resort and Spa
Napa
Set off by stately palms, the historic 1870's manor at the Silverado Resort and Spa lies at the heart of the expansive 1,200-acre property. Friendly staff sets the tone at check-in, welcoming you with warm smiles and attentive service to this iconic Napa Valley resort. Offering something for everyone, Silverado features two PGA championship golf courses, 13 tennis courts, 10 swimming pools, and when downtime calls, a complete spa and fitness complex. Located across the street from the main property, the Spa at Silverado is located in a large fitness compound that also includes a café and gym. The spa's lounges are open and light-filled, and include an outdoor whirlpool, eucalyptus steam room, dry sauna, and plenty of showers and changing areas.
Our favorite: A lavender herbal sugar scrub—using Matanzas Creek lavender scrub and lotion—followed by the 80-minute Lomi Lomi massage. The gentle scrub will lull you into lavender bliss, as the infused sugar exfoliates skin and a lavender lotion mini massage melts away tension. Postscrub, the rhythmic strokes of the Hawaiian Island–inspired Lomi Lomi will leave you feeling thoroughly pampered and relaxed.
Bonus: The Spa at Silverado store, offers a selection of unique spa products, jewelry, and clothing. This collection includes products from local companies as well as international brands, and features spa goodies such as eye masks and aromatherapy blends that may be hard to find anywhere else.
1600 Atlas Peak Rd., Napa, (707) 257-0200, silveradoresort.com.