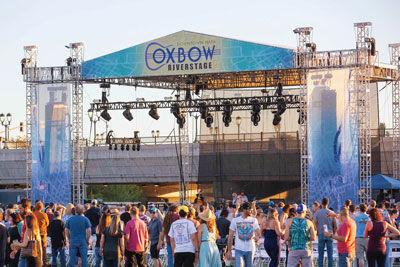 Following a successful inaugural season in 2019, downtown Napa's Oxbow RiverStage will return in 2020 to host 20 shows from June through October. Last year's series at RiverStage—a pop-up outdoor concert venue located in Oxbow Commons park—featured headliners including Bob Weir, the B-52's, the Steve Miller Band, and the Roots. This year's slate brings Mexican indie darlings Rodrigo y Gabriela, reggae icon Ziggy Marley, contemporary blues maestro Gary Clark Jr., and Creedence Clearwater Revival frontman John Fogerty, among other acts.
"There's something for everybody—a really wide range of bands and even bigger names than last year," says Ken Tesler, managing director of Blue Note Napa and Mad Dog Presents, which is partnering with Another Planet Entertainment (producer of San Francisco's Outside Lands festival) to put together the RiverStage 2020 program.
The Oxbow RiverStage venue can host 2,500 to 5,000 people depending on the show, with a combination of seated admission tickets and standing-room areas. "We want to give people the experience of both a concert venue and a mini-festival environment," Tesler says. "There's not a bad seat there." Of the 2020 shows, five will be free performances.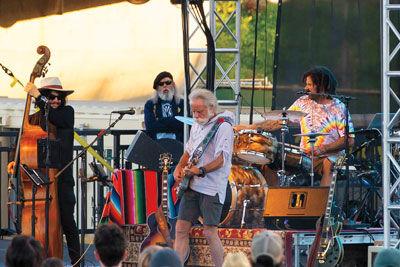 Given Oxbow RiverStage's location in the heart of Wine Country, the concerts add a focus on local foods and wines to pair with the music. The Feast It Forward wine collective and lifestyle studio will once again provide refreshments for sale in a VIP lounge overlooking the concert area. For those without VIP tickets (which include top-tier seating options), food trucks will line the venue, serving tasty offerings from regional providers. Local restaurants may also set up food stands and potentially host pre- and post-concert specials in their Napa eateries. "We want to have as much local food and wine flair as possible," Tesler says. "It's important to us to drive business to the area and share in the overall experience." The nearby Oxbow Public Market is another option for concertgoers to wine, dine, or pick up treats before the shows.
With the backdrop of the Napa River and the Napa Wine Train chugging along behind the RiverStage, and the green grass of Oxbow Commons in front of it, the series will undoubtedly provide a memorable summer experience for both residents and visitors, sipping local wines, munching on gourmet bites, and listening to great sounds. oxbowriverstage.com.