After an exhausting day of wine tasting and fine dining, what could be better than returning to your hotel to find a diversion, treat, surprise, unexpected activity, or remarkable view? We've searched up and down Wine Country to bring you accommodations that impress with more than their mattresses.
The Estate Yountville
Today's Yountville is unmistakably more upscale than even just a few years ago. The decades-old mainstay Hotel Villagio is evolving with the town, with contemporary renovations rocketing the property to a new level of luxe. Now part of The Estate Yountville, the hotel joins with the also recently redone Vintage House to create a 22-acre village; beyond the two lodgings, there's also a shopping and dining complex called the Market Place.
However, the most luxurious addition to the compound is The Villa at the Estate Yountville, a 6,600-square-foot, five-bedroom, residence-style suite complete with a private pool and jacuzzi, a gaming area with a designer pool table, and a gourmet open kitchen. For no additional charge, guests can have an estate chef cook breakfast daily and stretch out with a private yoga session.
The Spa at the Estate received a face-lift with the rest of the property; it now features outdoor soaking pools, private spa treatment rooms, and ESPA treatments that combine body wraps with massages to restore equilibrium and deliver deep relaxation. Notably, The Estate Yountville is the first resort in North America to house an O2 Chair, which claims to optimize breathing and decrease stress while boosting energy levels. villagio.com.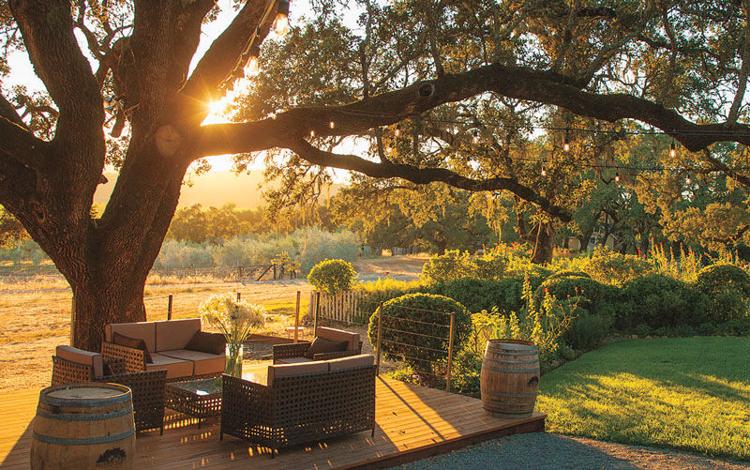 Beltane Ranch
Hikers and animal lovers will feel right at home at this historic 105-acre ranch in Sonoma. The 1892 guest house was restored in the 1960s by descendants of the original owners, and today it is run by fourth-generation owner Alexa Wood and her children, Alex and Lauren.
The grounds at Beltane are an agricultural preserve, with hiking paths for guests alongside the organic olive orchard; the 25-acre estate vineyard; and the livestock farm, which supports cattle, heritage-breed laying hens, and draft horses. The property also overflows with spectacular and colorful gardens, including a produce patch with a thriving pollinator habitat. Along with the other amenities, there's a private tennis court, a horseshoe pit, and home-baked cookies available every day in the kitchen.
Each of the five guest rooms in the two-story inn has an outdoor porch, and guests can opt to chow down on a breakfast specially prepared by Beltane's chef while lounging in this scenic private space. Tastes of handcrafted Sauvignon Blanc and Zinfandel—made from grapes grown on the property and paired with a local cheese board—are offered in the evening. beltaneranch.com.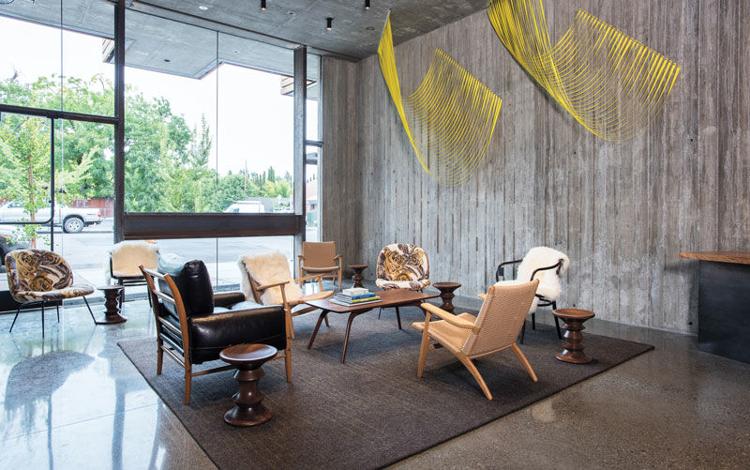 Harmon Guest House
This highly anticipated newcomer to the Healdsburg hotel scene comes from the deft eye of Piazza Hospitality, the force behind two of the hippest and most popular lodgings in town, Hotel Healdsburg and H2Hotel. Harmon Guest House marks the next step up in their eco-friendly and crafty concept; it incorporates natural elements and environmentally conscious design into all aspects of the building. And that's just the start.
The six-suite, 39-room hotel is a virtual art gallery. From the lobby and elevators to the guest rooms and rooftop, Harmon showcases an extremely diverse array of installations from emerging California artists. So, while the hotel's proximity to Healdsburg Plaza is enticing, don't just run out the door; take time to observe exhibits from notable artists such as printmaker and illustrator Carissa Potter, sculptor Andy Vogt, and photographer Leigh Merrill.
Recently, the hotel launched Elevated Talks, a series of lectures held in the rooftop event space, Merritt Hall. Through panels and public forums, the series aims to provide a space to discuss art, architecture, and design. The inaugural event, Artists and Architects: The Potential of Place, featured five acclaimed regional artists and architects, all with ties to Healdsburg. harmonguesthouse.com.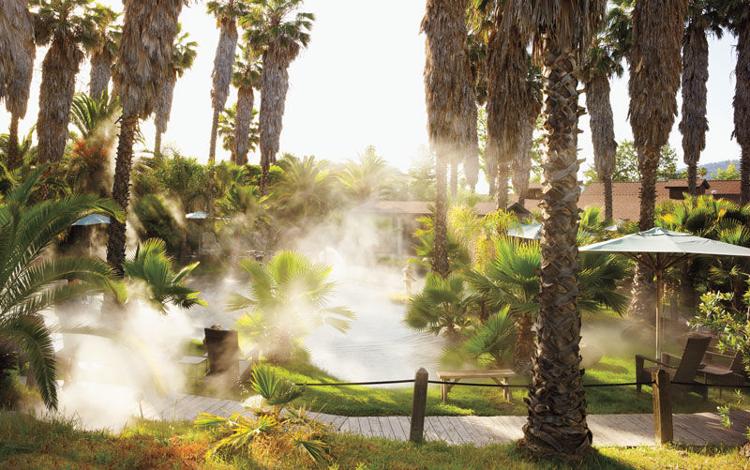 Indian Springs Calistoga
Calistoga maintains its chill vibe with many small lodges, B&Bs, and cottages. This venerable bohemian resort fits right in, while also meeting the growing appetite for luxury amenities. The property is a glorious collection of historic cottages, bungalows, and buildings spread out across 17 acres, and each space has a distinct feel.
Bring the extended family and reserve one of the two houses for ample space—up to 1,700 square feet, plus outdoor patios. The newest additions are the handsomely appointed two-story View Rooms, housed in three different Mission Revival–style buildings. Visitors can choose from palm, geyser, or hill views, all without straying too far from the main property; gardens and walking paths keep everything at Indian Springs connected.
Mud baths made from volcanic ash mixed with mineral waters and restorative geothermal pools (with water pumped in directly from four thermal geysers on the property) are highlights of Indian Springs' classic spa. Of course, the offerings also include facials, massages, and skin scrubs (try the chardonnay sugar scrub for a Wine Country-appropriate experience). The adjacent Buddha Pond is a tranquil refuge for relaxing before or after treatments, but the Olympic-size restorative mineral pool—suitable for both floating and swimming—is a truly unique draw. indianspringscalistoga.com.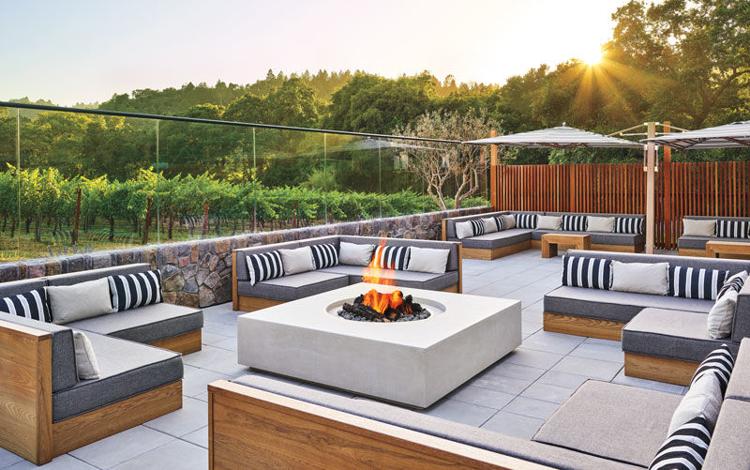 Las Alcobas
Designed by Yabu Pushelberg, St. Helena's Las Alcobas provides more than just a Wine Country–accessible locale, as it sits adjacent to a vineyard itself. West-facing rooms look out onto the serene Beringer vineyards, and  only the sliding glass doors separate guests from the vines.
Aside from the unparalleled location, the newly constructed property also showcases the 3,500-square-foot Atrio spa, which utilizes an organic line of Naturopathica products in its treatments. Not to be missed is the Atrio Experience, a 150-minute-long sampling of various techniques from across the globe, such as tui na (Chinese manipulative therapy), reflexology, Balinese massage, shirod-hara (Ayurveda therapy that involves gently pouring liquids over the forehead), and Indian scalp massage. Many other sessions start with a 30-minute aroma-blending experience that results in a custom scent used during the massage.
The world-class Acacia House restaurant occupies the Georgian-style residence by the hotel, which was originally constructed in 1905 and restored to its magnificence at the same time as the hotel. Helmed by Top Chef Masters' Chris Cosentino (Cockscomb), the restaurant's ever-changing menu includes dishes like stinging nettle risotto and Klingeman Farms pork schnitzel in a caviar ranch sauce with snap peas. lasalcobasnapavalley.com.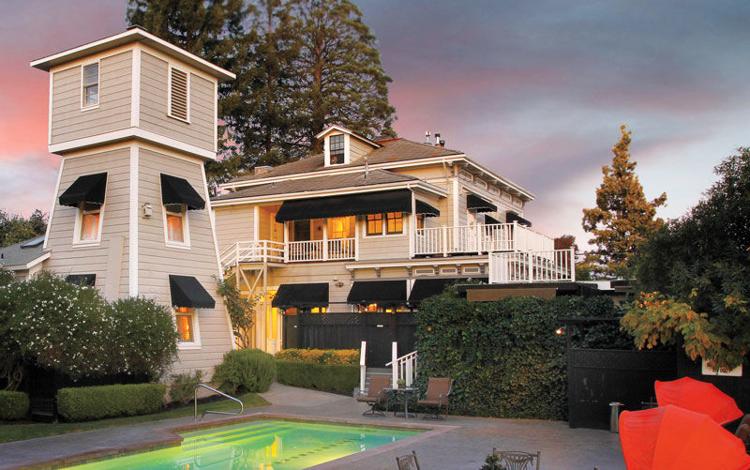 Honor Mansion
If a trip back to Victorian times is your cup of tea, this upscale bed-and-breakfast should be your first choice. Located less than a mile from Healdsburg Plaza, the restored mansion is much more than just a simple place to stay. The soaring ceilings, original moldings, and mix of contemporary and antique decor set the tone for a peaceful and relaxing stay.
Restored to its original beauty by owners Steve and Cathi Fowler, the five-room Victorian mansion isn't all the property has to offer: Once you wander past the outdoor pool, there are three acres of sprawling gardens as well as a croquet lawn, tennis court, bocce ball court, PGA putting green, and basketball court. The extensive grounds invite exploration and can be a welcome respite for travelers.
The homemade breakfast—including a hot entrée, fresh fruit, and a daily scone—is a delicious and convenient way to start off your wine-tasting excursions, while tea or coffee in the afternoon is a lovely way to wind down after a long day. And if you didn't get enough wine while you were out and about, head back to the main parlor just before dinner for an in-house wine tasting with sips from a rotating lineup of local wines. honormansion.com.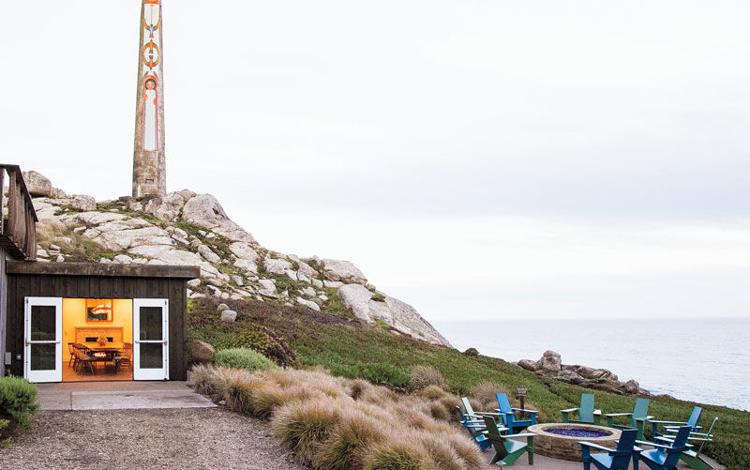 Timber Cove
A visit to Wine Country isn't complete without a trip to the breathtaking Sonoma Coast. And a stay at Timber Cove brings stylish sophistication to the journey. Perched on a dramatic 25-acre bluff overlooking the rocky cliffs of the Pacific Ocean, the reimagined inn retains the iconic wood-beam architecture and authenticity of the original 1960s building but is freshened by the midcentury modern decor. Rooms have also been jazzed up with upscale bedding, while the public space now sports Ping-Pong tables, fire pits, and games galore.
Hiking trails cut through the seaside bluffs that surround the property on three sides, with benches strategically set up at spectacular viewpoints. The swaths of sandstone carved out by incoming waves create a natural art exhibit—perfect for photo ops and picnics.
Most recently, the resort joined Kind Traveler, one of the first socially conscious hotel booking platforms, which offers guests special perks and hotel rates for small donations to charities. Timber Cove collaborates with Russian Riverkeeper—a nonprofit based in Healdsburg—to restore and sustain the health of the Russian River through public education, citizen action, scientific research, and more. Ask more about how you can give-and-get when booking here. timbercoveresort.com.