When we arrive in Sebastopol on a Sunday, a lively farmers market is set up in the plaza, where local artisans and craftspeople show their wares. Music fills the air, as does the scent of the gorgeous produce: a mind-boggling array of apples, persimmons, and grapes off the vine. It's the perfect way to start our exploration of the Russian River Valley.
The Valley sits in the heart of Sonoma County. The wine region (or AVA) of the same name spans a whopping 150 square miles and includes more than 100 growers and over 100 wineries. Join us on our journey along the accessible and convenient stretch of Route 116 from Sebastopol to Guerneville, dubbed West County, and meet the folks who make this area so special.
The Outskirts of Sebastopol
On the road out of Sebastopol, we stop at Lowell's Restaurant (lowellssebastopol.com), an organic eatery serving sustainably grown ingredients from its Two Belly Acre farm. We pick up Lowell's West Sonoma County Field Guide (localfoodmatters.org/field-guide), a pocket-size treasure map of restaurants, wineries, glorious hikes, and locally owned businesses that share its socially conscious philosophy. It helps steer the course of our day.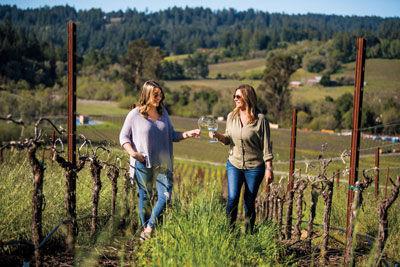 "Many of the apple orchards have been replaced by grapevines over the years," says Tracy Dutton, a fourth-generation Kozlowski of the Kozlowski Farms (kozlowskifarms.com) stand just down the road. Her husband, Joe, is a fifth-generation farmer himself.
"My grandparents planted raspberries in 1949, then moved to grapes in the 1990s," she continues. Her 92-year-old grandmother, Carmen, runs the market, offering fresh fruit, homemade jams, and pies.
The Duttons' name blankets the area. Dutton Estate Winery (duttonestate.com), launched in 1994, is a couple miles from Dutton Ranch, now run by Joe and his brother, Steve, and founded by their parents in 1964. Joe is also a partner at the adjacent Dutton-Goldfield (duttongoldfield.com), which produces world-class Pinot Noir and Chardonnay.
"When you grow up in a family business, you have to be entrepreneurial and think ahead," Tracy says. "You come up with an idea, and if it sounds good and feels good, you make it happen, as our past generations did." Since opening, Dutton Estate has crafted 3,500 cases of its own wine, along with crushing 200 tons of grapes per year for custom-crush clients. Visitors can stop by its homey visitor room for a tasting and food or chocolate pairings.
On the Route
Just a few miles away, we turn onto a rustic road to discover Paul and Kathryn Sloan's 12.5-acre Small Vines Wines (smallvines.com).
"This was the Barlows' homestead and orchard and one of the first apple cold-storage buildings [in the area]," Paul says, referencing the early 20th-century apple and berry farmers whose downtown Sebastopol cannery, The Barlow (thebarlow.net), was acquired by Barney Aldridge in 2005 and reimagined as a collection of more than 40 upscale eateries, tasting rooms, coffee shops, craft breweries, boutiques, and galleries.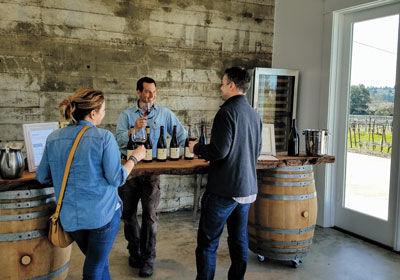 Paul spent a few years pairing wine with food for John Ash and Co., the restaurant in the cozy Vintners Inn (vintnersinn.com), but yearned to get back to the land, inspired by his childhood on the family's nearby 250-acre cattle ranch.
In 2007, he and Kathryn purchased the property to start Small Vines and bring up their family. "I came up with this idea of being more of a farmer of wine than a maker of wine," Paul says. "The concept and idea of being a great steward of the land and leaving a legacy is how I fell in love with the wine world."
Paul leaves a distinct thumbprint on his wine. "Fruit that expresses where the grapes are grown is my goal," he says. He achieves this with unusual spacing of grapes, planting 3,630 vines per acre instead of the more common 1,089. Despite the increased number of plants, his vines yield less fruit per acre. Paul has found that forcing the vines to struggle brings out the qualities of the terroir. With this in mind, he crafts elegantly restrained estate Pinot Noir from specific blocks and vines.
Back down the road, we meet Mari Jones, the president of fun ("COO isn't as exciting") at Emeritus Vineyards (emeritusvineyards.com), her family's Pinot Noir winery. Her father, Brice Cutrer Jones, purchased the 115-acre Hallberg Ranch and launched the winery in 1999 after 25 years at well-known neighboring Sonoma-Cutrer Vineyards (sonomacutrer.com).
The family was drawn to the Gold Ridge, a distinct eight-mile-long geological formation stretching from Sebastopol to Forestville, known for having the best soil and most desirable climate for Pinot Noir. They spent four years weaning the vines off irrigation; the entire property has been dry-farmed since 2011. The vines have to dig more than a dozen feet down into the clay loam soil to reach the water table, which gives the grapes incredible and unique character, according to winemaker David Lattin.
Jones recalls traveling to Burgundy with her dad as a kid. She loved the wine and asked, "Why can't we make this wine at home?" Once she was able to get involved in the business, Emeritus' sincere loyalty to site-specific Pinot Noir took shape. The winery only uses red grapes, although a recently released 2017 Hallberg Blanc is a sprightly white wine made by limiting the pinot noir grape skin contact. There's also limited release of Ruby Ruby saignee each year.
"This is the heart and soul of our entire production," Jones says, as we sit overlooking the vineyard.
Next, we meet 30-year-old local winemaker and recent Fresno State enology graduate Erica Stancliff at Furthermore Wines (furthermorewines.com). "I grew up in Forestville with Iron Horse as our neighbor," she says, referring to the highly rated local sparkling wine from second-generation winemaker Joy Sterling (ironhorsevineyards.com). Naturally, Stancliff added a sparkling wine to Furthermore's lineup of Pinot Noirs, which uses grapes from both Russian River and Sonoma Coast vineyards.
Acclaimed winemaker Paul Hobbs (paulhobbs.com) attended a family dinner when Stancliff was just 10. During the meal, she described the aromas in the wine—vanilla, blueberry pie, dough—and he recognized a budding winemaker. "Paul Hobbs was my mentor," she says. "He believed in me from a young age."
Owners Bob Zeches and Chad Richards started Furthermore in San Francisco in 2006, then bought the former Graton Ridge Cellars in 2015, bringing in Stancliff to help them fully integrate into the community. Their true passion is for the various expressions of Pinot Noir that Stancliff oversees.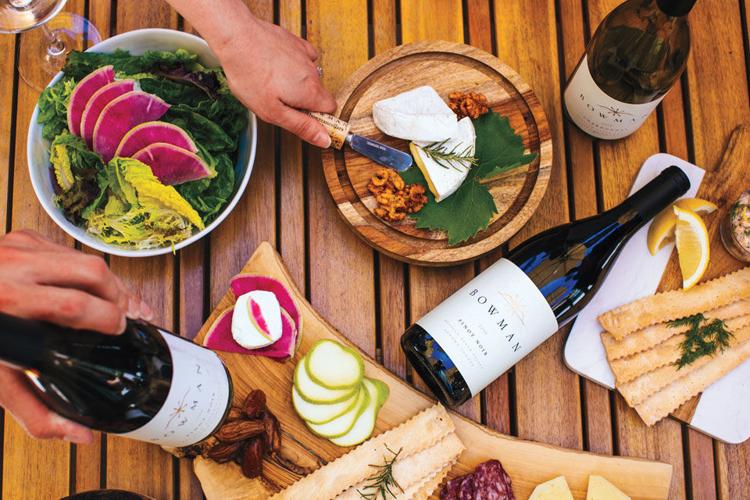 Growing Graton
Just a few more miles up Route 116, we enter the town of Graton (population under 2,000 per the last census), a blink-and-you'll-miss-it one-block town. "I tell people to find the Airstream parked out front and you've found us," says Alex Bowman, as we sit down on the expansive front porch of the new Bowman Cellars (bowmancellars.com), which opened in February 2018.
His wife, Katie, recalls the stir caused by a local writer who was concerned that the space would be taken over by a big East Coast firm. "They had mistaken us for a large-production Bowman family winery from South Carolina," Katie says. "I'm like, 'No, that's not us; we both went to high school here. Our families grew up here. My grandfather is Andy from the produce stand down the road.' " (andysproduce.com).
Alex started making wine with his dad in the backyard as a kid. While he worked in electrical contracting out of college, he found himself bartering services for grapes. He was drawn back to winemaking, and before long, the Bowmans had cabernet, pinot noir, and chardonnay coming in. Now, with a full-fledged tasting
room, a nosh menu of cheeses and meats, pop-up dinners every Friday, and a growler refill system for rosé on tap, Bowman Cellars is thriving.
We settle into the retro ambience of neighboring Willow Wood Market (willowwoodgraton.com) for a light lunch of fresh sandwiches and salads, and then poke into the Paul Mathew (paulmathewvineyards.com) tasting room for a few sips of Pinot Noir and Cab Franc.
"There's a big change happening here in Graton," Katie says proudly, referring to the transition of more storefronts into new businesses.
Quaint Forestville
Next up: Forestville. Just a block off the main road down a gravel driveway, we see the sign for Ryme Cellars (rymecellars.com), best known for their Italian varietals such as vermentino, ribolla gialla, and aglianico. Co-owner Megan Glaab greets us and explains that she and husband Ryan ("Ryme" is a combination of their names) met during a harvest at Torbreck Vintners in Australia, despite both being California natives. Each worked at a local winery back home, Ryan at Pax (paxwine.com) and Megan at Peay (peayvineyards.com). Eventually, they married and launched their small label in 2007.
"As you can imagine, in a working marriage, there was bound to be a point where we disagreed on our vision," Megan says with a smile. As a result, they bottle vermentino two different ways: a stainless steel–aged, crisp white "hers," and a skin-fermented "his" version, treated more like a red wine with fuller body, texture, and concentration.
Like most West County proprietors, the Glaabs are as much about deep relationships between families, friends, and clients as they are about business.
"My relationships with growers are similar to making friends—you meet them, figure if you're aligned and think the same way, and then decide if you can work together," Megan says. This is her community and her work milieu, but most importantly, it's what makes her work so gratifying. Ryme's wines are lovely, subtle, and a welcome diversion from the area's more common Pinot Noir.
Another example of the tight community comes from chef Daniel Kedan of Backyard (backyardforestville.com), the cantina-style Michelin eatery in town. "We have great relationships with our vendors, and they're all from Sonoma County, from our coffee to our wine," says Kedan.
Backyard is best known for whole-animal butchery, house-made pastas and charcuterie, and exceptional attention to detail and sophisticated technique.
We pass Jigar Wines (jigarwines.com) on the way out of town, where winemaker Josh Barteis pours unlikely reds like Grenache and Syrah. He notices me staring at a detailed map of Route 116 hanging on the wall. "I head up Taste Route 116, a small association of 16 wineries," says Barteis (tasteroute116.com). Visitors should get a hold of this second treasure map to find more gems in West County.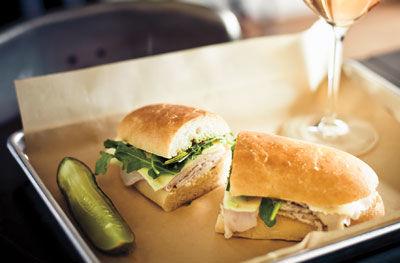 Guerneville on the Rise
"I love to talk about this area, because it's so special," says Crista Luedtke, who pioneered the renaissance of Guerneville, a small town just seven miles toward the coast from Forestville. We sit around the saltwater pool of her picturesque 14-room Boon Hotel and Spa (boonhotels.com), named after her 15-year-old rescue dog. She purchased the property while transitioning from San Francisco in 2008, renovating the dilapidated 1960s-era miners' quarters in stages.
This was just the start of Luedtke's decade-long (so far) commitment and passion for this town. "I knew the boom of Healdsburg would spill over eventually, especially with the amazing quality of the Russian River Valley wines." she says. "I quickly realized there wasn't food to match this experience." Just a year later, she launched Boon Eat and Drink (eatatboon.com), a casual 36-seat bistro on Main Street. It's a city-quality eatery with an ambitious Cal-cuisine menu.
Another city transplant, Michael Volpatt began splitting his time between his PR job in San Francisco and Guerneville before buying a home here. It's easy to see why as we hike with him through the magnificent century-old redwoods of Armstrong Redwoods State Natural Reserve (parks.ca.gov).
"[It was clear] this place would blossom; it's healthy, it's affordable, and you've got the redwoods, the river, and close proximity to the coast," Volpatt says. We head back to town and nibble on homemade biscuits at Big Bottom Market (bigbottommarket.com), a modern-day general store and specialty market launched by Luedtke and Volpatt in 2011. She has since relinquished ownership, but he continues to grow the business, which got a boost when the biscuits were listed on "Oprah's Favorite Things" in 2016. Sales of the biscuit mix have skyrocketed and the market continues to grow.   
For our last stop of the journey, we scoot across the street to the minimalist, modern new tasting room for Equality Vines (equalityvines.com), another of Volpatt's brands, which he developed with cofounders and LGBTQ+ activists Matt Grove and Jim Obergefell. They produce a limited-release collection of wines to benefit a number of charitable partners, such as the Human Rights Campaign and One Glass for Equality. We toast the end of our journey with the 2013 Love Wins Blanc de Noirs.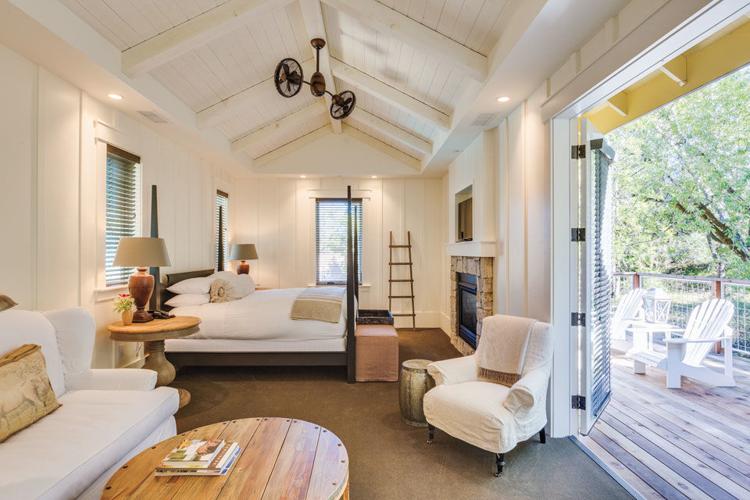 Refreshing Farmhouse
With a packed day coming to an end, it's time to rest. We return to Forestville to meet up with Catherine Bartolomei at the refined Farmhouse Inn and Restaurant.
"We've farmed continuously on the ranch in Forestville for five generations," Bartolomei says of her great-grandfather's ranch and house, now her own home, just a mile from the inn. "I never thought I'd own a bed and breakfast, but the minute I walked in the door, I said, 'Oh yeah, we're going to buy this.' "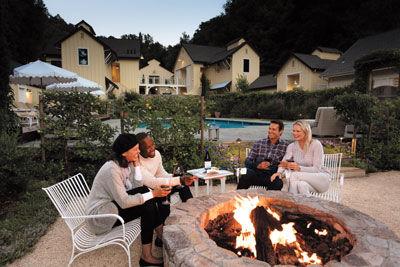 The place was run-down, but chef Steve Litke's cuisine was exceptional. "I thought, If we can keep the chef and I can build everything around here to the quality of the food, that's it," she says. The menu is an elegant selection of sophisticated yet approachable dishes, artfully presented and paired with local wines. It has earned a Michelin star for 13 years running.
Bartolomei and her brother, Joe, were born and raised in Forestville then went elsewhere for college. She worked in the wine industry, and Joe was a structural engineer in New York City. In 2001, they purchased Farmhouse together.
"He builds; I decorate. That's how we do things," Bartolomei says. They first expanded and redecorated the dining room to rave reviews. "We started off as a restaurant with rooms, but now we're more of a hotel with a restaurant, so it's changed." she says. In 2014, the inn was expanded to 25 rooms, and more additions included a spa, rebuilt pool, and reconfiguration of the gorgeous grounds with lovely grasses, fruit trees, and perennial plants.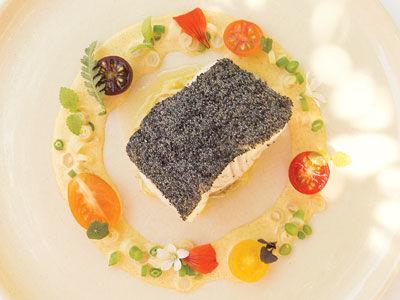 We tour the ranch to see where the restaurant's ingredients come from: The eggs for breakfast hail from the 100-chicken coop on Joe's property and much of the greens also come from his 35 acres, while the fruit and honey are mostly from the immediate grounds.
The hotel, or "barn," rooms are spacious and bright, with all the amenities you'd expect from a luxury hotel: high, vaulted ceilings; a giant marble shower for two; the fluffiest king-size bed; ample complimentary snacks; and a two-sided fireplace that opens into the room as well as onto the massive outdoor patio.
Don't miss the seasonal breakfast offerings at the restaurant, or pick up a quick burger or sandwich for the road from the new food truck parked outside.