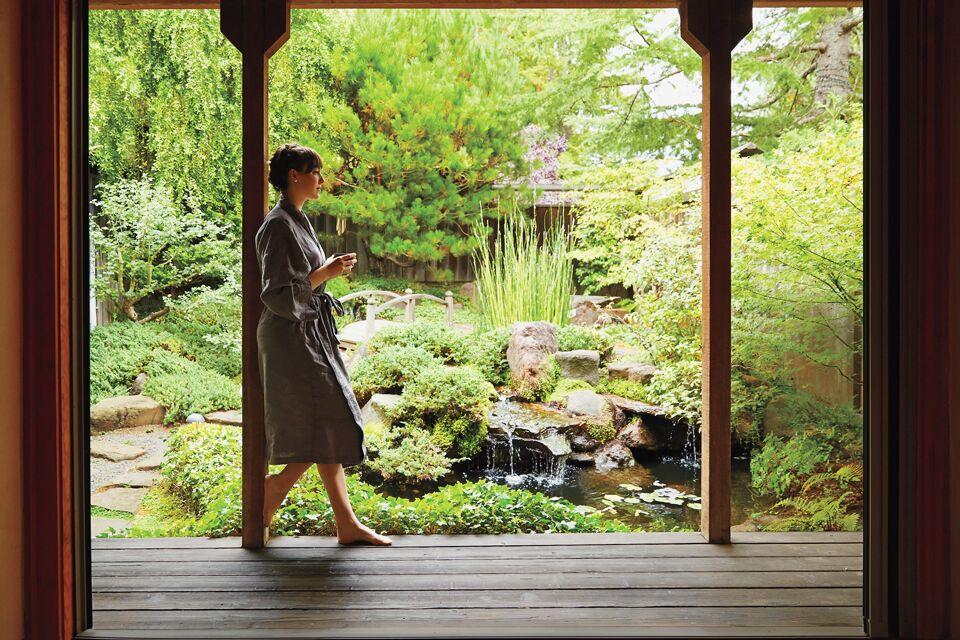 After a long, stressful year, we could all use some well-earned 
relaxation. And what better way to unwind than in a soothing Wine Country retreat? Here, Napa Sonoma checks out the top spas in our glorious region.
Sonoma Sanctuaries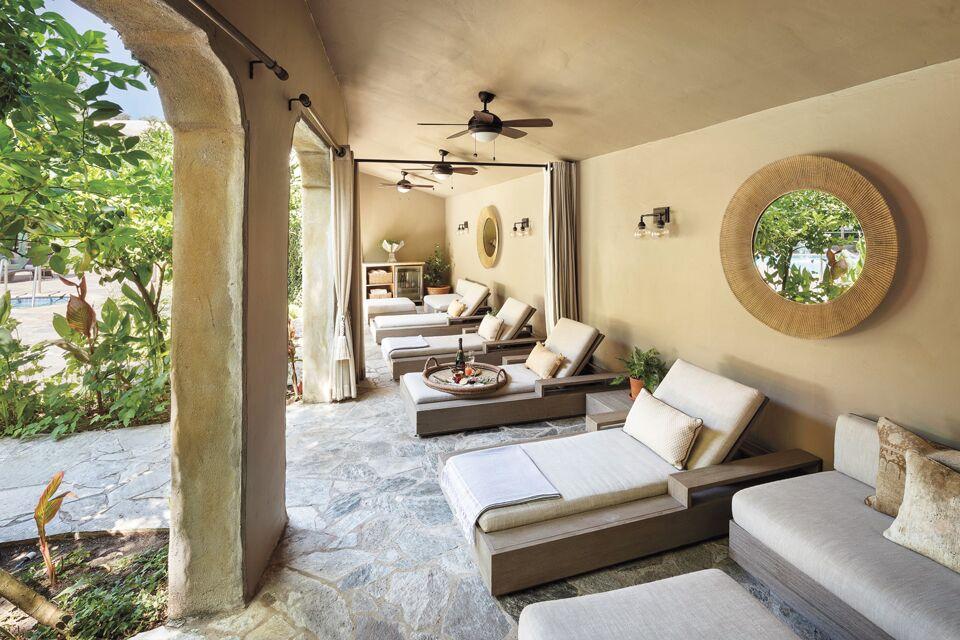 KENWOOD INN AND SPA, KENWOOD
This boutique inn, located in Sonoma's Valley of the Moon, was closed for five months following the 2017 wildfires. While the inn portion, featuring 29 Italian-inspired guest rooms with private entrances, reopened in March 2018, the spa area required extensive renovations. But as of September 2019, this special, intimate portion of the property, just steps from the pool area, is now a welcome feature of the hotel that should not be overlooked. The spa consists of just three individual treatment rooms, one couples room, an outdoor terrace, and a private bathtub. Popular treatments include a Himalayan salt stone massage and an espresso and mud detoxifying treatment. One recent addition to the spa menu is Kenwood's CBD facial, a custom-blended treatment that combines two California-made product lines to focus on lightening and brightening the face.
Reopening update: At press time, spa services were still unavailable, but two treatment rooms have been converted into private poolside retreats, available for guests or locals to enjoy for the day. The Poolside Retreat opens directly onto the pool and patio, while the upstairs Spa Terrace Cabana includes a couples-only indoor tub. Both bookings include wine and cheese, gift bags with sample products, and a dedicated attendant for personalized service.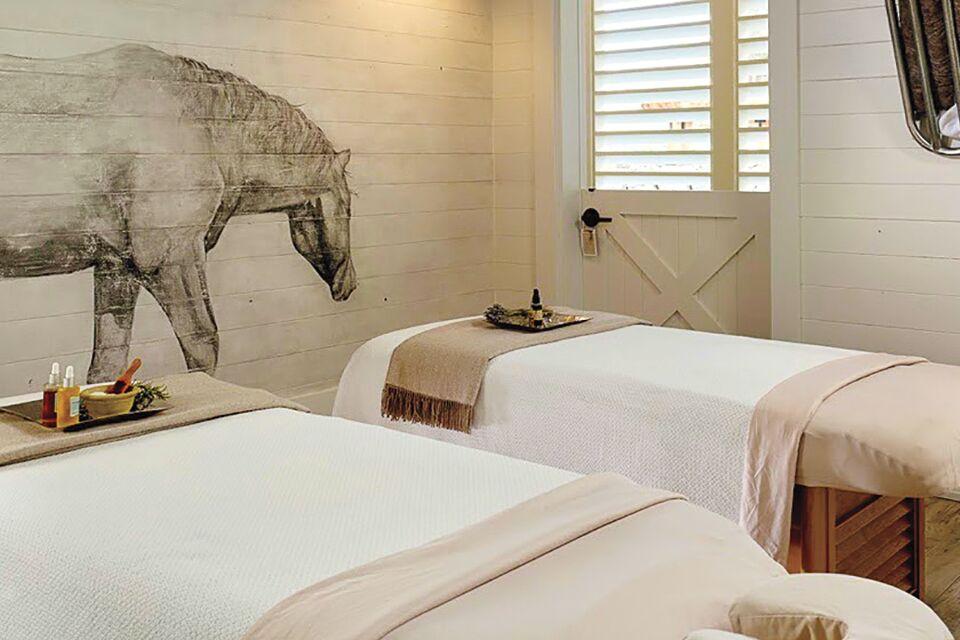 FARMHOUSE INN, FORESTVILLE
The accolades for this tucked-away gem are countless. Farmhouse Inn is what happens when you blend a local, multigenerational family; luxe amenities; a Michelin-starred restaurant; and leading wine professionals. It is a special spot, and the Spa at Farmhouse is no different. It offers a true farm-to-spa concept, featuring Sonoma-cultivated ingredients such as honey, heirloom apples, and herbs from the Farmhouse kitchen garden. A recent addition to the spa menu is the Forest Therapy treatment, which detoxifies and nourishes the body with raindrop therapy, using warm essential oils dripped along the spine and hairline. Each service starts and finishes with a therapeutic singing bowl.
Reopening update: The spa currently offers limited services including Swedish, deep tissue, and prenatal massage, as well as the Farmhouse body scrub with ingredients from McEvoy Ranch. It also offers private yoga lessons.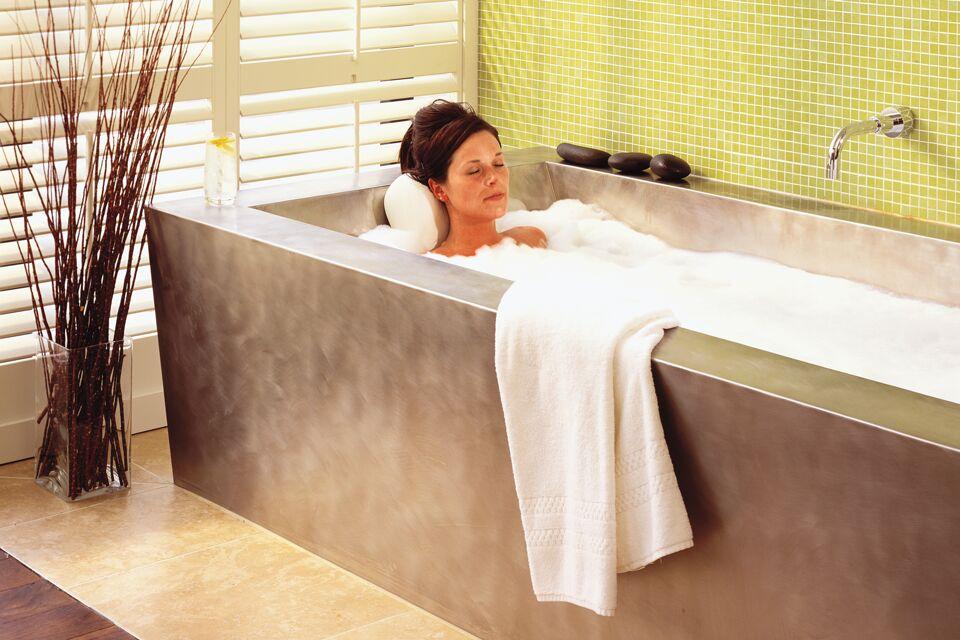 HOTEL HEALDSBURG
Compared to many of the spas featured in these pages, Hotel Healdsburg, right on the edge of the town's lively plaza, offers a more urban spa experience. The modern rooms and gathering spaces and the hotel's proximity to restaurants, tasting rooms, and boutiques make a visit here a dynamic experience. But once you enter the spa, you are soothed with muted colors, thick rugs, and tranquil music. The Spa offers its signature Farm to Spa 
Collection of treatments, which include massage services with Meyer lemon and sage or lavender and peppermint from local Sonoma County farms. Afterward, step outside to lounge in the 60-foot pool area, a secluded oasis of olive trees and sunshine.
Reopening update: The spa is offering limited indoor services, including facials and massages, but has added an indoor/outdoor relaxation lounge for guests, as well as a CBD massage to its list of treatments.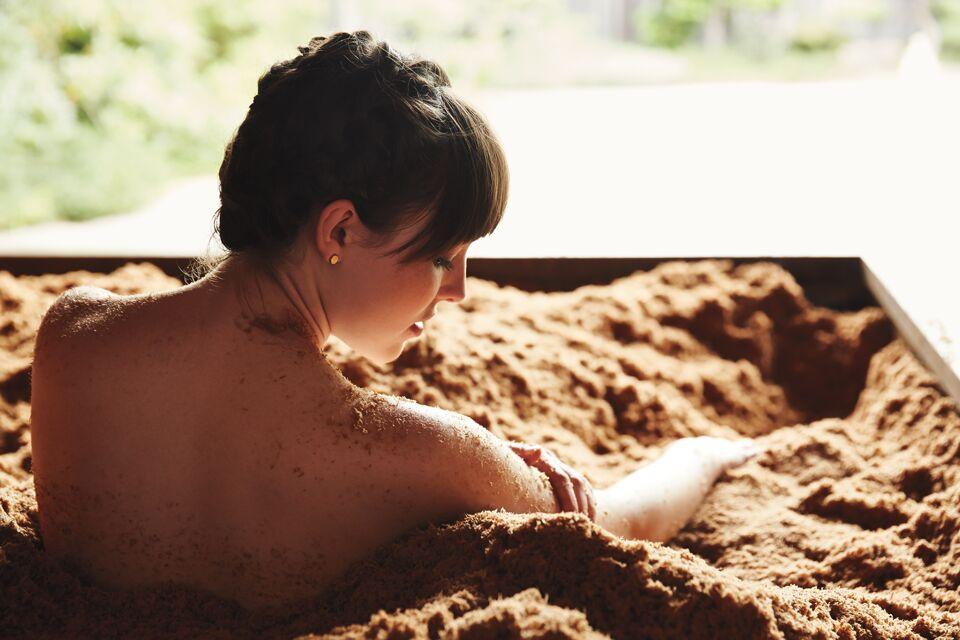 OSMOSIS DAY SPA SANCTUARY, FREESTONE
Osmosis Day Spa Sanctuary is a destination spa, but it does partner with local hotels to facilitate overnight packages, such as the charming Inn at Occidental, which would be a wise choice for an overnight stay after receiving one of the spa's holistic treatments. The spa is known for its Cedar Enzyme Bath treatment, a healing journey that starts after you change into a soft cotton Japanese robe and sip herbal tea in a private Japanese garden. An attendant then leads you to a wooden tub filled with a heated mixture of cultured cedar and rice bran, in which you soak for up to 20 minutes. After a cleansing shower and electrolyte hydration, you can opt for add-ons such as a facial, massage, or a sound therapy session.
Reopening update: Osmosis is offering complete spa services. It has completed major renovations during closures and added an outdoor couples massage space overlooking Salmon Creek. Additionally, a state-of-the-art air-cleaning system has been installed.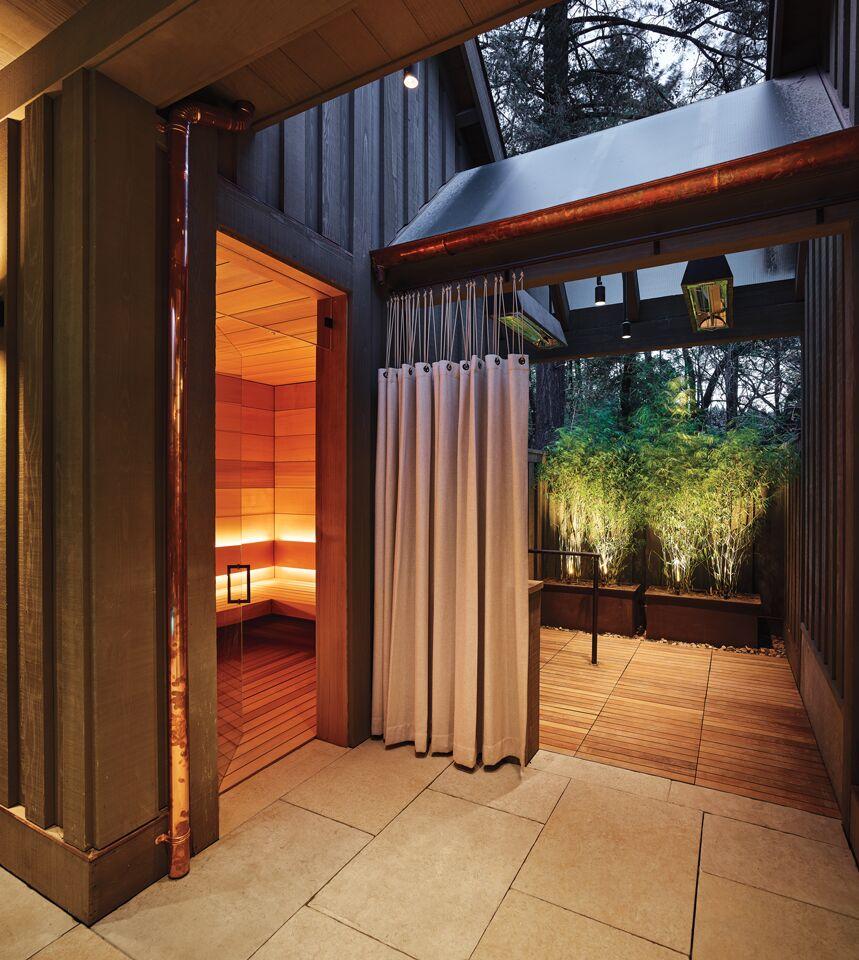 Napa Getaways
MEADOWOOD NAPA VALLEY, ST. HELENA
There is a level of serenity and luxury at Meadowood that is off the charts. That's one reason why the property continues to receive prestigious awards, such as the Forbes Travel Guide 15-Star rating, with the hotel, restaurant, and Meadowood Spa each receiving five stars for the fourth year in a row. Meadowood is one of very few hotels in the world to have all three five-star designations (hotel, restaurant, and spa) at the same property.
A spa treatment here is a not-to-be-missed experience. The 90-minute facial, for example, includes a cotton thread exfoliation from the Pietro Simone skincare line and ends with a shoulder massage. Book the Treehouse Suite, which features a stunning copper bathtub, for the ultimate customized soak. Or just hang in the Relaxation Gardens, which include an extra-large sauna, steam room, and hot mineral pool. The spa culinary menu offers seasonal dishes that are as visually appealing as they are delicious. And, as with the entire property, nature is always the star attraction, with the spa's treatment rooms offering restorative views.
Reopening update: The devastating wildfires of 2020 affected the northern portion of the property, which is being rebuilt. The southern portion, which includes the spa, was not damaged and is anticipated to reopen in late summer.
B SPA AT BARDESSONO, YOUNTVILLE
This Yountville hotel formats its spa services for guests in a different way than most. The luxury treatments from B Spa are designed to be enjoyed from the comfort of your own guest suite, a truly exclusive experience. Of course, walk-ins and locals are welcome to enjoy spa time at B Spa on-site, but for guests staying at the hotel, this privacy can enhance the treatment. Everything is arranged by a B Spa butler to offer a personalized treatment (including massages and scrubs) enhanced with local botanicals and flower elixirs. The popular two-hour Yountville Signature 
Experience uses antioxidant-rich wine products and includes 
a full body exfoliation and hair and scalp treatment. Seasonal 
specials are always featured.
Reopening update: The spa remains open, and guests are asked to wear face coverings during treatments; all spa therapists do the same. Appointments are limited to allow for social distancing.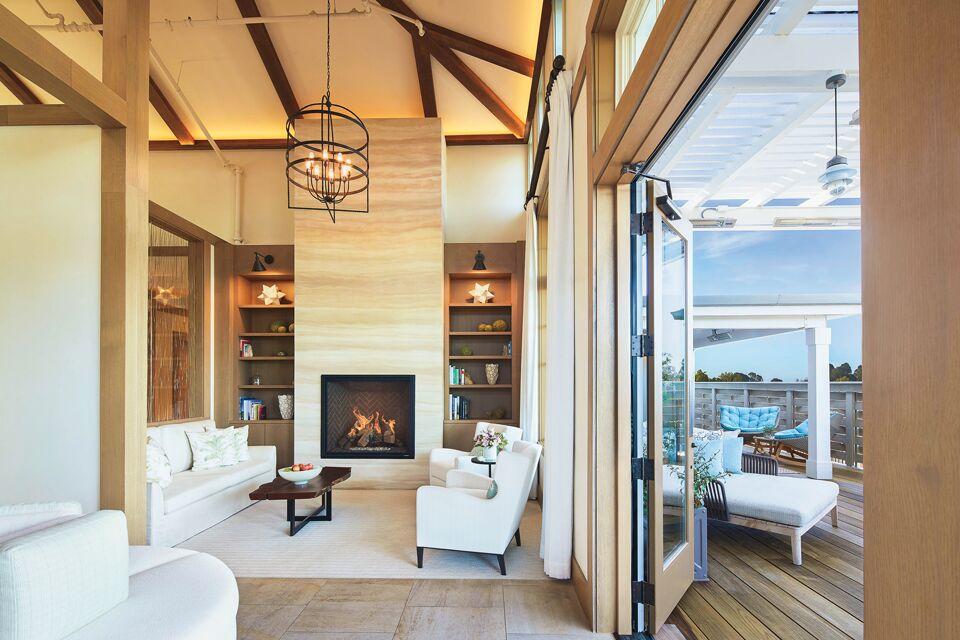 CARNEROS RESORT AND SPA, NAPA
Visitors to the charming Carneros Resort and Spa should not miss Hilltop, the property's aptly named space that features a library, meeting space, pool, and restaurant. It is also where the spa resides, with windows strategically placed to accentuate the views of the vineyards below. In 2018, the spa unveiled a $3.5 million renovation, with a focus on highlighting the local environment. The spa menu features a traditional-meets-innovative approach to wellness. For example, LED light technology and sound therapy are used in combination with essential oils and antioxidants. And special touches, like the post-treatment tea service, help promote relaxation and mindfulness.
Reopening update: Currently, the spa can have up to six guests indoors at a time, and social distancing guidelines are in place for the locker rooms and spa outdoor deck. Note that some of the services described above were not offered during the pandemic.
New and Noteworthy
Wine Country is known for its established, top-shelf spas, but there are even more set to roll out in the near future. 
One of these is the highly anticipated Four Seasons Resort and Residences Napa Valley, slated to open this year with the 
unparalleled Spa Talisa. Like many Calistoga-based properties, this spa is inspired by the town's 150-year history as a wellness destination and will feature a large boulder in the middle of it all, integral to the spa's name. Volcanic ash mud, grape seeds, and outdoor steam pods will all be incorporated from on-property.
In Sonoma, MacArthur Place, which was listed on Travel and Leisure's 2020 It List of Best New Hotels in the World, has completed a substantial renovation of its spa, including the pool, treatment rooms, and fitness center.