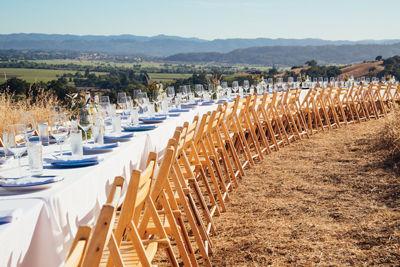 For 20 years, Outstanding in the Field has brought people together to break bread at epically long, circuitous tables set in literally outstanding settings, from vineyards to sea coves to farms.
It was all started with 60 people—mostly family and friends—at a farm near founder Jim Denevan's hometown of Santa Cruz. This year, Outstanding in the Field welcomed nearly 20,000 attendees across the United States, Canada, and Europe.
No event is the same, each uniquely shaped by its setting, the day's weather, the gracious hosts, the guest chef, and most importantly, the people who end up sitting next to each other. Here, Napa Sonoma shares a glimpse into a pair of the 2019 dinners held in Wine Country.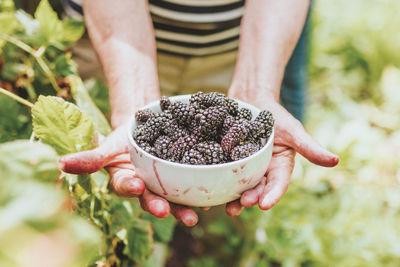 Tres Sabores
The first event took place in a hidden gem tucked away against the western edge of Napa Valley's Mayacamas Mountains: Tres Sabores ranch and winery. Its name translates to three flavors, a nod to the trio of things that make up the Rutherford property, according to proprietor and winemaker Julie Johnson: "the vine, the terroir, and the good company around the table."
Fittingly, the land, its bounty, and people are what Outstanding in the Field is all about, too.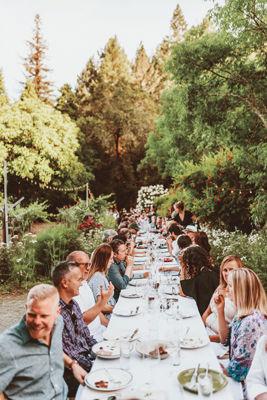 Before sitting down on June 15 to the family-style meal prepared by Nichole Accettola, of San Francisco's Kantine restaurant, guests mingled in the olive grove, which dates to the 1880s, and toured the historic, certified-organic ranch. They admired its 45-year-old vines, culinary garden, farm animals, and the crown jewel, a 350-year-old coast live oak, nicknamed the Wedding Tree because it's where Johnson and her husband, Jon Engelskirger, were married.
"It's really true you could have been sitting here 100 years ago," Engelskirger said. "Wine and food and good company in this place are timeless."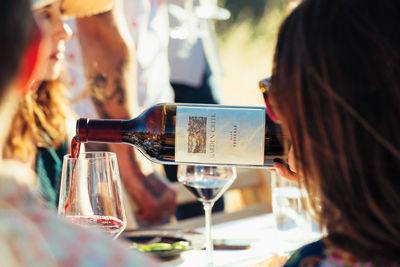 Garden Creek
When guests first arrived at Garden Creek Vineyards in Geyserville on June 23, they didn't yet know they'd have to work for their dinner by hiking up a reasonably steep hill. But once they made it to the top, they were instantly rewarded with awe-inspiring and far-reaching views of Alexander Valley.
Their exertion was quickly forgiven and forgotten—and even more so after chef Ravi Kapur, of Liholiho Yacht Club in San Francisco, served his delectable plates of grilled salmon, pork collar, and red wine sausage.
"We've never done anything like this before," said host Justin Miller, whose family has farmed the property for 50 years. After he took over wine-growing duties at age 19, he completely switched over to organic and sustainable farming practices; he and his wife, Karin (whom he's known since childhood), launched the winery in 2001 and run Garden Creek together today.
"We've dreamed of this," Miller added with a smile. "We're making a dream happen this evening."