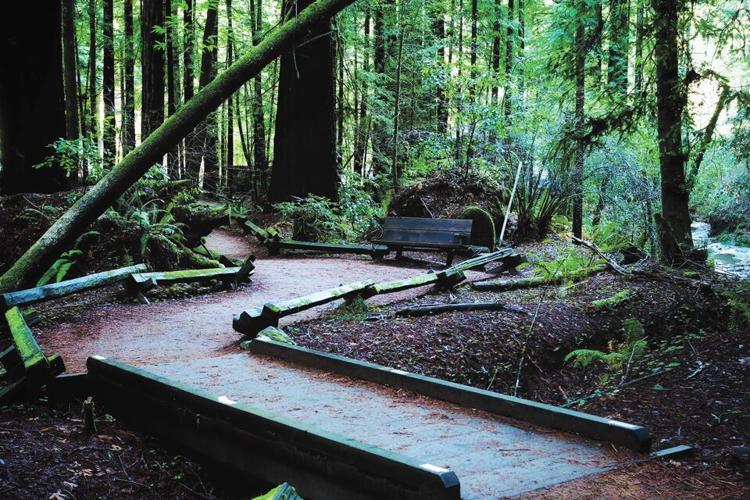 While Napa and Sonoma are synonymous with wine tasting and vineyard tours, 
the region also teems with exhilarating 
opportunities to enjoy the great outdoors. With gorgeous settings and a temperate 
climate, wine country offers abundant ways to lift the spirits that don't call for 
imbibing anything other than fresh water.
Here, we spotlight different ways to 
enjoy our local natural wonders, from towering forests and cascading waterfalls to shimmering lakes and panoramic views.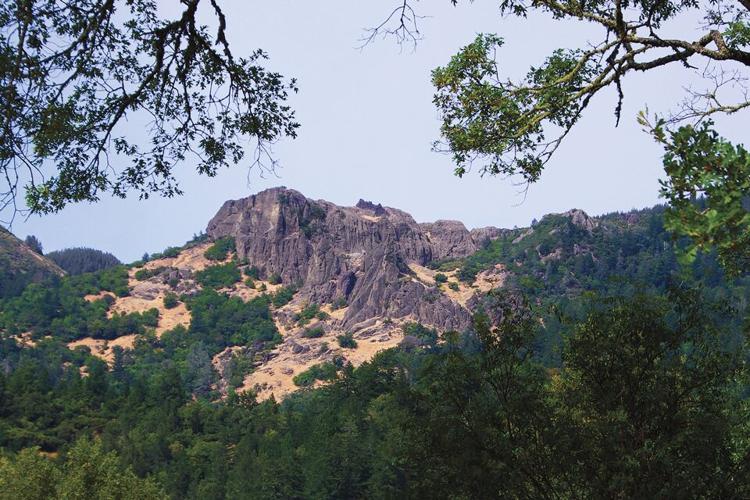 Panoramic Views
Robert Louis Stevenson State Park, Calistoga
Located right on the edge of the town of Calistoga, trailheads and a small parking area open onto this moderately challenging hike. Start on Table Rock Trail, which winds through forests and chaparral; advanced hikers may want to keep going on to Palisades Trail, which then connects to Oat Hill Mine Trail. The hike can be rough and rocky in many places and takes you up to 2,300 feet. At that elevation, you'll have sweeping views of the entire valley, the Palisades, and Sugarloaf Mountain.
Also in Robert Louis Stevenson State Park is a 5-mile hike to the top of Mount St. Helena, which, at more than 4,300 feet, is the tallest peak in Sonoma County. From the top you can see much of the San Francisco Bay Area, and on an exceptionally clear day, you can spot snow-topped Mount Shasta, 192 miles in the distance. The trail to the summit is relatively steep, but the views are spectacular. The 360-degree vistas extend across Napa Valley to Mount Tamalpais in Marin County; you can also see the peaks of Mount Diablo and San Francisco to the south, the Vaca Mountains to the east, and the coastal ranges to the west. parks.ca.gov.
Hood Mountain Regional Park, Santa Rosa
This enormous 1,750-acre wilderness park is conveniently located just about 5 miles outside of Santa Rosa. With almost 20 miles of trails, there's a path for all levels of hikers. Those in search of a challenge will head for the rugged summit trail, which ends at the 2,730-foot peak, the highest in the Mayacamas Mountains. Trails mostly climb through forested areas with some grassy meadows, crossing over many small creeks. For an alternative view, head down the Gunsight Rock outcropping above Highway 12 to catch stunning vistas of Sonoma Valley and, on clear days, the Golden Gate Bridge. For an even bigger challenge, try the 8-mile Goodspeed Trail, which connects to Sugarloaf Ridge State Park. (Much of Hood Mountain's southern slopes and ridges burned in the 2017 Nuns wildfire. Significant regrowth has occurred, but fire scars are abundant.) parks.sonomacounty.ca.gov.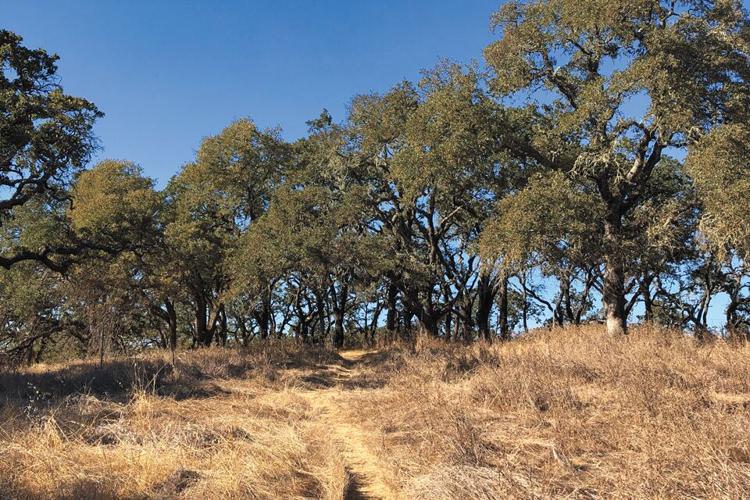 Sonoma Valley Regional Park, Glen Ellen
Located in the center of Sonoma Valley, this 202-acre park sits in the center of quaint Glen Ellen. It's a relatively small area with short trails that veer up hillsides and around ridges. The 1.2-mile Valley of the Moon Trail is a highlight, starting in a large, open meadow, then winding through a forest of oaks and passing over a lovely creek. In springtime, you'll be treated to a host of gorgeous flowers in bloom, including poppies and stunning lupine. parks.sonomacounty.ca.gov.
Waterfall Hikes
Knoxville Wildlife Area, Napa
Part of the Eticuera Creek watershed, the rugged terrain of this 21,500-acre Napa reserve has elevations ranging from 1,000 to 2,200 feet, making it a must-hike site. This tucked-away gem is about 20 miles off the Silverado Trail at Yountville (go east on Sage Canyon Road and then north into the Lake Berryessa area). It's notable for being an important wildlife corridor for a host of animals, such as mountain lions, bald eagles, and bears. The 6-mile-long Zim Zim Trail is one of the highlights, snaking along the remote Zim Zim Creek and stretching through meadows situated just southwest of the wildlife land. The path, which is mostly level, has about 10 crossings over the creek. But the real treasure lies ahead. Keep hiking up the ridge to find the stunning Zim Zim Falls. And if that 8-mile round trip isn't enough, hop onto the Long Canyon Trail, a 4-mile loop. Long Canyon Trail takes about two hours and climbs high up the ridge for brilliant panoramas. Bring your furry friends since the area allows dogs on the trails. wildlife.ca.gov.
Sugarloaf Ridge State Park, Kenwood
With 25 miles of trails traversing oak woodlands and along babbling brooks, Sugarloaf Ridge State Park is a must for nature enthusiasts. The highest peak in this Sonoma County park, Bald Mountain, sits at 2,729 feet of elevation. Get a view of it by hiking the 6.6-mile Bald Mountain loop, with a challenging 1,529-foot ascent; you won't be sorry. On a clear day, views are just about 360 degrees, with Mount St. Helena to the north, San Francisco Bay and Mount Diablo to the south, Mount 
Tamalpais to the southwest, the Sierra Nevada to the east, and the Pacific Ocean to the west. Another great reward comes with the Canyon-Pony Gate Loop trail, which culminates in a glorious 25-foot seasonal 
waterfall. sugarloafpark.org.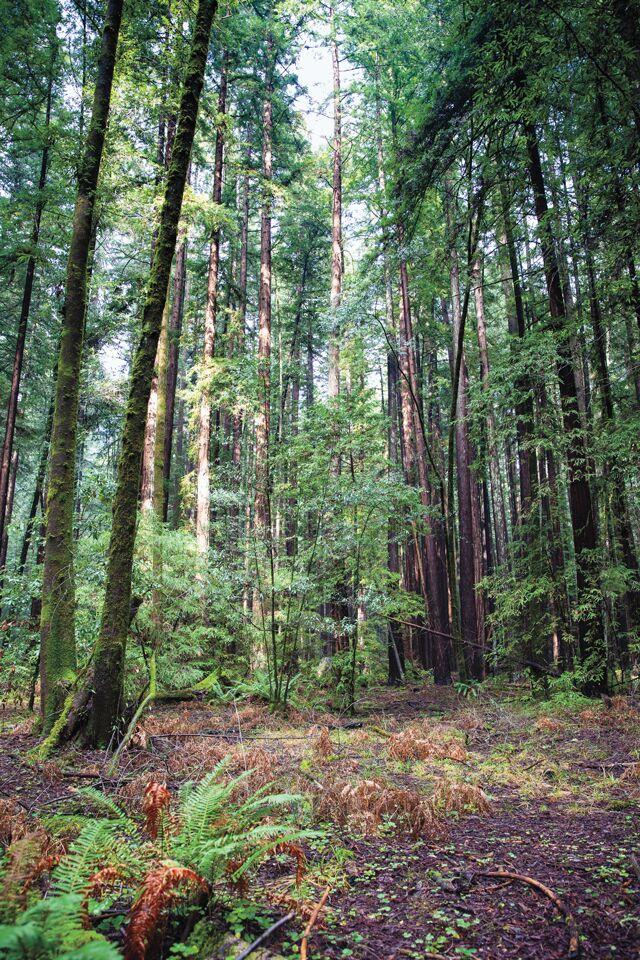 Majestic Redwoods
Bothe-Napa Valley State Park, Calistoga
This 1,991-acre park (pronounced bo-thay), easily accessible off California Highway 29 between Calistoga and St. Helena, stretches clear across Napa into Sonoma County. The 10 miles of trails range in levels of difficulty but all are stunning, surrounded by shaded redwoods, mixed evergreen trees, and ferns along the creek bank. One remarkable hike, the Ritchey Canyon Trail, is an 8-mile, out-and-back path that hugs the rocky Ritchey Creek, a tributary of the Napa River. It runs gently, in modest inclines and declines, under big-leaf maples, madrones, oaks, and skyscraping redwoods.
The Upper Ritchey Canyon Trail begins at the junction of Spring Trail and Ritchey Canyon Trail. Aside from the calming natural beauty, the trail leads to the site of the Traverso Homestead, in the upper west end of the park, which dates back to the 1880s. The trail weaves around volcanic rock cliffs and breathtaking Douglas firs. Coyote Peak Trail is yet another stunning option; a single-track trail that climbs up to the 1,170-foot Coyote Peak, it culminates in expansive views of the forest canopy and the surrounding canyons. Parking is ample and close to the trailheads. $8 day fee per car. parks.ca.gov.

Armstrong Redwoods State natural Reserve, Guerneville
This sprawling 805-acre redwood grove is an ideal locale for "forest bathing"—or shinrin-yoku, a practice popularized in Japan that focuses on the healing properties of woodland settings. The reserve is also a wonderfully serene alternative to the often more crowded Muir 
Woods. There are only a handful of trails here, such as the Discovery and Pioneer trails, but they meander along the canyon floor through the largest remaining old-growth redwood forest in Sonoma County.
A few other trails, like the Pool Ridge Trail and East Ridge Trail, climb from 150 feet through the forest, and then up into the hills of Austin Creek. East Ridge Trail is remarkable for being almost completely covered by a stunning grove of redwoods, along with occasional Douglas firs, madrones, and California bay trees. When the blooms come out, you might see starflowers, redwood sorrel, and in early summer, trillium. There are a few challenging spots with strikingly steep descents followed by inevitable ascents, which make for the perfect outdoor workout. parks.ca.gov.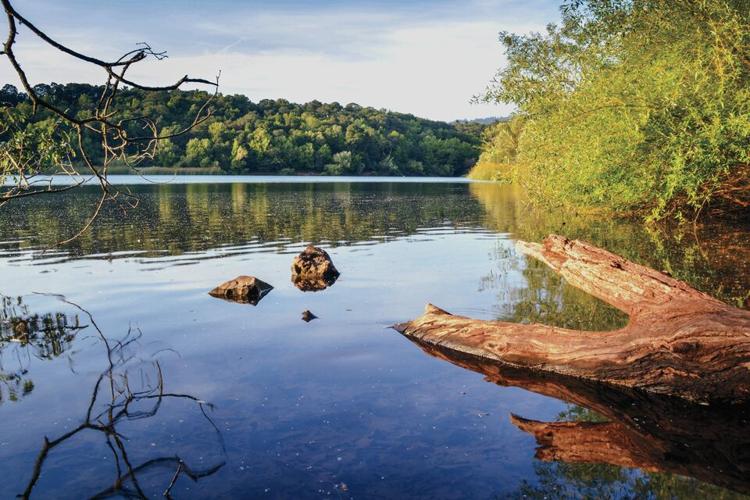 A Walk Along the Water
Moore Creek Park, Napa
On the north side of Lake Hennessey, Moore Creek Park consists of 673 acres of open spaces and canyon, along with 900 acres of woodlands and more than 6 miles of dog-friendly hiking trails. The paths weave through the grassy hillsides of eastern Napa Valley and attract hikers, bird watchers, and mountain bikers. Signs posted along the main lakeside path point out the many bird species living in the reserve, including bald eagles, ospreys, blue herons, and woodpeckers. There's plenty of wildlife to observe as well; keep an eye out for gray foxes and coyotes. Parking is available in the gravel lot off Pope Chiles Valley Road. napaoutdoors.org/parks/moore-creek-park.
Spring Lake Regional Park, Santa Rosa
The small Spring Lake Regional Park attracts both novice and veteran hikers, with 10 miles of trails linking to 
Howarth Park and Trione-Annadel State Park. Hikers looking for a more intense trek should opt for the Annadel trails. Most trails are family-friendly and there's plenty 
of space to end the hike with a picnic or playtime at 
Howarth Park. Spring Lake itself—a 72-acre reservoir—
is ideal for canoers, kayakers, and paddleboarders. During certain times of the year, the reflections off the lake 
provide a stunning mirrored effect, perfect for contemplating the mystery, beauty, and renewal of nature. 
parks.sonomacounty.ca.gov.