Every Memorial Day weekend, thousands of sunscreen-covered music fans bypass vineyards and tasting rooms to sip and swirl to the beat of BottleRock Napa Valley's star-studded lineups. With headliners like Bruno Mars, The Killers, and Muse, the young festival has become an unarguable force in putting Wine Country on the world-class music scene map—in less than a decade.
But truth be told, Napa and Sonoma Counties' musical inclinations took root long ago. From an opera house that dates back to the 1880s to a historic art deco theater, Wine Country has served as home to music for more than a century. And new state-of-the-art performance venues are finding creative ways to up the ante every day. Movable theater walls built to bring the outside—and many more fans—in are all the rage. And then there's a wine-tasting room that does double duty as a recording studio. No matter what your taste, Wine Country's musical vibes just seem to get better with age.
Sonoma County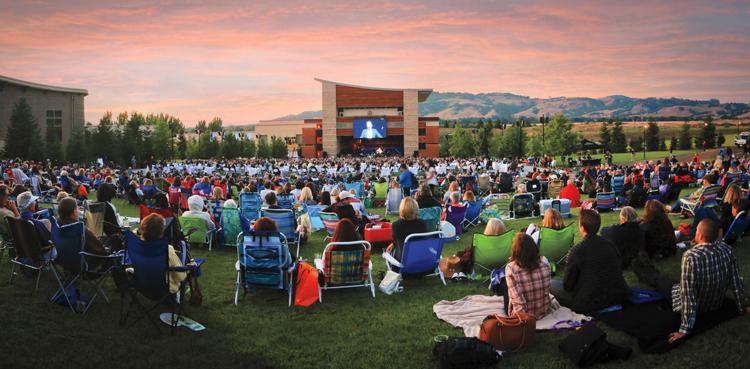 Green Music Center at Sonoma State University
Located on the Sonoma State University campus, Green Music Center (GMC) offers two great venues in one convenient location: the 1,400-seat Weill Hall and the cozy, intimate 240-seat Schroeder Hall. Performance selections are varied, ranging from classical and jazz to Broadway, contemporary, and comedy. GMC is also the home of the Sonoma Bach Choir and the Santa Rosa Symphony.
Weill Hall has a back wall that opens to lawn seating, which is put to good use June through September. Attendees are welcome to bring folding chairs or blankets for relaxing and picnicking. Though small, Schroeder Hall boasts a 1,248-pipe organ and is named after Charlie Brown's piano-playing, Beethoven-loving friend, in honor of longtime Santa Rosa resident and Peanuts comic strip creator Charles Schulz. Performances to get excited about for fall include Lyle Lovett and his Large Band in Weill Hall on September 8. 1801 E. Cotati Ave., Rohnert Park, (866) 955-6040, gmc.sonoma.edu.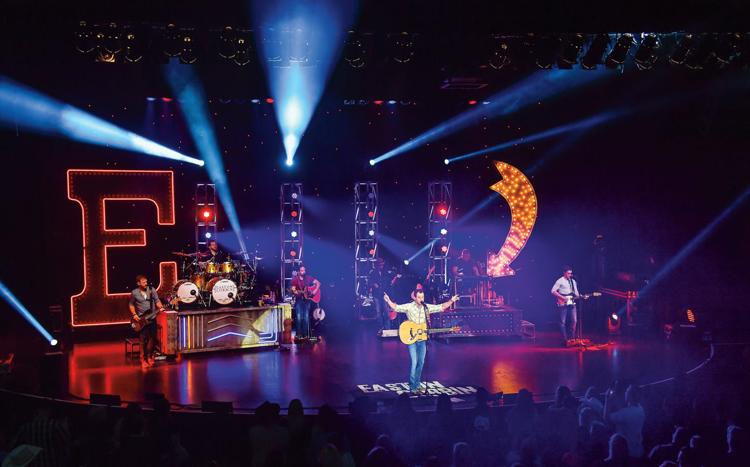 Luther Burbank Center for the Arts
Founded in 1981, the Luther Burbank Center for the Arts counts  the horticulturalist renowned for developing the Shasta daisy as its namesake. Along with accomplished musicians, the nonprofit, community-supported arts center presents dance and comedy performances—in addition to fun and educational children's programming—in its 1,633-seat Ruth Finley Person Theater. Fall must-sees include Frankie Valli and The Four Seasons (August 5) and Norah Jones (September 20). 50 Mark West Springs Rd., Santa Rosa, (707) 546-3600, lutherburbankcenter.org.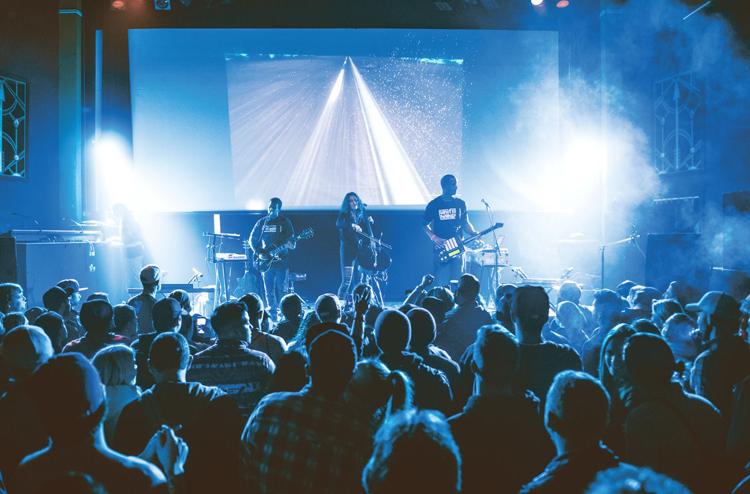 Mystic Theatre and Music Hall
Built in 1911, the Mystic Theatre and Music Hall boasts a storied past and has every intention of keeping its reputation for great shows going well into the future. Originally home to live vaudeville, it was renovated in 1992 so live music could take center stage. The Mystic holds up to 500 guests. Tickets for most shows are general admission, but reserved seating may be offered for some acts. Tickets also tend to be slightly cheaper if purchased in advance rather than at the door. 23 Petaluma Blvd. N., Petaluma, (707) 775-6048,
Main Stage West
With seats for just 70 lucky ticket holders, everyone gets an up close and personal view at Main Stage West. The nonprofit theater and concert venue holds a showcase called Players on the Stage that highlights Sonoma County musicians. Concerts are scheduled every couple of months; tickets just might be the best bargain in Wine Country at $10. 104 N. Main St., Sebastopol, (707) 823-0177, mainstagewest.com/concerts.
HopMonk Tavern
Two locations—one in Sonoma and a second in Sebastopol—give music lovers double the entertainment options. In Sebastopol, ticketed and typically standing room–only shows take place five to seven nights a week in HopMonk's Abbey, which also plays host to a free open mic night every Tuesday night. Additional free performances by up-and-coming artists are held in the beer garden.
HopMonk in Sonoma holds open mic night every Wednesday night on the indoor Tavern Stage. The same stage also hosts free shows by small bands and solo artists Friday and Saturday nights. Diners will find live music in the beer garden Friday evenings and during the early afternoon every weekend. 230 Petaluma Ave., Sebastopol, (707) 829-7300; 691 Broadway, Sonoma, (707) 935-9100. hopmonk.com.
Napa County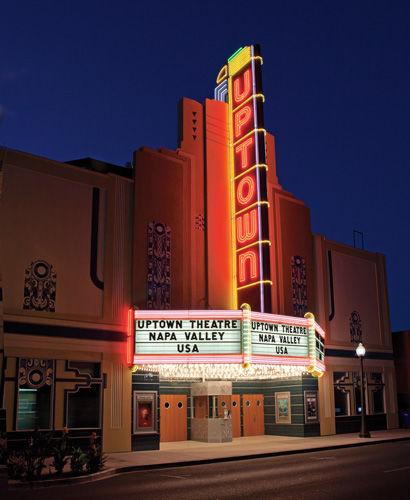 Uptown Theatre Napa
It may be small, but that doesn't stop the Uptown Theatre Napa from bringing mighty acts to the stage. Built in 1937, the historic art deco theater served as a local movie house. Now renovated and restored, the stage is only 98 feet from the last row, so it's tough to find a bad seat among the 860 available. Recent names to grace the Uptown stage include Art Garfunkel, The Charlie Daniels Band, and Chris Isaak. Artists set to perform this fall include Amos Lee (August 11) and Led Zeppelin cover band Get the Led Out (October 12).
An added perk: The Uptown's location in downtown Napa makes it easy to grab dinner before or after a show at local favorites close by, such as Miminashi and Charlie Palmer Steak Napa. Parking in the evening is a breeze, with plenty of room on the street or in nearby lots. 1350 Third St., Napa, (707) 259-0123, uptowntheatrenapa.com.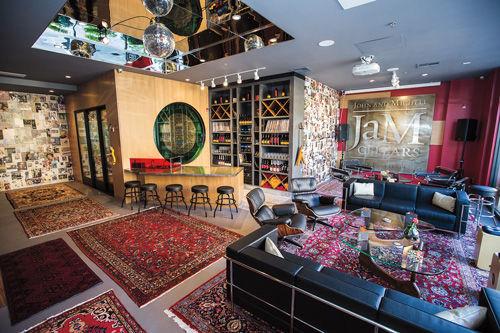 Jam Cellars
On any given day, you can kick back with a glass of wine and enjoy the hits of decades gone by thanks to the classic vinyl collection at Jam Cellars in downtown Napa. But Thursday and Friday nights are all about live tunes (January through March, Friday nights only). Jam Sessions highlight up-and-coming musicians you'll want to hear more from—although every now and then, a surprise headliner pops in to say hello and belt out a few tunes as well. Along with an ultramodern sound system and fun assortment of music memorabilia, there's a recording studio steps from the tasting bar. Jam Cellars stays open until 10 p.m. Sunday to Wednesday and midnight Thursday through Saturday. 1460 First St., Napa, (707) 265-7577, jamcellars.com.
Napa Valley Opera House
If walls could talk, the Napa Valley Opera House would have more than 130 years' worth of interesting tidbits for music fans. Since it opened its doors in 1880, the stage has hosted everything from vaudeville and concerts to important community events, including public meetings and high school graduations. A $13 million renovation in the 1990s restored the Opera House to its old grandeur. It plays host to not one but two music venues.
Jazz and supper club Blue Note Napa is located on the first floor. The 144-seat jazz club features live entertainment five nights a week by faves from Wine Country and beyond. Along with a full bar, the restaurant serves entrées such as thyme-basted scallops, as well as munchies. (Both the french fries and crisp brussels sprouts are excellent.) Brian McKnight is scheduled to play September 27–29 this fall. 1030 Main St., Napa, (707) 880-2300, bluenotenapa.com.
The second floor is home to the Jam Cellars Ballroom at the Margrit Mondavi Theatre. The ballroom floor can seat up to 400 people or 600 standing. Nick Waterhouse and Allen Stone are among those set to grace the historic stage this fall, appearing on October 12. 1030 Main St., Napa, (707) 880-2300, jamcellarsballroom.com.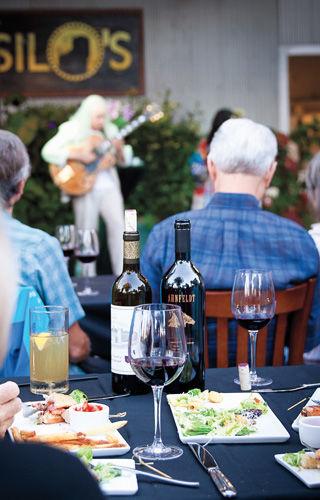 Silo's Napa
Silo's Napa is a favorite with musicians and fans because of the intimate setting and fabulous acoustics. There's room for about 125 inside, and outdoor shows on the River Bend Performance Plaza can accommodate seating for about 150 folks. Silo's is home to most of the Napa Valley Jazz Society concerts, with performances typically scheduled once a month. Its stage has also hosted the likes of Dweezil Zappa, Greg Kihn, and Sheila E. Silo's boasts a full bar and a menu with staples like Caesar salad, house-made pizza, and sweets as well. A Prince tribute show takes to the stage August 11. There's oodles of free parking outside the main entrance, along with a garage across the street. 530 Main St., Napa, (707) 251-5833, silosnapa.com.
Rocking the Vines
Plan your Wine Country vacation around these annual music events.
Yountville Live, Yountville, March. yountvillelive.com.
BottleRock Napa Valley, Napa, May. bottlerocknapavalley.com.
Country Summer Music Festival, Santa Rosa, June. countrysummer.com.
Margrit Mondavi Summer Concert Series, June–July. robertmondaviwinery.com/about-the-series.
Festival Napa Valley, Napa Valley, July. festivalnapavalley.org.
Broadway Under the Stars, Glen Ellen, June–September. transcendencetheatre.org/broadway-under-the-stars.
Rodney Strong Summer Concert Series, July–September. rodneystrong.com/events/summer-concert-series.
Sonoma Harvest Music Festival at B.R. Cohn Winery, Glen Ellen, September. sonomaharvestmusicfestival.com.
Music Festival for Brain Health, Rutherford, September. music-festival.org.
Russian River Jazz Festival, Guerneville, September. russianriverfestivals.com.