Sip champagne while you shop, and discover vintage-inspired clothing in Wine Country.
Allison in Wine Country
Owner Allison Molinatti curates fashion-forward threads, from hard-to-find brands such as Splendid, April Martin Designs, Godiss, Krisa, Lanston, and Susana Monaco. Look for women's and children's clothing, plus accessories, handmade jewelry, and luxury handbags from Hammitt. What's hot now: one-of-a-kind Edina Kiss jewelry. 1204 Main St., St. Helena, (707) 963-6005, allisoninwinecountry.com.
Looking Glass
This is the perfect spot for your girls weekend. Book an appointment, or drop in to taste champagne and try on top brands such as Rag and Bone, Haute Hippie, Mother, and Tom Ford. Whether you admire high fashion from the big city, laid-back looks from SoCal beaches, or the romantic style of NorCal vineyards, this shop excels in Wine Country's casual elegance. 332 Healdsburg Ave., Healdsburg, (707) 433-7033, lookingglasshbg.com.
Mad Mod Shop
This vintage-inspired women's clothing and accessories store at The Barlow is as cool as the Rat Pack itself. The shop features many new London-based designer brands that are in high demand. Come here for party dresses, swimwear, gloves, swing coats, capes, shoes, and accessories—especially if you love classic silhouettes. 6780 McKinley St., Ste. 140, Sebastopol, (707) 329-6113, madmodshop.com.
Redolent Mercantile
Cairdean Estate is its own destination, with a restaurant (The Farmer and The Fox), bakery (Butterscots Bakery, Deli, and Culinary Market), and tasting room with supercool wine caves (Cairdean Vineyards and Winery). In May, the estate also welcomed Redolent Mercantile, a shop with luxurious lifestyle goods such as clothing, home items, beauty products, and jewelry, including pieces from Alexis Bittar. One wing of the shop is dedicated to indulgences, including fine scotches, flasks, cigars, cologne, books, sunglasses, and art. 3111 St. Helena Hwy. N., St. Helena, (707) 968-5112, cairdeanestate.com/redolent-mercantile.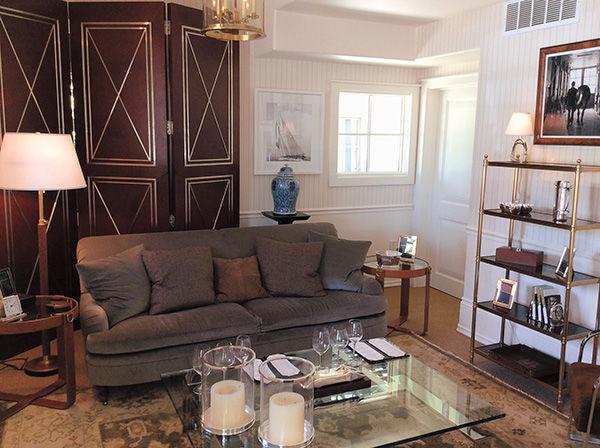 Silver Trident Winery
This "tasting home" located in a Tuscan-style building takes a unique approach to shopping while sipping. Visitors can choose to enjoy their wine in the dining room, library, or living room. All Ralph Lauren Home items scattered about are available for purchase. There's no tasting bar, no rush, and no standing elbow-to-elbow as you wait for your next pour. The consulting chef also creates light bites to taste with the wines. 6495 Washington St., Yountville, (707) 945-0311, silvertridentwinery.com.