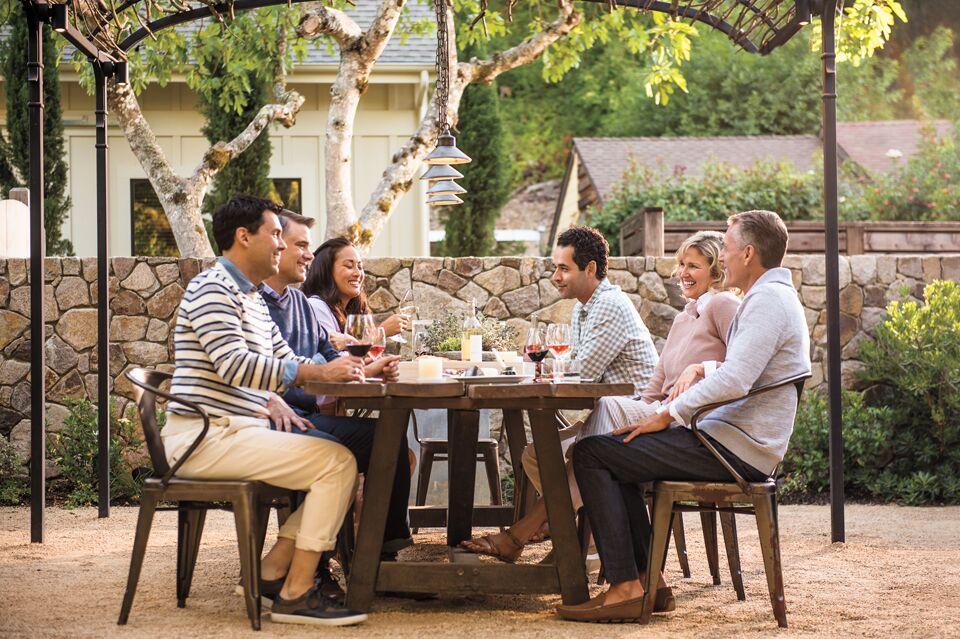 When siblings Joe 
and Catherine 
Bartolomei 
purchased their 
Farmhouse Inn property in Forestville in 2001, they had a simple plan: create a notable 
dining experience. They never imagined they'd be celebrating a 20th 
anniversary, as they are now, owning one of America's highest-rated 
hotels, with a spa, manicured grounds, and a Michelin-starred restaurant.
At the time, the tract held an 1873-built bed-and-breakfast, eight migrant workers' cottages, and a modest pub bistro run by chef Steve Litke. Joe was 28, Catherine was 33, and they were brimming with energy.
"From day one, we focused on the restaurant idea, since food plays such an important role in Sonoma County, and we felt that if we could grow the reputation of the restaurant, we could bring everything else up to that level," Joe says. "We definitely envisioned it being a little gem, but I don't think we really had a clear vision for the property until probably 10 years down the road."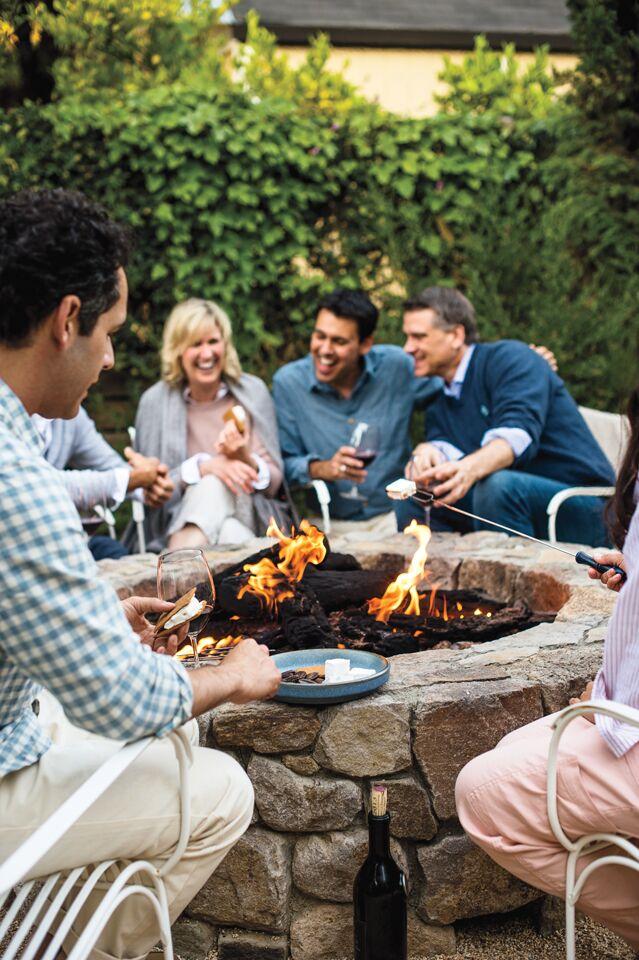 Yet within a year of the inn's 
opening, Travel and Leisure named it among the Top 30 Inns in America. Then more accolades poured in. The inn consistently ranks high on dozens of lists from international publications, and has been designated one of the 
Best Hotels in the World, Best Boutique Hotels in the World, Top Hotels in the USA, Gold List Best Hotels in North America, World's Best Honeymoon Destinations, Top 10 Most Romantic Inns in the United States, and more.
The restaurant at Farmhouse is in the same league. It's been named among the World's Best 36 Food Destinations, Best Restaurants in America, Top 
100 Restaurants in America, Top 10 Culinary Country Inns, and America's Most 
Romantic Restaurants, as well as Sonoma County's 
Most Romantic Restaurant.
(Ironically, Catherine notes that they officially purchased the inn on February 14. "While it may have been Valentine's Day, there was nothing romantic about [it]," she says. "It was just the day that a very long and challenging escrow closed. Little did we know how serendipitous 
it was, as Farmhouse became known as such 
a romantic destination.")
In all, it's quite the achievement for the 
brother-sister team, who refer to themselves 
simply as fifth-generation Sonoma farmers who, on a whim, came across a rundown B&B a few miles from their great-grandparents' ranch in the Russian River Valley. There wasn't even landscaping on the six-acre plot then, just overgrown hedges lining a gravel road to the sad-looking structures.
"What we bought was an absolute dump ... with the main house painted a sickening chiffon yellow," recalls Joe. "The original cottages built in the early 1900s were adorable, while the interiors were atrocious ... but the location was good, and the bones were amazing."
Surprisingly, the main home's interior was very well maintained. "The walls were every shade of pink known to man," Joe says. "But once we repainted them a more appropriate color and added our Farmhouse design touches, everything looked great."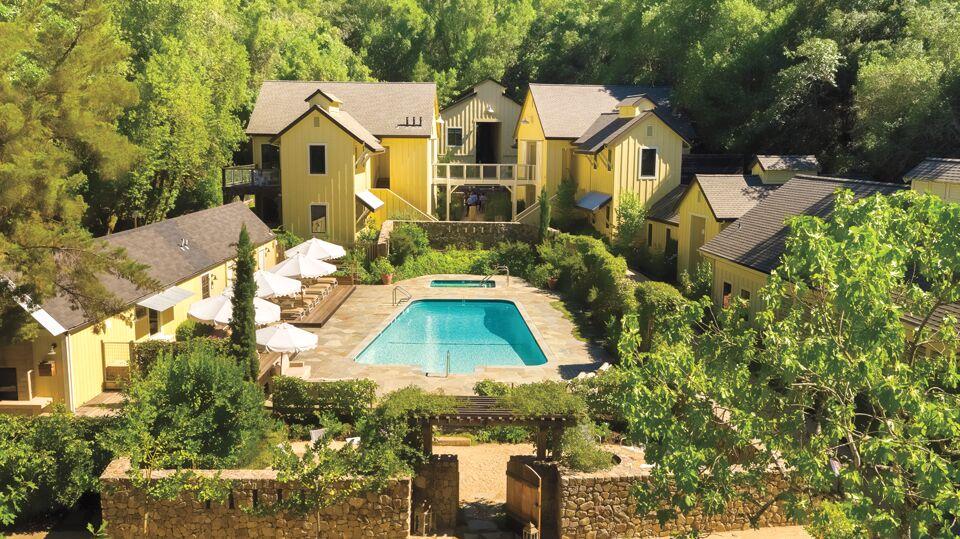 Rooted in Hospitality
At first, the Bartolomei siblings planned to keep things simple. "I had no aspirations of being an innkeeper," Joe says. "I just love architecture, and I love to build."
Still, as he and Catherine reflected on growing up at their great-grandparents' ranch nearby,
 more ideas started flowing. "As children, we spent so much time in that house, around the table eating food with family and friends. 
Hospitality is in our blood, and finding this beautiful little treasure inspired us," says Joe.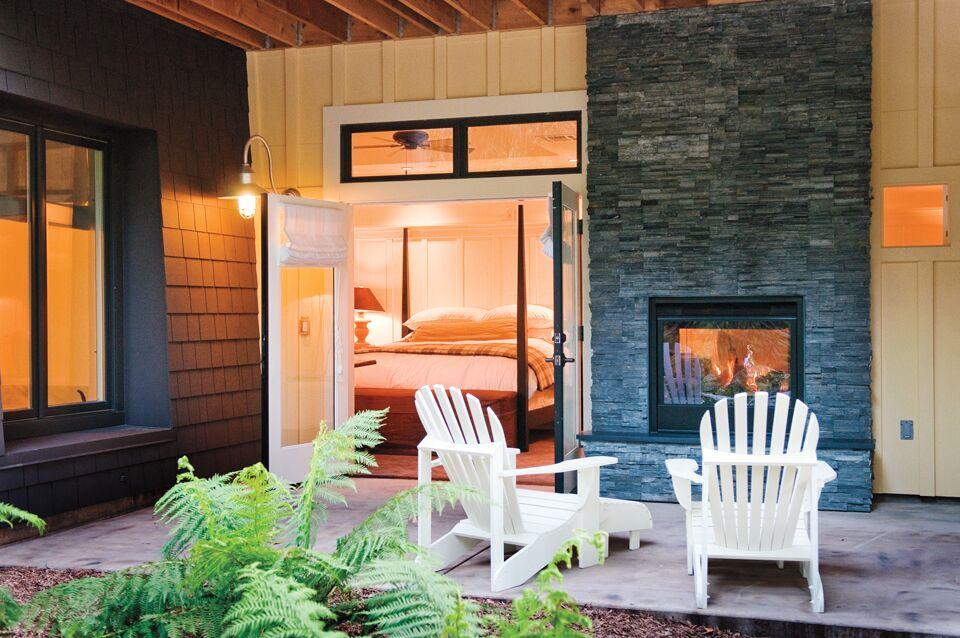 They remembered how their great-grandparents had built a Sonoma County dream as well, when they channeled their successful hops production into olive trees and vineyards back in 1911. The Bartolomei family still owns and operates that ranch, which now grows some of the ingredients served at the restaurant and produces grapes for their wine brand, Lost and Found.
And so they dug in.
"Catherine and I invested hundreds of hours of elbow grease into peeling wallpaper and demolishing bathrooms that included fiberglass avocado-green and peacock-blue hot tubs," Joe says. "I think I've personally painted every room at least once on the property, and I painted Cottage 8 four times because Catherine could not get the exact right shade of blue. Our mom, an accomplished seamstress, sewed every drape, duvet cover, and pillow sham for us. ... When we finally reopened in August 2001 ... our scraped-together investment of $100,000 and all our hard work had paid off."
Over the years, Joe and Catherine have directed multimillion-dollar property-wide renovations and expansions, including turning the original migrant workers' bungalows into jewel-box cottages. They converted the home's upstairs innkeeper apartments into two guest rooms, built a large barn-style meeting room, and added two-story modern barn-style buildings toward the back end of the property.
"With the success of the restaurant and hotel, in 2015 we were able to begin our largest and most ambitious expansion project," says Joe. "We added nine new luxury junior suites and 
a brand-new horse stable–inspired spa building, all built to look like the original structures."
Today, with just 25 rooms, the mood of the property is one of quiet elegance, combining the intimacy of a country inn with the sophisticated luxury of a world-class hotel.
At each step, Joe and Catherine flexed their design muscles for their signature farm-chic style. They used wainscotting and experimented
 with elegant tone-on-tone color palettes 
accented with natural textures like wool 
and linen. They introduced fresh ideas like 
interior sliding barn doors, which were rare 
15 years ago.
"In fact, we have been credited with being some of the early trendsetters in the modern agrarian architectural movement," Joe says.
Indeed, clever farm touches are featured throughout the inn, from decorative hoes, to picks and weathervanes, candle lanterns, and upside-down galvanized milk buckets used as light fixtures. Rustic luxury is found in the stone-framed indoor-outdoor fireplaces, 
and feather beds dressed in crisp European 
linens that feel fresh off the clothesline. For pampering, complimentary Sonoma-made 
artisan bath treats beckon, such as brown 
sugar scrub, milk bath, and bubble bath to 
enjoy in jetted bathtubs, steam showers, or 
wet/dry saunas. A highlight: you cut your 
own bar of soap from pastel green, purple, 
and cream-colored slabs.
During the day, guests sprawl in Adirondack chairs on large decks, soaking up the perfume of the fragrant flower gardens, while resort cat Charlie Allnut strolls by, meowing for attention. At night, they gather at firepits to roast s'mores made of homemade vanilla marshmallows, Valrhona chocolate, and graham crackers.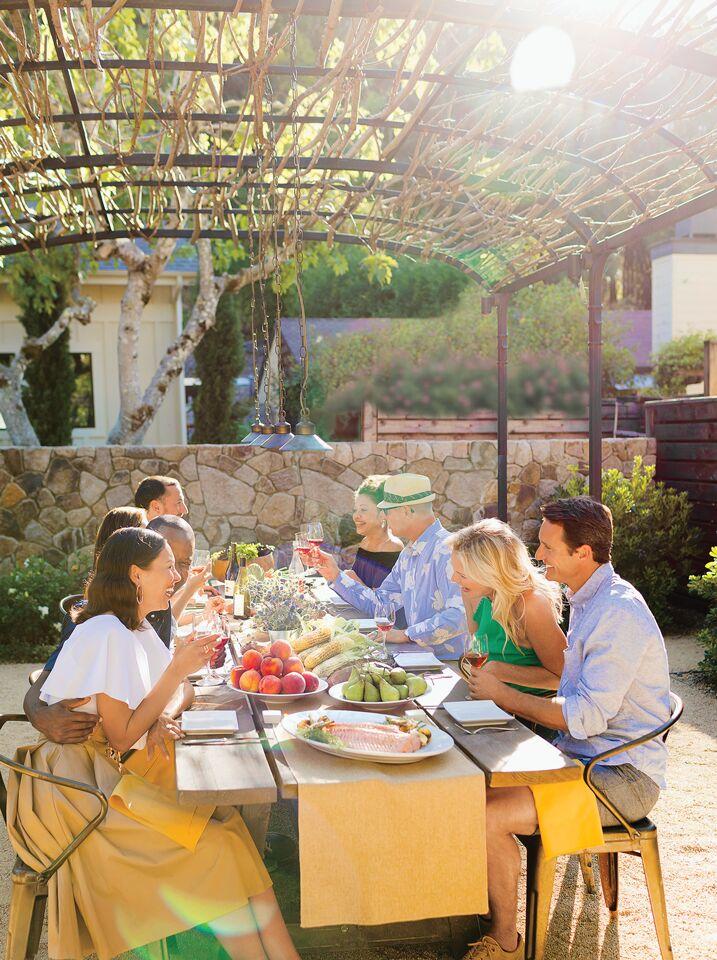 World-Class Restaurant 
and Spa
Farmhouse's Cal-Mediterranean restaurant has surpassed its grand potential dreamed of two decades ago, with original chef Steve Litke still at the helm. He is retiring at the end of the year, but can look back with pride at how far he has come from his earliest days cooking burgers served by housekeepers at card tables in the casual dining room.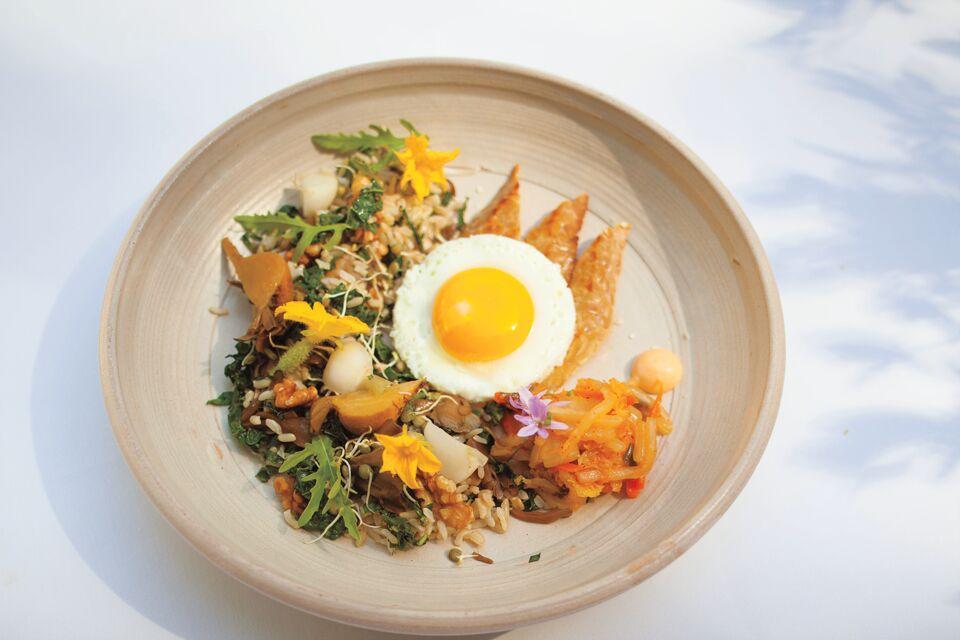 Today, diners savor sophisticated 
farm-to-table signatures like Ramini water buffalo mozzarella with heirloom tomato, a parmesan crisp, caperberry olive tapenade, 
and bloomed basil seed; and Rabbit Rabbit 
Rabbit, a petite roasted rack of loin cut into thick coins wrapped in applewood-smoked bacon and leg confit draped in velvety whole-grain mustard sauce.
A team of sommeliers guides visitors through the extensive wine list showcasing local tiny-
production wineries along with international selections.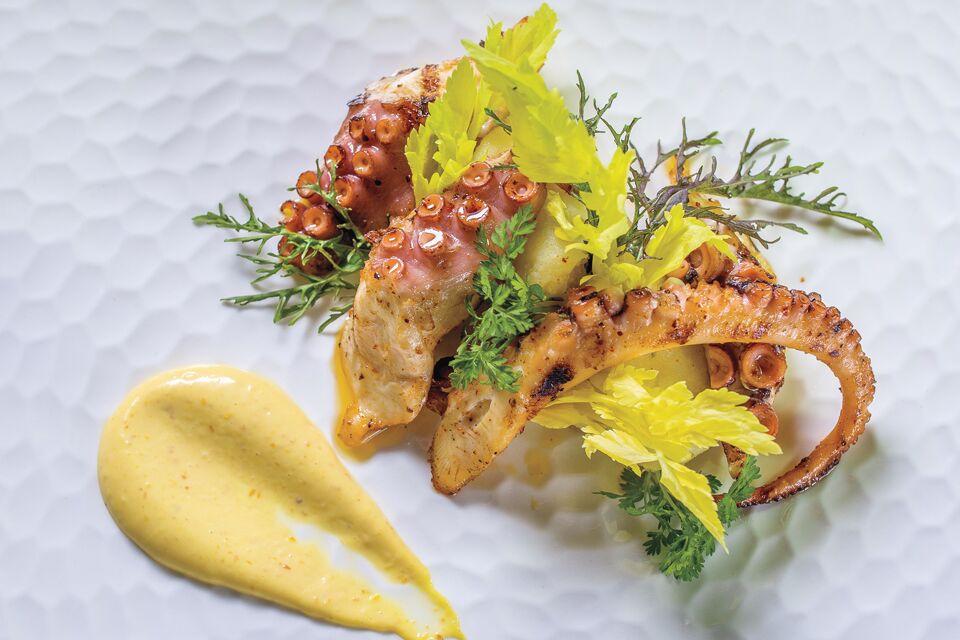 "When the Michelin Guide finally came to San Francisco in 2007, we got a Michelin star—a dream come true," Catherine recalls. "According to the guide, one star means 'a very good restaurant,' which is a perfect homage to our small country restaurant of excellent food in 
a beautiful setting."
The farm theme continues at the poolside spa, the Wellness Barn. Treatment rooms have Dutch doors opening onto an indoor-outdoor breezeway, shiplap siding, and painted horse murals created with rubbed-down house paint for a vintage look.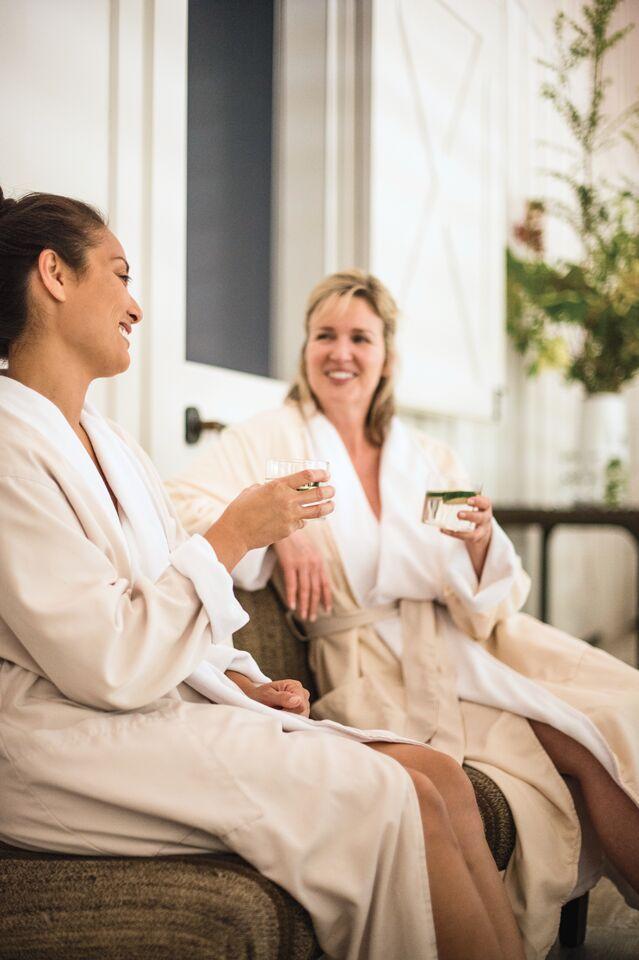 Treatments, too, look to the earth, such 
as with the Nurtured by Nature indulgence, 
which begins with a warm wrap infused 
with sun-evaporated Pacific sea salt, wild 
mustard seed, and healing clays. 
An alfresco shower is followed by a refreshing coastal redwood body mist, then a massage with custom oils and butters blended with herbs, flowers, citrus, honey, medicinal botanicals, and minerals from the Bartolomei ranch.
For all the high-end luxuries 
curated at Farmhouse Inn these 
past 20 years, the Bartolomeis 
still hold strong to their rural, hands-in-the-dirt roots. They 
were one of the first in the area's 
hospitality industry to embrace green initiatives, including collecting all kitchen waste for the inn's flock of about 80 hens (who lay 
the eggs for the restaurant), and planting an edible landscape 
of rosemary, lavender, culinary 
flowers, and fresh veggies around 
the resort to be showcased on daily food menus.
"As farmers, I think we have always been good stewards of the land," Joe says. "It's just what you do to keep the soil healthy, so we've been practicing green initiatives from day one. That wasn't a gimmick or a trend, it was just the way we live, and we felt like it was the right thing to do."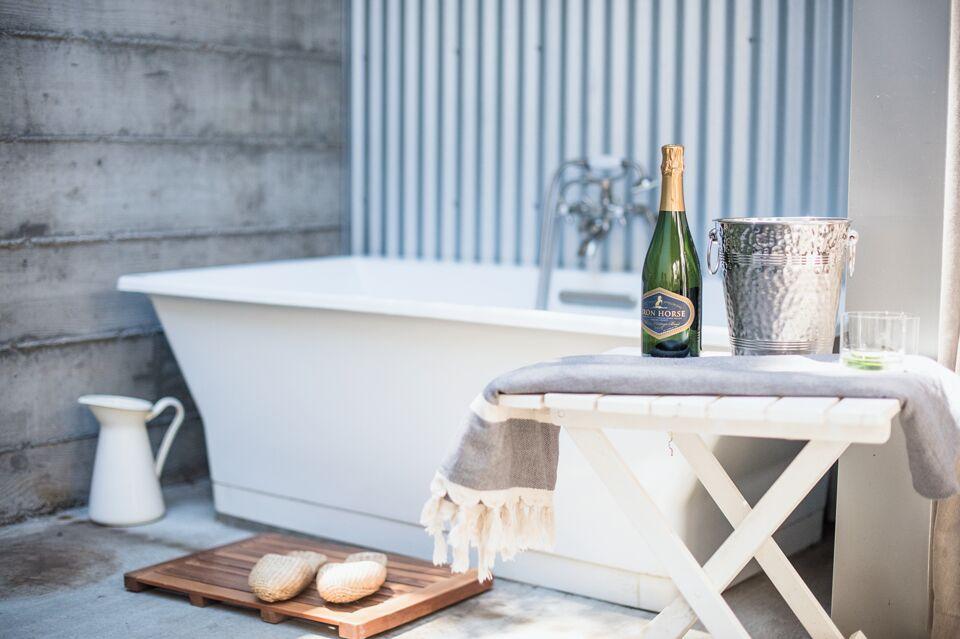 One thing hasn't changed at this now-iconic property, however: the Farmhouse's exterior color that Joe and Catherine hated.
"After much deliberation, we looked to the history of the property and the Johnson family who built the house, and decided to honor their legacy by keeping the little farmhouse yellow, the color it has been since its construction in 1873," Joe says. "We found a better shade of yellow, rich and warm and a bit more modern, and that's been our color ever since. Lots of people have asked me why we didn't paint everything white, 
a look that's very 
trendy for farmhouses. 
But our goal for 
Farmhouse always has been, and always will be, to be timeless."