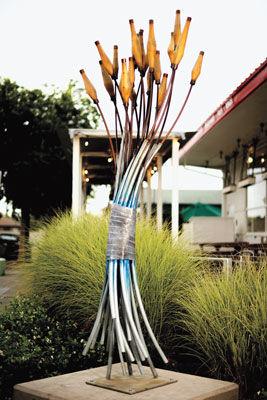 Wine tasting might be the initial draw for visitors to Napa and Sonoma, but the region offers far more than vineyards—especially for culture lovers. While Wine Country is dotted with museums and galleries, art-works are popping up in unlikely spots throughout the area. Many wineries take great pride in showcasing local artists, both established and emerging, but you can also simply walk down a street in Santa Rosa or take a train ride up the Napa Valley to experience a mind-blowing array of paintings, sculptures, and more. Join us as we unveil these sweet spots of creativity.
Outdoor Public Art
Napa and Yountville Art Walks
Through a collaboration between the Arts Council Napa Valley and the City of Napa, the Napa Art Walk snakes around the downtown area, showcasing a series of pieces—mostly sculptures—made by regional artists. The current exhibition, Sense of Place (on view through 2021), is made up of eight jury-selected works. Together, the collection reflects the symbolic and physical relationships between humans and their environment. Grab a map at the Napa Valley Welcome Center, and stroll the city to take it in. napaartwalk.org.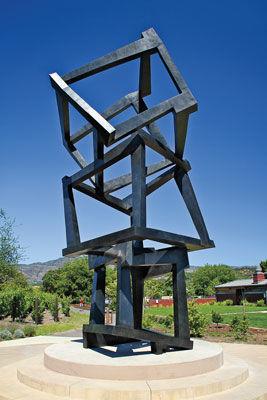 The town of Yountville also boasts an art walk featuring nearly 40 outdoor sculptures. Many of the pieces are for sale, with a portion of the proceeds supporting the Yountville Arts Fund and other cultural programs. During Arts in April, a multimedia celebration across the valley, the town offers a special day of viewing and imbibing: Yountville Art, Sip and Stroll happens this year on April 25. town​ofyountville​.com, artsipstroll.com.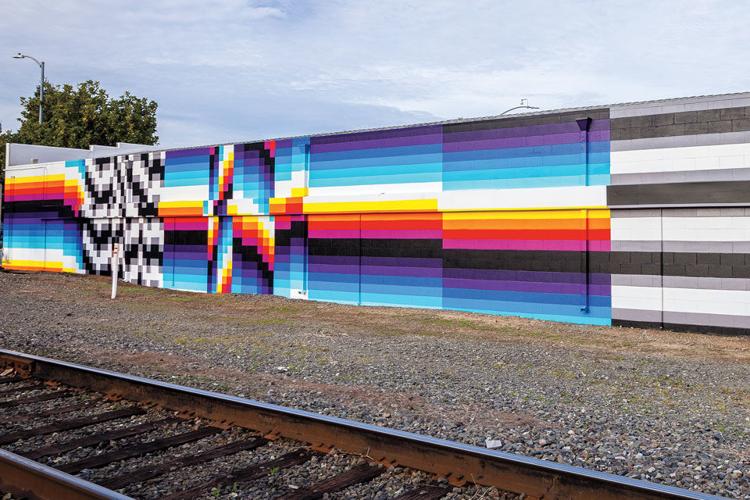 Rail Arts District
In a 2016 effort to reenergize Napa's commuter corridor along the Napa Valley Vine Trail, the Rail Arts District (RAD) was born. Since then, the neighborhood has come to life, thanks to artists painting giant murals on the backsides of warehouse-​​style buildings. The two-mile stretch of outdoor art was created by select global artists and includes works such as Chromadynamica, a 123-foot-long brightly colored abstract piece by Argentinean-​Spanish graffiti artist Felipe Pantone, and Floating Napa, an "ungravitied construction" by arcelona-based muralist Cinta Vidal Agulló. View the works from the Napa Valley Wine Train, or walk or bike on the adjacent Vine Trail, which runs along the river in downtown Napa. RAD has become a landmark in the valley's growing arts scene. radnapa.org.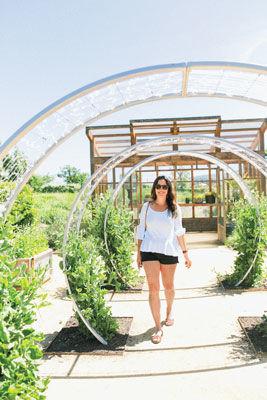 Cornerstone Gardens
Botanical installations fill the lovely gardens at Cornerstone Sonoma, an indoor-outdoor marketplace featuring an ever-changing series of 10 works designed by local and international landscape artists. A must-see on a sunny day, the curated green spaces illuminate the connection between art, architecture, and nature. Founders Chris Hougie and Teresa Raffo were inspired by the gardens at Domaine de Chaumont-Sur-Loire, in France, and re-created the experience in Wine Country. New owners, led by Karin Rogers, carry on their mission.
Gardens currently on display include Rise, by Roger Raiche and David McCrory, a tubular structure built around tree roots; White Cloud, by Andy Cao and Xavier Perrot, a series of sculpted clouds with hanging crystals suspended over a landscape made from oyster shells; and Immigrant Tribute, by Mario Schjetnan, an architectural installation that pays homage to the many Mexican immigrants who live and work in Sonoma County.
In addition to admiring the crea-tivity, guests can grab a bite or a sip on the Cornerstone grounds at Palooza Beer Garden and Eatery, Prohibition Spirits Distillery, or one of the three on-site wine-tasting rooms. corner​stone​​sonoma.com/gardens.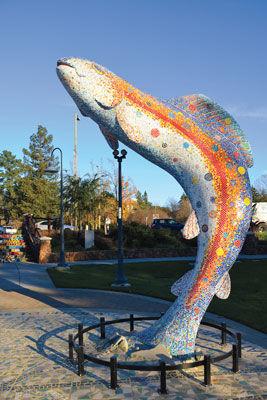 Santa Rosa Arts District
The city of Santa Rosa has supported a thriving arts program for decades, with public displays placed sparingly around town. In 2006, however, down-town Santa Rosa was designated an arts district, and since then, installations have popped up at highly visible landmarks including Courthouse and Railroad squares, Juilliard Park, and the Luther Burbank Home and Gardens. Scattered around Santa Rosa's charming blocks, the artworks are easily accessed by foot or bike using the city's detailed map.
If you are walking, head to the Railroad Square historic district to view a stunning series of colorful murals, including several created by members of the Artstart initiative, a community organization that trains young artists. Among the highlights are Native American Mural, by Laura Hoffman with the Dry Creek Rancheria Band of Pomo Indians, and the Artstart projects Remember the Past, Consider the Future and Ship and Goat Rock.
If you're cycling, ride along Prince Memorial Greenway and glance at either side to take in Guardian of the Creek, designed by Mario Uribe and sculpted by Daniel Oberti in conjunction with Artstart, and Artstart's ceramic-​tiled Egret Mosaic. View more works along South A Street, where an "art alley" is covered with murals.
A major project in the works is Imagine Art in Old Courthouse Square, a collection of outdoor artworks celebrating Santa Rosa's values of cultural inclusivity and innovation, expected to be installed in Courthouse Square in fall 2021. Says the city's arts coor-dinator, Tara Thompson: "This is an opportunity for the entire community to see something that represents Santa Rosa … and help people engage with the space differently." srcity.org.
Arts in April
This year marks the 10th anniversary of Arts in April—a monthlong event focusing on the rich creative scene in Napa Valley. Highlights include art shows (with wine tastings) at wineries, artists' open studios, and a poetry crawl in downtown Napa. For the full schedule, visit artscouncilnapavalley.org.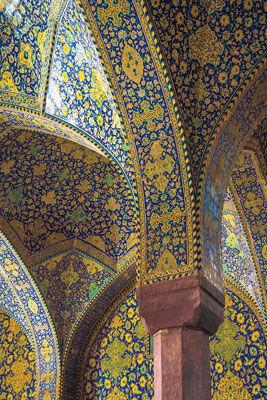 Art at Wineries
Robert Mondavi Winery
The beautiful Mission-style architecture is reason enough to visit, but don't miss the Beniamino Bufano sculptures strewn across the venerable Robert Mondavi Winery property in Oakville. Step inside to view the rotating and permanent painting collections in the Vineyard Room; a recent exhibition showcased a selection of Hearne Pardee's impro-visatory drawings set in collages. Visitors who want to see the entire collection should contact the winery directly to arrange a private tour. robertmondaviwinery.com.
The Hess Collection
After more than 50 years of collecting, Donald Hess has amassed an astounding array of artwork, now on display at the three-story gallery (and on the grounds) at his family's Mount Veeder winery. Many pieces from the collection have been installed in museums around the world, but close to 40 remain on the Napa estate, including Georg Baselitz's cast-bronze sculpture Der Marokkaner (The Moroccan), Katsura Funakoshi's figurative wood carvings, and painter Yue Minjun's large-scale self-portrait. Guests to the winery can visit the museum free of charge or reserve a docent-led Museum Walk, which includes a wine tasting. hesscollection.com.
Jessup Cellars
While a tasting at Jessup Cellars might take place at the front bar, you can also book a table in the extensive art gallery, which is chock-full of paintings and sculptures from established artists as well as emerging talents. Perched on the north end of Washington Street in Yountville, the property has an in-house curator and resident artist, Cynthia Carey, who specializes in mixed-media pieces. Jessup Cellars also frequently hosts cultural events, such as a summer music series and film screenings. jessupcellars.com.
Mumm Napa
Photography buffs flock to this French champagne producer's Napa outpost for a glimpse of the unparalleled collection of works by classic and contemporary lensmen. Sip sparkling wines while viewing the two galleries—​one containing the Poetry of Light exhibition of 27 images by Ansel Adams, including his famous shot of Half Dome in Yosemite National Park. The second gallery is devoted to temporary exhibitions by respected contemporary photographers. mummnapa.com.
The Donum Estate
Dotted with sculptures since 2015, this organic Sonoma estate currently has 29 works spread across its undulating vineyard and among its 150-year-old olive trees. Seen by reservation only, the collection boasts such notable pieces as Keith Haring's King and Queen, Louise Bourgeois's Crouching Spider, Ai Weiwei's Circle of Animals/Zodiac Heads, and Yayoi Kusama's Pumpkin. A site-specific construction by renowned artist Doug Aitken was recently installed in the eucalyptus grove. Taste Donum's wines as you stroll around the sculptures; an audio tour of the artists discussing their work is also available. thedonumestate.com.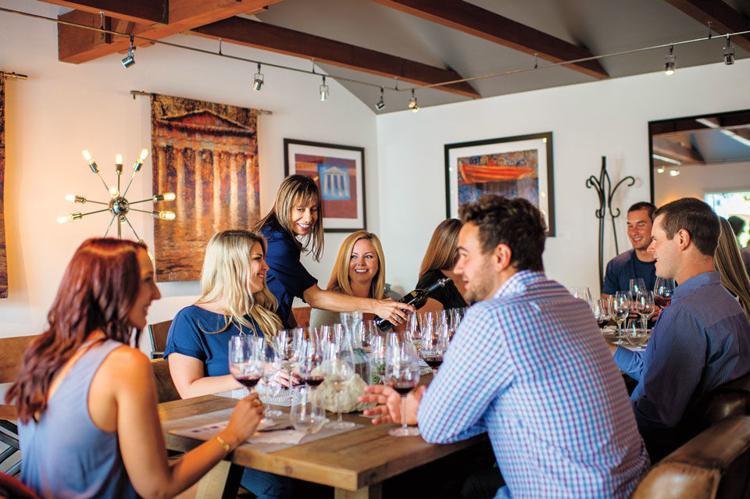 Imagery Estate Winery
As the name of this Glen Ellen property suggests, Imagery Estate's founders are art lovers. They commission contemporary artists to create unique works that appear on the brand's wine labels; that art is also showcased in the winery's on-site gallery, which often displays up to 60 pieces from its collection of more than 500 works. Highlights include pieces by Sol LeWitt, William Wiley, and Judy Pfaff. Visit on Gallery Days—held on third Sundays from May to October—when a wine tasting is accompanied by artist appearances and label signings. imagerywinery.com.
Paradise Ridge Winery
The four-acre Marijke's Grove, within this 156-acre Russian River Valley estate, is a beautiful setting for Paradise Ridge founder Walter Byck's sculpture collection. Affectionately named after his wife, Marijke, who passed away in 2006, the site features one of the winery's most iconic pieces: four giant letters that spell out the word love.
Curated in partnership with the Voigt Family Sculpture Foundation, the exhibits in the grove change on a biennial basis, bringing free public art to the foothills of Santa Rosa. On view through April is Geometric Reflections, a selection of 10 sculptures "designed to encourage visual dialogue." In June, the winery will unveil a new exhibition, tied to its own experience following the 2017 wildfires, that focuses on artists' struggles with loss. prwinery.com.
What's Happening at the di Rosa?
With its two light-filled galleries and a sculpture meadow set on 217 scenic acres in Napa, the mesmerizing di Rosa Center for Contemporary Art has been a treat for Wine Country visitors and locals for more than two decades. Now the center is undergoing significant changes, which went into motion upon the passing of founder Rene di Rosa in 2010. The foundation that oversees the di Rosa stopped actively acquiring art, yet it planned to maintain its enormous and valuable collection of contemporary works by Bay Area artists. In mid-2019, however, the foundation's board of directors determined that the 1,600-piece trove was too costly to maintain, so they will be selling off the majority of it over the course of this year. Still, a "legacy collection" of several hundred pieces will remain on view, and the center will continue to collaborate with local artists and present their works to the community.