Since January 2017, visitors to Napa have been treated to vivid displays of contemporary art in an unexpected setting. A previously nondescript two-mile corridor that runs through a semi-industrial neighborhood in Napa has become a vibrant arts district, thanks to the visionary leadership of the Napa Valley Vine Trail, the Napa Valley Wine Train, and members of the community.
"A group of us came together with the aim of beautifying this corridor," says Chuck McMinn, president and board member of the Vine Trail. "We formed the Rail Arts District [RAD] Napa to bring a world-class art experience to the public in an area that needed some love."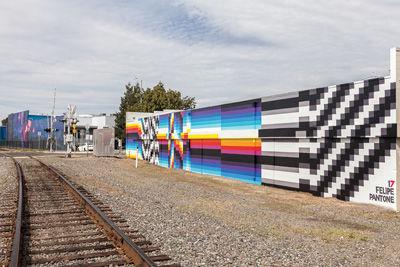 The corridor can be seen from the ever-popular Wine Train as well as the Vine Trail, a 47-mile-long hiking and biking route that will eventually run through Wine Country from Vallejo to Calistoga. Ultimately, McMinn says, this passage will also function as a fully developed arts district, drawing visitors interested in the aesthetic experience it offers.
The first work RAD introduced was an evocative 210-foot mural called Knocking on Heaven's Door by Polish artists Bezt (part of the Etam Cru duo) and Natalia Rak, which depicts a woman reaching for a luminous butterfly. That was followed by a colorful graphic mural called Chromodynamica Napa by Argentinian-Spanish graffiti artist Felipe Pantone. In short order, RAD and the city added eight more murals to their roster of works.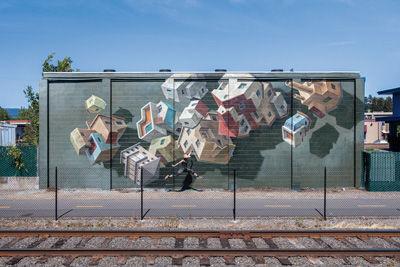 In addition, RAD has commissioned 12 original pieces to "wrap" the Wine Train's signal boxes along the corridor; plans are also in the works to invest in sculpture, landscaping, and gateway features. As of this summer, some 20 artworks are on view, and RAD's ultimate goal is to feature some 100 installations over the next decade.
"The reaction to RAD has been great," McMinn says. "It's a fun way to get people outside and enjoying art. Napa is really on a roll right now, and RAD is a high-quality, yet approachable cultural addition to our great community."