Michelle and Jamey Whetstone
— Wife and Husband
Whetstone Wine Cellars, Napa
Although Napa native Michelle Whetstone likes wine, she never thought she'd be part of the wine business. That changed when she met her husband, Jamey Whetstone.
At the time, Jamey was an aspiring winemaker who was working at renowned Turley Wine Cellars and getting his own brand, Whetstone Wine Cellars, off the ground. He eventually left Turley to become a wine consultant and to make small allotments of Syrah, Chardonnay, Pinot Noir, and Viognier for the Whetstone brand. Michelle, who previously owned two home-furnishing stores, was cutting her teeth in the food and wine world, working with Michael Chiarello to launch Bottega Ristorante in Yountville, as well as Chiarello's NapaStyle stores.
To sell the Whetstone wines, Michelle and Jamey started a series of pop-up lunches and dinners in the vineyards, in which the wines were paired with Chiarello's creations. The series was a huge hit, prompting an eight-page spread in Food and Wine magazine.
The resulting surge in business necessitated a tasting room, so Michelle found a magnificent 19th century French-style chateau on Atlas Peak Road, designed by Napa Valley architect Hamden W. McIntyre. Today, the admirable building is the main retail shop for Whetstone wines.
"I just feel fortunate that I've been with very gracious people who have given Michelle and me a toehold to establish a special winery here in the valley, but [have] also inspired us to fantasize about retiring in our early nineties," Jamey says, grinning.
Whetstone Wine Cellars, 1075 Atlas Peak Rd., Napa, (707) 254-0600, whetstonewinecellars.com. Open daily.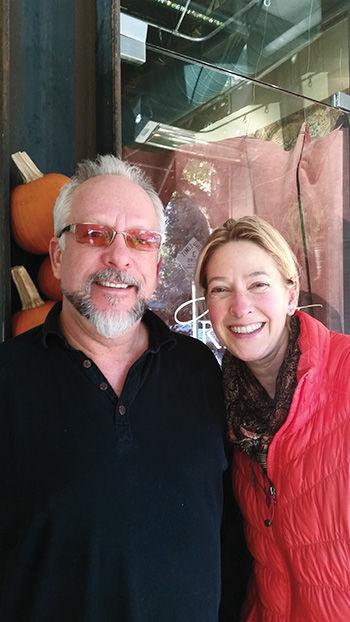 Susan Lueker and Ralph Tingle
— Wife and Husband
Simi Winery, Healdsburg
Sometimes, bringing work home has its advantages. Case in point is the lifestyle of winemaker Susan Lueker, who tries the wines she makes with tasty dishes created by her husband, talented chef Ralph Tingle.
 "I'm an enthusiastic consumer," says Ralph, who serves up fresh sashimi platters, roasted chicken, and other dishes to pair with wines provided by his wife. "But in following Susan, I've learned that her techniques of blending wines are off the charts."
A science whiz from Missouri, Susan worked harvests at Hacienda Wine Cellars and Simi Winery, where she has been the director of winemaking since 2011. Ralph, a Southern California native, studied at Le Cordon Bleu Paris before moving to Wine Country in the '80s, where he spent stints at Auberge du Soleil and Fetzer Vineyards before founding Bistro Ralph in Healdsburg in 1992.
The couple met while at Ravenous Cafe and Lounge in Healdsburg. "I walked in, and there was a vacant seat next to a cute blonde at the bar," says Ralph. The two married in 2012.
Susan says she appreciates her husband's palate, his honest opinion, and the fantastic food he makes for her. "I like his job," she says. "Especially the test kitchen we have at home."
Ralph will open a communal dining establishment down the road from Simi Winery later this year.
Bistro Ralph, 109 Plaza St., Healdsburg, (707) 433-1380, bistroralph.com; Simi Winery, 16275 Healdsburg Ave., Healdsburg, (800) 746-4880, simiwinery.com. Open daily.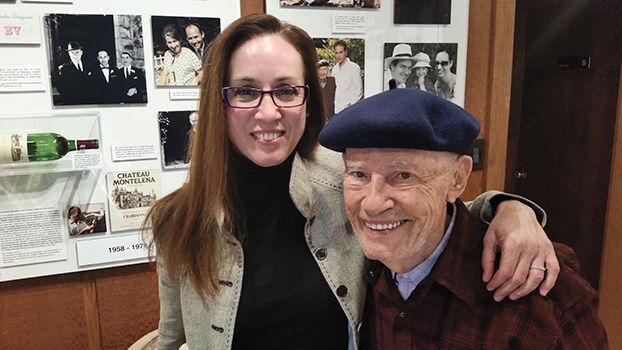 Miljenko and Violet Grgich
— Father and Daughter
Grgich Hills Estate, Rutherford
Violet Grgich's father, Miljenko "Mike" Grgich, crafted some of America's most legendary wines while she was growing up, including the 1973 Chateau Montelena Chardonnay that beat out the highly touted French wines at the Paris Tasting in '76.
So it comes as no surprise that Violet has fond memories of visiting the vineyards and wineries where her father worked, including a time in which he took her up to the tower at the Robert Mondavi Winery, making her feel like a princess.
"He was always humble about his accomplishments, and I didn't really have any idea that he was such a famous winemaker," she says. "To me, he loved what he did, and he tried to pass those traits on to me as well."
Mike and a friend, Austin Hills, founded Grgich Hills Estate in Rutherford, and when Violet returned home from college, she started working there full-time. She is now co-proprietor and vice president of operations and sales.
Violet still works closely with her father, now 91. With the purchase of new estate vineyards and the use of more eco-friendly farming techniques, natural yeast, and fine oak barrels, the family's wines are only getting better, Mike says.
"The pride in the wines we make represents all of us as a team," he says. Grgich Hills Estate, 1829 St. Helena Hwy., Rutherford, (707) 963-2784, grgich.com. Open daily.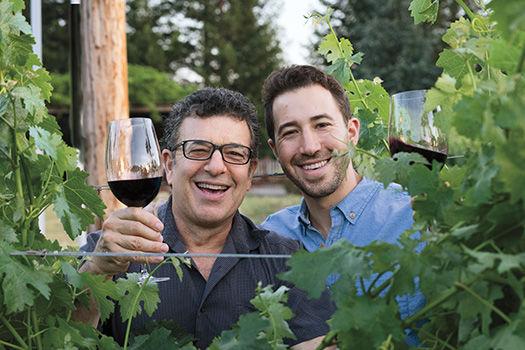 Andy and Jesse Katz
— Father and Son
Devil Proof Vineyards
When you consider that they have visited more than 70 countries together, it's hard to dispute that winery and vineyard photographer Andy Katz and his son, winemaker Jesse Katz, are great travel partners.
"He's with me whenever I can grab him," says Andy, who worked with Robert Mondavi, Domaine Chandon, and others while launching his photography career in the 1980s and '90s.
The father-and-son duo's most notable journeys were five trips to France for the Heart of Burgundy project, a coffee-table book Andy did with renowned wine critic
Robert Parker. During the Katzes' stay at Domaine Leflaive, Jesse developed a deeper understanding of the unique qualities of the French landscape, varietals, and finished wines. That appreciation carried on to college, when he left the business program at UC Santa Barbara to study viticulture and enology at Fresno State.
After developing his wine-making skills in Argentina, Patagonia, and Napa's Screaming Eagle—among other places—Jesse was hired at Lancaster Estate in Alexander Valley at age 25, making him the youngest head winemaker in Wine Country.
Today, Andy and Jesse create distinct family varietals together: a decadent Malbec called Devil Proof and a complex single-vineyard Cabernet Sauvignon called Aperture.
"Like the tiny details in Dad's photos, we put our heart and soul into each wine we make," Jesse says.
Andy Katz Photography, 322 Healdsburg Ave., Healdsburg, (707) 280-5555, andykatzphotography.com; Lancaster Estate, 15001 Chalk Hill Rd., Healdsburg, (707), 433-8178, lancaster-estate.com. Open by appointment only.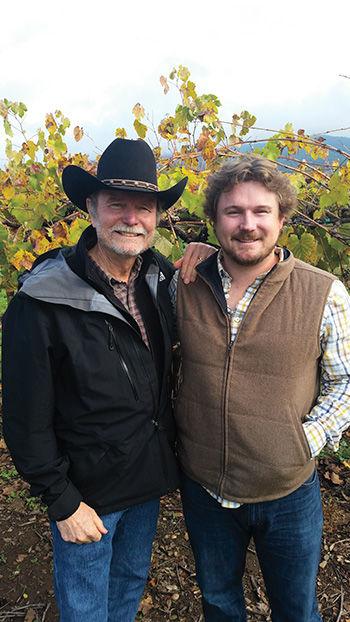 Joel Peterson and Morgan Twain-Peterson
— Father and Son
Ravenswood Winery and Bedrock Wine Co., Sonoma Valley
Since 1976, when he founded Ravenswood Winery in Sonoma County, Joel Peterson has educated consumers, connoisseurs, retailers, and sommeliers about the virtues of making flavorful wines with zinfandel, California's official "sweetheart grape." So it makes sense that when his son, Morgan Twain-Peterson, was born, wine seemed to be in the boy's DNA.
Inspired by his father's work, Morgan made his first barrel of wine at the age of five, with fruit procured from a local farmer, Angelo Sangiacomo. In early adulthood, Morgan honed his skills as a wine buyer in New York and held wine-making internships in Australia and France. In 2007, he founded Bedrock Wine Co., a boutique brand based in Sonoma Valley.
Joel says his son's childhood traits remain intact today. "Back then, he liked to explore, and had a special sense of determination and a little stubbornness that have ultimately paid off in the complex flavors in the wines he makes," Joel says.
Joel helped establish the Zinfandel Advocates and Producers, and Morgan was on the founding board for the Historic Vineyard Society, two nonprofits with the goal of preserving the legendary old vines of California. "We help people come to terms with the special characteristics and flavor profiles that zinfandel and other special grapes have to offer, and help protect these magnificent vineyards for future generations to enjoy as well," Morgan says.
Ravenswood Winery, 18701 Gehricke Rd., Sonoma, (888) 669-4679, ravenswoodwinery.com. Open daily.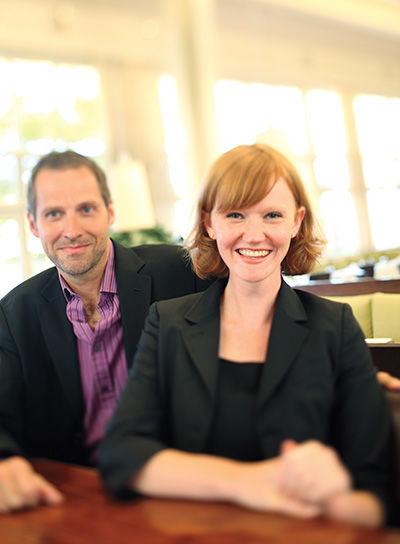 Kelli White and Scott Brenner  
— Engaged
Press Restaurant, St. Helena
At Press Restaurant in St. Helena, sommeliers Kelli White and Scott Brenner are amazing to watch in action. On a nightly basis, they can be seen gliding through the room to pour magnificent bottles of Napa Valley wines that complement the renowned farm-to-table cuisine.
Before becoming the head sommeliers and curators in charge of one of the largest collections of Napa Valley wines in the world, Kelli and Scott met while working with top restaurants in New York City. After the two started dating, they decided to move to the West Coast to learn more about the production of fine American wines from the ground up.
Together with fellow sommelier Angela Stem, the couple work to match new wine releases and rare library selections with dishes featuring fresh ingredients, including produce, seafood, and dry-aged beef grilled over almond and cherrywood.
When they're not at work, Kelli and Scott garden, brew beer, and make wine with fruit from Napa. "It's wine all the time and taking advantage of special moments together as much as possible," says Kelli, who also writes for a number of wine publications.
Press Restaurant, 587 St. Helena Hwy., St. Helena, (707) 967-0550, pressnapavalley.com. Open Wed.–Mon. for dinner.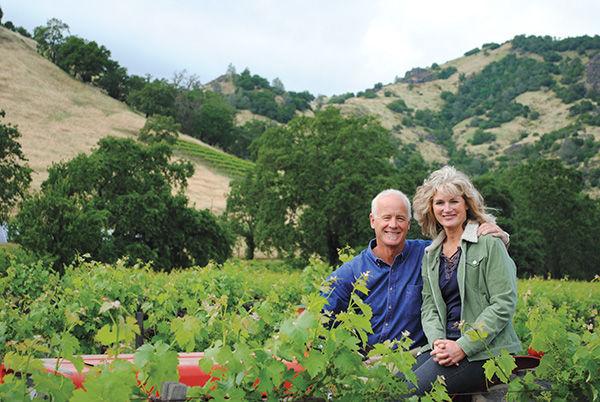 Heidi and Bo Barrett   
— Wife and Husband
Barrett and Barrett, La Sirena, Napa Valley
Many Napa Valley wine fans know winemakers Heidi and Bo Barrett for the complex wines they have produced for labels including Screaming Eagle, Dalla Valle, La Sirena, and Chateau Montelena. But behind the scenes, they are just a fun-loving couple that likes to spend quality time together.
After working harvests in Napa Valley and Germany, Heidi became the youngest head winemaker at Buehler Vineyards near Howell Mountain in 1983—the year after Bo was promoted to a similar role at his family's winery, Chateau Montelena in Calistoga.
During her five-year stint at Buehler, Heidi married Bo, and they started a family. But after giving birth to their second daughter, Heidi decided to venture out as an independent winemaker and began overseeing the winemaking of Revana, Liparita, Vineyard 29, and other notable boutique producers.
In 2008, Heidi and Bo established a new family brand, Barrett and Barrett. "The goal was to start elegant new brands that can stay in our family and be passed down to our daughters when we decide to retire," says Bo, who is now the CEO and master winemaker of Chateau Montelena.  
At home, Bo is the main chef. His specialties include roasted chicken, barbecued meats, and chile verde. Heidi bakes the pies, cans the fruit, and pickles the vegetables. "We call it Same Rope Enterprises because we work well together and cover each other's backs; we're both pulling on the same rope in the same direction," says Heidi. "Beyond that, we like to play and have fun."
Barrett and Barrett, (707) 942-1105, barrettwines.com; La Sirena, (707) 942-1105, lasirenawine.com. Open by appointment only.