When painter Kate Salenfriend moved to Napa nine years ago, "everything just clicked," she says. "My whole artistic world opened up."
Drawn to both the valley's environment and the supportive community of artists she encountered, Salenfriend began to develop and refine her signature style: Impressionistic stands of birch trees, cypresses, and vineyards topped with metal leafing for added light and sparkle.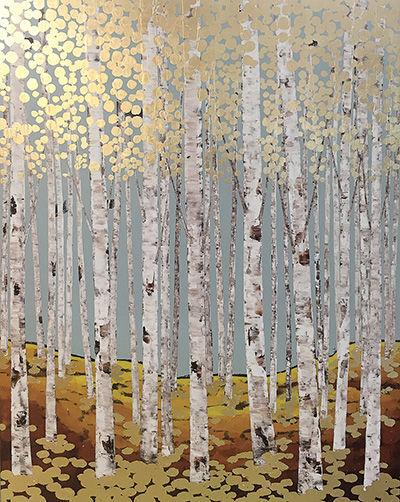 The seasonal changes in Wine Country inspired her to develop several series of paintings. She has created dozens of tree paintings, for example, that have subtle, nuanced differences, revealing her ongoing fascination with how her chosen subjects evolve. "I like to think about Monet's haystack paintings," she says. "On the surface, they don't deviate from one another that much, but they do in profound ways."
For the past seven years, Salenfriend has been represented by Aerena Galleries and Gardens, one of Wine Country's leading art galleries, and has partnered with its director, Karen Johnston. With Johnston's encouragement, Salenfriend has become one of the region's most successful artists; her work is now on view at the Harvest Inn by Charlie Palmer in St. Helena and the Napa Valley Lodge in Yountville, among other places. Her paintings are also in private collections around the world, from Hong Kong to Switzerland to Australia.
"People are just awestruck by Kate's work," says Johnston. "Her use of gold leaf and glazes is dazzling, and can have the same effect on you as a Klimt. I refer to Kate as an alchemist."
"I really found my voice here," says Salenfriend, who grew up in the San Joaquin Valley. "Because I was raised around agriculture, the natural world in Napa connects me with my childhood like a warm hug." aerenagalleries.com.