Writer. Director. Producer. Entrepreneur. Hotelier. Publisher. Storyteller.
Francis Ford Coppola is many things to many people. Here in Wine Country, he also happens to be one of the most successful vintners around. Following his early success in Hollywood, The Godfather director quickly transplanted his family to Wine Country, where he launched an empire of a more drinkable sort. That empire began with the Inglenook Estate in Napa County's Rutherford and grew to include two other properties in Sonoma County's Geyserville: the Francis Ford Coppola Winery and most recently, Virginia Dare Winery. Remarkably, Coppola has been making wine almost as long as he's been making films. We caught up with him to talk about building his empire, happiness, and what really matters in life.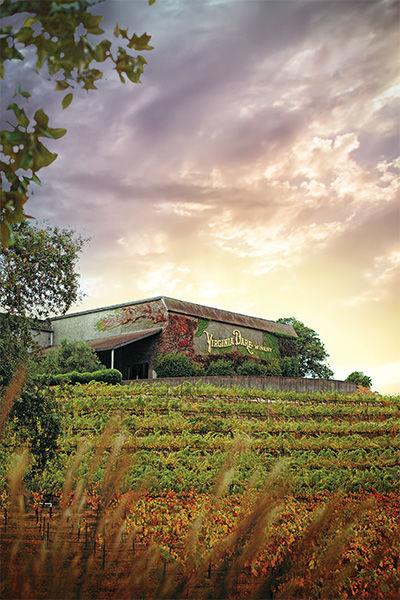 Q: Do you consider yourself a wine critic?
A: I'm not a wine expert in any way. I once read an article in which someone from the Antinori family said that their family had been making wine for 600 years. In my mind, I responded, But my family has been drinking wine for 600 years.  I'm not a critic. I just like it.
To be honest, I don't do tastings. I don't do pairings. I don't have orthodox opinions like fish has to go with white wine and red wine is better with a steak. A wine that I really enjoy pretty much goes with any food that I really enjoy. Any color goes with any color, as I like to tell my wife.
I've worked hard not to become a wine expert because I don't want to stop enjoying just being a person who enjoys wine with food.
Q: Tell me about Virginia Dare, your new winery in Geyserville. Why did you want to expand and add a third major winery to your estate?
A: Virginia Dare was an early brand in the American wine industry, and I remember they advertised on the radio with this catchy jingle that went, "Say it again—Virginia Dare." I was always intrigued because the ads and bottles featured this fairytale character who looked to me like Cinderella or Snow White.
When I had the opportunity to buy the former Geyser Peak Winery—a beautiful old winery from the 19th century—it seemed to fit with the Virginia Dare vibe. So we bought that brand, too, and we set out to transport the Virginia Dare story to California and bring it back to life here.
Q: Can you tell me her story?
A: It's an elaborate legend, almost like a myth, involving this young and magical girl who was born into a Roanoke Island colony in the 16th century. The story involves the colony disappearing and the girl being turned into a white doe. There's a magic arrow that turned her back into human form and another arrow that kills her. According to the legend, in the spot where she fell, scuppernong grapes began to grow.
More than 400 years later, these same vines still grow in the part of North Carolina where the story supposedly took place. They call it the Mother Vine. We planted a clipping at our winery to honor this history.
Romantic and beautiful stories always support the actual enjoyment of wine. To me, the stories of the wines are almost as important as the beverages themselves.
Q: How would you describe the narrative arc of your interest in wine?
A: I got into this because of happiness. As a child, I never saw a dinner table that didn't have a glass of wine on it. Family was always around, and they always drank wine, which means everyone was very happy. It became clear to me that happiness was synonymous with family, and in this case, the family's happiness was sitting around the dinner table and drinking wine. Wine became a symbol of my family's happiness.
Q: What have you learned from failure over the course of your career?
A: Quite a bit. I was never a wealthy kid, so for me to be able to buy Zoetrope Studio [originally Hollywood Center Studios], the Hollywood studio where The Thief of Bagdad was partially shot, was something of such value that I couldn't believe my good fortune. I had to get rid of it, but I'm convinced I would still own it to this day if I had been a little more competent in business affairs. The business education I got then I later applied in the wine industry.
My life has been such an interesting and enjoyable adventure, stemming mainly from the fact that I wisely was never too afraid of risk. I didn't understand the advantage of saying no if you could possibly say yes. To me, the only risk that you might have in your life is the risk that you didn't do the things you wanted to do.
Q: Apply that to your Napa winery, Inglenook. You bought most of the property in the 1970s, but it wasn't until 2011 that you decided to buy the name and trademark. Why were you determined to have both?
A: Inglenook had been the queen of Napa Valley, the most prestigious winery in 19th century Napa. The reason, to this day, that Rutherford is considered the real center of quality in Napa Valley is that Inglenook was on one side of Highway 29 and Beaulieu Vineyards was on the other side.
The same company bought both wineries and decided to make Beaulieu Vineyards the prestigious wine and Inglenook the supermarket wine. I was always struck by the discrepancy that a bottle of 1941 Inglenook Cabernet might be for sale for thousands of dollars on the auction market, yet Inglenook, in the minds of a lot of people my age, was considered an inexpensive supermarket wine.
We were able to buy [Inglenook's original owner] Captain Niebaum's house and most of the surrounding estate. We lived there early on and raised our kids in Napa. But since we didn't own the Inglenook name, we couldn't call it that. So we called it Niebaum-Coppola, then Rubicon.
I've always wanted to go back to the original name. I just thought of my grandchildren living there one day and how I don't want them to say, "Oh, we are living in the winery that used to be Inglenook," when in fact, it is and always has been Inglenook.
Q: With such a strong foothold in Napa, why did you decide to expand into Sonoma, with the purchase of the Francis Ford Coppola Winery in 2006?
A: We're a family of artists, and we do things for emotional reasons. I looked at Sonoma, and I said, "It's beautiful. I like it." I saw that property, and I immediately thought that it could become a place that would bring happiness to Sonoma families, make wonderful wine, and provide a place that people would enjoy.
Q: Your eponymous winery has a wonderful day-use pool area that has become insanely popular among locals and visitors alike. At what point did you decide this was something you wanted to incorporate?
A: We always had a fountain at Inglenook. One of my favorite things was to go out to it around 4 p.m., when the day was winding down, give out sailboats to little kids visiting with their families, and watch as the kids sailed the boats in the fountain.
Every once in a while on a hot day, they would have to pull a kid out of the fountain and say, "Oh no. You can't go in the fountain." And the kids would say, "Why not?" We'd have to tell them, "It's not a swimming pool."
It always occurred to me they were right, and I realized that no place in the world was there a winery that offered family visitors a destination as well. I thought that if I wanted to really make the new place for families, there ought to be more than just wine. Today, the pool sells out weeks in advance. I never thought it would be so successful.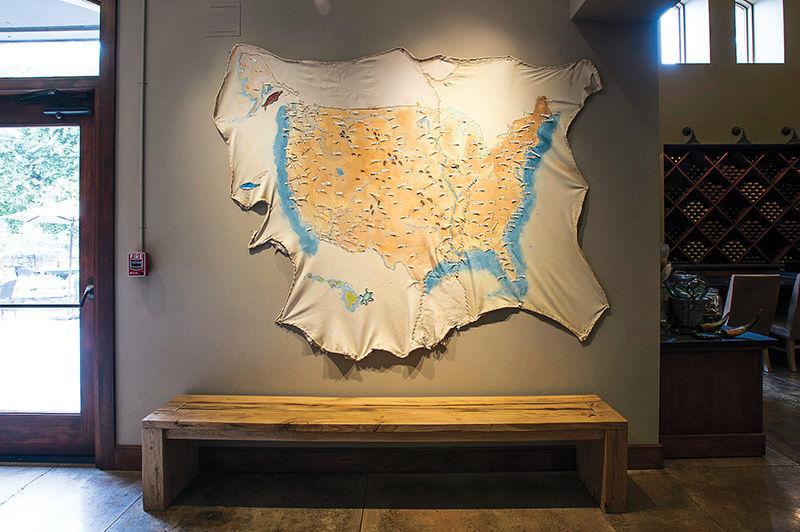 Q: You put on many events at the Francis Ford Coppola Winery. Which are your favorites?
A: I love the Shakespeare. So far, we've done Romeo and Juliet and Hamlet. What is beautiful about these performances is that they start around four or five o'clock, and as they progress, the sky turns to dusk.
I also enjoy it when people are dancing, when they go up to the pavilion with paper lanterns and they have those romantic nights. I always fantasize that there are going to be several people who come and fall in love and have kids, and bring the kids back years from now.
Q: I'm sensing a real theme: At this point in your life, it sounds like happiness is huge for you. Would you say that's true?
A: Absolutely. To see people happy is everything. People should be happy. No matter who you might think is the Creator, no matter what you believe, it's hard to think that whatever created us didn't wish us to be happy. If that weren't the case, the Creator wouldn't have provided such a beautiful Earth for us to live on. Anything we can do that helps people to be happy, to enjoy themselves, to enjoy their children and their parents, and have these memories—that's what I like to do.
Crazy Name, Good Eats
Patrons may have trouble pronouncing its name, but Francis Ford Coppola expects to draw crowds at his latest restaurant, Werowocomoco.
Pronounced Wero-wo-como-ko, the eatery was set to open on November 5 at Virginia Dare Winery. Named after a 17th century Algonquin settlement, Werowocomoco follows in the footsteps of Virginia Dare Winery's heritage, which is steeped in Native American folklore and early American winemaking.
The menu will focus on ingredients that reflect this heritage, with what Coppola calls "a zestful accent." Look for bison ribs with a berry barbecue sauce and river-harvested wild rice with cranberries.
The restaurant's interior is small—with only 66 seats—but Werowocomoco has a big patio, with views of Alexander Valley. 22281 Chianti Rd., Geyserville, (707) 735-3575, virginiadarewinery.com.
Coppola's Milestones
1970
Writes Patton.
1972
Directs The Godfather.
1973
Produces American Graffiti.
 1974
Directs The Godfather: Part II.
1975
Buys Gustave Niebaum's vineyard in Rutherford, next to Inglenook Estate.
1978
Bottles first vintage from Rutherford site, now called Niebaum-Coppola.
1979
Directs Apocalypse Now.
1983
Directs The Outsiders.
1986
Directs Peggy Sue Got Married.
1990
Directs The Godfather: Part III.
1995
Buys former Inglenook Winery château in Rutherford.
2006
Renames Rutherford property Rubicon Winery.
2006
Buys Chateau Souverain facility in Sonoma.
2010
Launches Francis Ford Coppola Winery at the Souverain site.
2013
Buys Geyser Peak Winery in Healdsburg.
2015
Launches Virginia Dare Winery at the former Geyser Peak site.