Healdsburg was a very different world when Charlie Palmer first visited in the late 1990s. It was a sleepy, rural town, with vacant lots and storefronts surrounding the 19th-century Spanish-style plaza, and a mortuary on Matheson Street across from where the swanky Hotel Healdsburg now stands.
The chef was an unlikely addition to the agricultural community, which was dubbed "the buckle of the Prune Belt" in 1924, and where the Healdsburg Future Farmers Country Fair and parade still marched through town with gaily decorated wagons. Palmer, after all, was a big-city talent, having graduated from the Culinary Institute of America in Hyde Park, New York, and trained in France. In 1988, at just 28 years old, he had made headlines for opening his glamorous Aureole, a regional American restaurant off Manhattan's Madison Avenue, and soon followed that up with a dizzying array of high-end eateries across New York, Las Vegas,  and Washington, D.C.
But Palmer had grown up on a farm in Smyrna, New York, and he immediately fell in love with Sonoma County's agrarian beauty. It spoke to an idea of his that had been percolating for a while: a "progressive American" cuisine that reinterprets classic European cooking using artisanal products from small American farms and producers.
Healdsburg was also the perfect spot, he believed, for him and his wife, Lisa Palmer, to raise their four sons and escape from his hectic work schedule.
Yet, by 2001, Palmer had been coaxed into a partnership with the new Hotel Healdsburg and ownership of its Dry Creek Kitchen restaurant. The contemporary dining room, glassed-in theater kitchen, and locavore menu brought immediate buzz, delivering a level of sophistication that lured diners from San Francisco and beyond.
"I always look for opportunities," Palmer says. "In this case, it was a chance to be part of a project that could establish a really new and important part of town."
The eatery was so successful that, in 2004, Palmer settled his family on a 36-acre ranch four miles from the plaza, running his growing Charlie Palmer Collective empire by regularly flying coast to coast.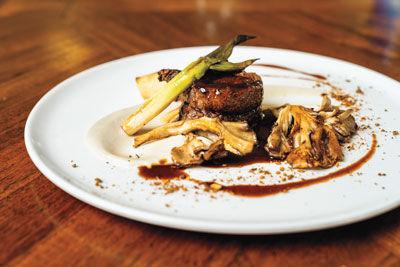 Changing the Game
These days, the 4.5-square-mile town of Healdsburg boasts nearly 12,000 residents, and dining and lodging are major tourism drivers. In recent years, Palmer has become a partner in Healdsburg's h2hotel, added Spirit Bar at Hotel Healdsburg, and invested in the recently launched Harmon Guest House near h2hotel. He and his wife also opened Lime Stone, an upscale dining-furniture and tabletop-accessories boutique next to Hotel Healdsburg.
It's no surprise that many people credit the James Beard Award–winning chef with making Healdsburg a dynamic destination.
"Charlie Palmer's Dry Creek Kitchen put the national culinary spotlight on Healdsburg and the Sonoma wine region as a whole," says Piazza Hospitality president Circe Sher, whose company founded and operates Hotel Healdsburg; h2hotel; Harmon Guest House; and the restaurants Spoonbar, Pizzando, and Rooftop.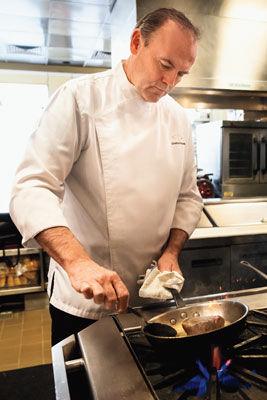 And Palmer isn't finished, currently cooking up more Healdsburg projects and expanding his vision east to Napa County, even as he manages his roster of 13 restaurants spanning from New York to California.
In 2014, Palmer bought St. Helena's Harvest Inn, and in 2015 he opened the luxury Harvest Table restaurant there. (Three years later, he sold his stake to his partners.) Then, in late 2017, he launched his fifth Charlie Palmer Steak restaurant, this one located in the new Archer Hotel in downtown Napa, and soon added the chic Sky and Vine Rooftop Bar at the property. The activity has helped to create a vibrant stretch along Napa's First Street, an area now bustling with other trendy restaurants, bars, wine-tasting salons, and boutiques.
"We're proud to be part of the resurgence of downtown Napa, and I see it as only the beginning of the possibilities there," Palmer says. "The Archer was a great opportunity to be a part of something special with the support of all the great wineries and wine­makers in the Napa Valley. And, as always, we believe that we're just one of many great restaurants and hotels that make up this strong community."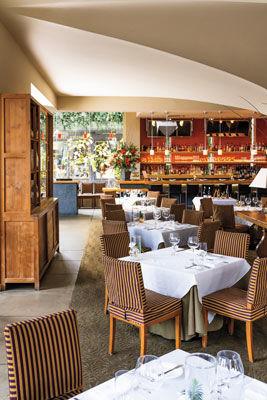 Shooting Star
Does the man ever sleep? Even during Palmer's time off at his Healdsburg estate, it would seem not. He's an avid home chef, drawing from his property's garden and vineyards, and he entertains often in his indoor-outdoor kitchen over sips of his own Charlie Clay pinot noir and Lime Stone sauvignon blanc.
His main indulgence is hunting, on both his estate and other grounds. "I enjoy bird hunting, fishing, shooting sporting clays, and being an outdoorsman," Palmer says, adding that his game usually ends up on the family table. "I'm a big believer that anything that is harvested should be treated with the most respect and prepared  in the tastiest way possible."
Still, his hobbies have been known to turn into business opportunities. Palmer recently helped launch Wing and Barrel Ranch, a 1,000-acre members-only Sonoma sporting club, featuring bird hunting and clay shooting on a world-class, year-round course designed by master shooter Chris Batha. Membership includes access to a soon-to-be-completed clubhouse with a fine-dining venue and cigar lounge, individualized shooting instruction, a custom gun-fitting service, hunt-dog training and boarding, and a travel concierge for outside hunting experiences. Palmer serves as the property's culinary adviser.
He's also working to showcase more of the artisan food and wine producers that drew him to the region two decades ago. This summer will see the return of the Ranch and Vine gatherings that Palmer started in 2018 at Dry Creek Kitchen, where chef Scott Romano offers an alfresco Sunday lunch series celebrating whole-animal cookery along with local wines. Last year, one multicourse feast highlighted Healdsburg's Preston Farm and Winery lamb paired with Arista Winery sips, with dishes such as pinot noir–braised lamb with confit garlic, za'atar, curried golden raisins, and crisp falafel; and burrata-stuffed lamb meatball with roasted delicata squash, radicchio, purple watercress, pepitas, Bellwether Farms ricotta, blistered Palmer Estate table grapes, and blackberry jus.
"There's nothing more emblematic of Sonoma County than our local farms, fishermen, and wineries," Palmer emphasizes. It's not lost on him, either, that local sourcing has long been a way of life for French chefs—something he learned while training at the three-Michelin-star restaurant Georges Blanc in Vonnas, France, in the 1980s. Area farmers would arrive on the doorstep, he remembers, bringing their perfect, small-batch chèvre, organic produce, and pasture-raised meats.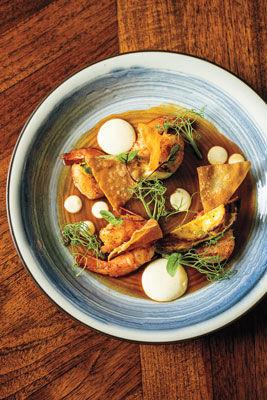 Giving Back
Even as Wine Country has faced some hardships over the past several years—most notably due to multiple devastating wildfires, including the October 2019 Kincade Fire that forced the evacuation of Healdsburg—Palmer is keeping his roots firmly planted.
"Sonoma County is better than ever," he says. "People shouldn't look at the fire in a bad way but as an opportunity to come visit and support the restaurants and the wineries here. Healdsburg is, and always will be, one of the most beautiful places in the world."
In fact, the disasters have nourished one of the other reasons he so loves his home: the strong sense of community he has found here. This March 20 and 21 marks the 15th annual Pigs and Pinot weekend—a glamorous, food and wine–fueled charity event that Palmer created to benefit the nonprofit Share Our Strength, which seeks to end hunger and poverty in the United States and abroad, plus local charities and scholarship funds. Held at Hotel Healdsburg, the gala features culinary seminars, cook-offs, and grand tastings hosted by local, national, and international celebrity chefs.
"His Pigs and Pinot, which started out small, has now become a highly sought-after celebration that draws people from across the country," says Hotel Healdsburg's Sher. "This event really has become a showcase for some of the area's best pinot noir producers."
Through each of the fires, too, Palmer's team scrambled to support first responders, emergency teams, and displaced residents. They served a special menu for neighbors at Dry Creek Kitchen and donated a portion of the proceeds to the Redwood Empire Food Bank.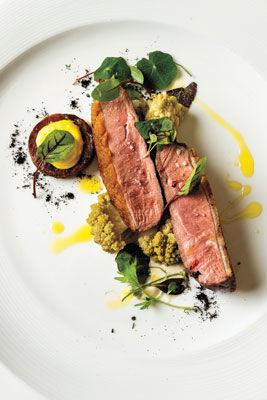 "We feel like Dry Creek Kitchen is always a leader, under any circumstances," Palmer says. "In the recent Kincade case, because of the lack of gas and the power outages, we fired up the outdoor grill and provided a great experience for locals to reclaim their way of life. We did it while supporting and helping the less fortunate that were so highly affected."
Despite the Charlie Palmer Collective's success across the nation, Palmer isn't resting on his laurels as he looks to the future. He is aware of changing restaurant trends, he says, with Wine Country diners gravitating toward more casual concepts, and is adapting where he sees fit.    
"It's my belief that there will always be a certain demand for high-end, luxe dining," Palmer says. "That said, with Dry Creek Kitchen, we hope to provide an experience that is more relaxed and somewhat less expensive than it used to be, and captures the bounty, warmth, and congeniality of Healdsburg."