October 8, 2017, will be a day Wine Country never forgets.
Just as this sleepy countryside was settling in for the night, the pastoral dream turned into a hellish nightmare. Starting at 9 p.m., several wildfires ignited across Napa, Sonoma, Mendocino, and Lake Counties, reducing vineyards and wineries to ash, and turning entire neighborhoods into apocalyptic landscapes. By the following week, more than 40 people had died as a result of the fires, making them the deadliest wildfires in state history.
But despite the destruction, Wine Country has proven resilient. Even as the flames approached, winemakers and restaurateurs remained hard at work, supporting the region. Now, with the North Bay focusing on recovery, the region has a simple message: We're open for business. 
The North Bay fires are an unfathomable tragedy, but they will also be remembered as a time when communities came together in the face of disaster to help neighbors and strangers alike. Here are some of the stories from those who lived through the inferno—and those who stepped up to help.
9:30 p.m., October 8, Guerneville
Maria Scarborough was looking forward to a relaxing Sunday night. She had reserved an Airstream at Guerneville's Auto Camp. She had left her home in Napa around 4:30 p.m., bringing her cat Smoky while leaving behind her five pet rabbits and a feral cat she had adopted. Then, at 10:30 p.m., her phone began blowing up with texts: There was a fire, and it was coming toward her house.
"I had no idea what was going on. I asked if I should come home, and they said yes," says the Silverado-area resident.
On her frantic drive back, she watched the hills glow bright red against the dark sky. "The wind was just whipping up, and it was so black, thick with [smoke]. You couldn't see in front of you," she says. 
"There's smoke billowing over the Mayacamas, and I'm thinking, Is this smoke coming from Silverado?" says Scarborough, her eyes tearing up. "It was such a stupid thing to think. I just kept thinking, I've gotta get home; I've gotta get home."
Somewhere along Highway 101 in Santa Rosa, she lost cell reception. With no way to know where the fire was, she decided to cut through Carneros on Highway 12, passing the Stornetta Dairy.
"There were little fires everywhere, everywhere," she says. "[The dairy] was blazing with fire, and the building across the street was, too. And I had to drive right through it." 
With an inferno blowing around her, she considered turning back but kept going until she reached Old Sonoma Road, where a line of firetrucks and police cars was stationed. It took another hour and a half before she made it home, at 1:30 a.m. At 3 a.m., she was ordered to evacuate, giving her only enough time to bring her bunnies and cats, and flee.
Fortunately, her house and other belongings survived the fire. Others were not so lucky.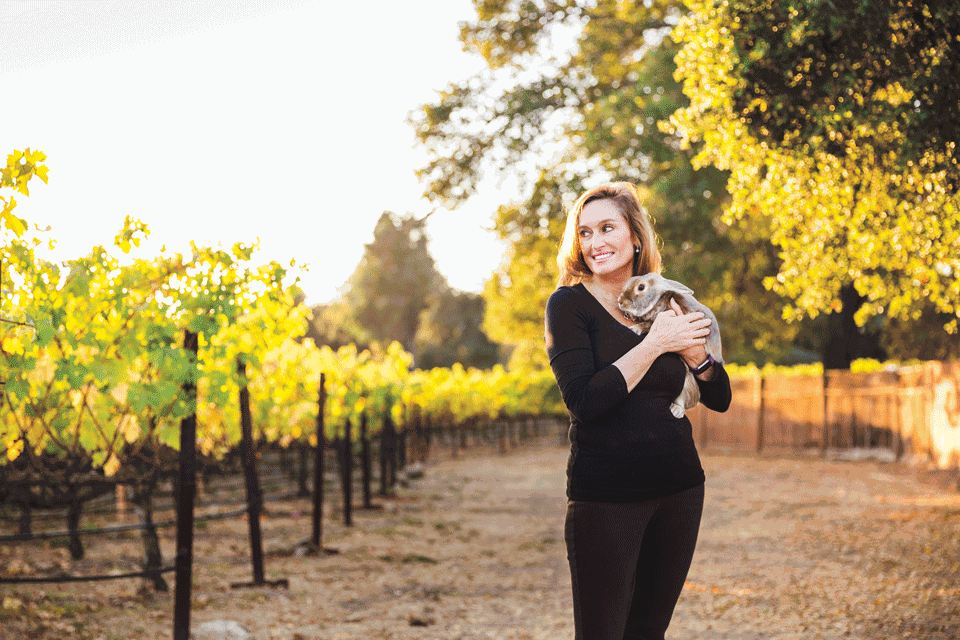 12 A.M., October 9, Napa and Sonoma
Laurel and Matt McNally were on their way home to Napa when they saw the fires. The owners of Laurel's Catering had just finished a late-night gig in St. Helena.
"We saw the orange-and-red glow in the sky off to the east side of the Silverado Trail," recalls Laurel. 
Laurel thought a bomb had gone off. Matt had another theory. "I thought this was a controlled burn by Cal Fire at a fire department training site or something," he says.  
As they drove just past Silverado Winery, where the trail opened up, the reality of what was happening set in. The entire eastern ridge of the mountains was in flames. Powerful winds scattered ash and embers all around them while branches and leaves flew everywhere. Cars pulled off the road, where onlookers gawked in horror.
"We saw flames out of control in the back of Stags' Leap [Winery], Chimney Rock [Winery], Signorello [Estate], and Darioush," says Laurel. 
Around that time, a California Highway Patrol officer drove up and down Chad Harris's street in Sonoma, telling everyone to evacuate immediately. 
"It was like a war scene," says Harris, owner of The Fremont Diner in Sonoma. "People were banging on my windows and doors, telling us to just get the hell out. 
"We were the first to get hit by the Partrick Fire, which started over by Hudson Ranch and then came our way," adds Harris. "It was the scariest night of my life. I was like, 'What am I grabbing? What should I bring?' " 
With only minutes to spare, he packed up his family in the car along with his cat and two dogs, and drove a mile down the road to pick up his ailing mother. Once at a safe distance, they stopped to watch the mountain—and their home—go up in flames.
As the night wore on, Harris couldn't sit still. He was worried about his diner's elderly landlord, who lived next door to the restaurant.
"I drove through a few barriers to be sure she was OK," says Harris. "I really didn't care about the restaurant at that moment." 
He managed to make it to Burndale Road, where he was stopped by the police, who assured him that his landlord was OK. 
Many of the diner's employees were forced to evacuate, but after a temporary closure, Harris decided to keep the restaurant's doors open, offering free coffee and doughnuts to everyone still in the area. He also delivered coffee to the evacuation center at the local high school, along with paper plates, condiments, and sweaters.
"I just don't know what's going to happen now. Is anyone going to come in?" asks Harris. "It's like we're starting over."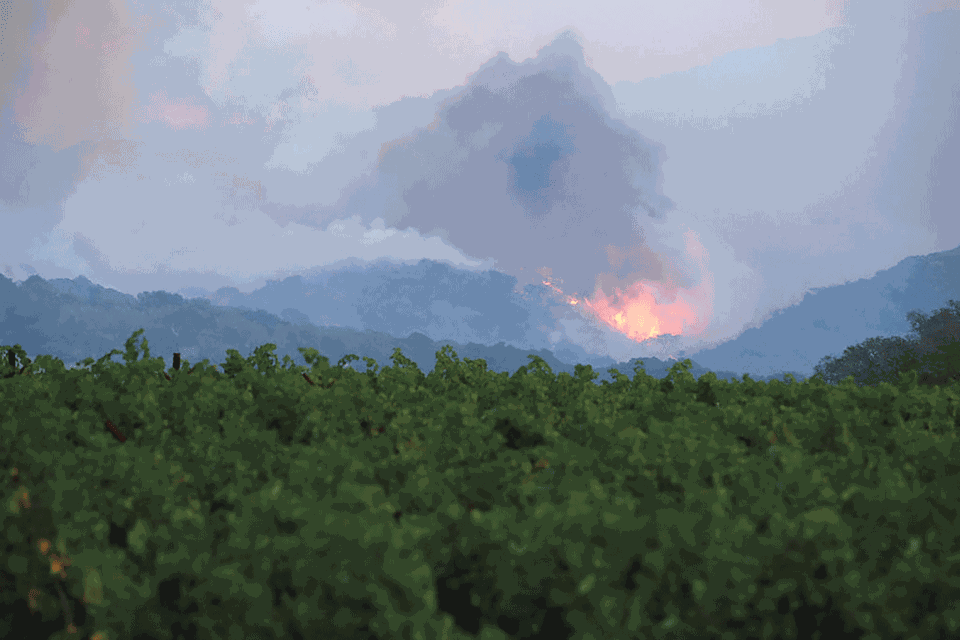 5:30 a.m., October 9, Napa
By early Monday morning, the entire region was plunged into chaos. Several areas in Napa and Sonoma were either evacuated or had lost power and cell phone service. Without the news or social media, getting information was nearly impossible. Many turned to old-fashioned word of mouth and battery-operated radios for information on the fires. Local sports radio station KVON transformed into a news hub overnight, broadcasting 24/7 and providing listeners with essential updates.
Before dawn, chef Paul Fields busily commanded the kitchen at Napa's Salvation Army. The facility was ground zero for food donations and meal production for three major evacuation centers in Napa: Napa Valley College, Crosswalk Community Church, and American Canyon High. Donations of produce, semiprepared restaurant meals, catered meals, and a range of ingredients allowed for large-scale meal preparation.
Fields heads up the culinary training academy at the nonprofit, but that day, his focus was on feeding the evacuees displaced by the fires. He raced back and forth across the long commercial kitchen as he oversaw the cooking line, while chefs, some volunteering from local restaurants, cracked and scrambled hundreds of eggs, baked sheet pans full of bacon, sliced oranges, and arranged breakfast sandwiches in an assembly line fashion. The kitchen was in full swing, preparing to deliver more than 1,000 meals to the evacuation centers.
Chefs and volunteers filtered in and out, looking for ways to help. "People kept popping in, asking what they could do," says Abigail Nogeron, Fields's culinary assistant. "We had Via Corona, Carneros Inn, and Meadowood [Napa Valley] offer to help. Chick-fil-A dropped off food, too."
Several other local restaurants also stepped up, including Hurley's Restaurant and Cole's Chop House, which provided catered meals while assisting in the Salvation Army kitchen. And support came from outside the region, too: On Sunday, Facebook delivered 5,000 meals and committed to delivering 5,000 meals three times a week, as long as there was a need. 
Later that morning, Governor Jerry Brown declared a state of emergency in Napa, Sonoma, and Yuba Counties, and President Trump ordered federal aid to supplement state and local recovery efforts in the areas affected by wildfires.  
Local communities also provided assistance, helping to house, feed, and provide support for everyone affected by the fires. Evacuation centers sprang up across the region—from Sonoma High, to Healdsburg Community Center, to Marin County Fairgrounds—and donations of money, clothing, food, and toiletries streamed in. Only hours after they opened, many shelters quickly met their needs thanks to the outpouring of generosity from both inside and outside the region.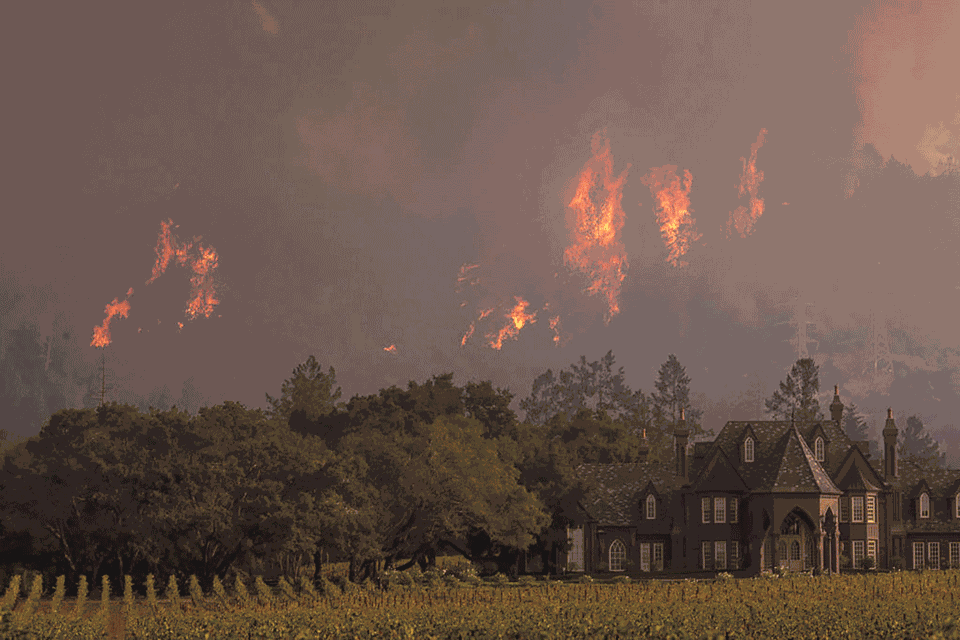 October 10, Petaluma and Napa
The next day, temperatures mercifully dropped, and the winds died down. Firefighters and first responders arrived en masse from all over California as well as surrounding states, and as far away as Canada and Australia. They worked tirelessly to save as many people and neighborhoods as they could; though they were only supposed to work 24-hour shifts, many stayed on the front lines of the fires for as long as 72 hours. 
At the Sonoma-Marin Fairgrounds, Gina Crespo-Nishihira worked in the medical tents, offering care to fellow evacuees. A certified nursing and medical assistant, she had fled her home in Santa Rosa as the Tubbs Fire overtook the city, all but destroying the Fountaingrove clinic where she worked. Despite suffering from a respiratory issue due to the smoke, she insisted on helping.
"There was nothing that I wanted to do more," says the 42-year-old. 
Crespo-Nishihira was not alone. Alongside her, more than 40 volunteers worked in eight-hour shifts to provide first aid. 
"Respiratory issues were the biggest problem since the air quality was horrific," she says. "It was really nice to see everyone pulling together."
In Napa, Matt Stamp paid a visit to the city's fire station. Only a month before, the sommelier had celebrated the grand opening of his new Napa restaurant, Compline, with co-owner Ryan Stetins; today, the restaurant, like downtown Napa, was a ghost town. 
But Stamp knew he had to do something.
"We pride ourselves on providing hospitality in the community and wanted to find a way to extend that to those dealing with the disaster," says Stamp. "If we could at least keep some of the first responders and firefighters fed with food that's healthy, we thought we could help." 
The fire station's chief gladly accepted his offer, and Compline delivered meals to the team of firefighters each day. "It's been amazing through all of this to watch the people in our community actually do something, rather than just huddle and wait for someone else to do it," says Stamp. "We may not be saving the world, but if everybody does just a little something, it adds up."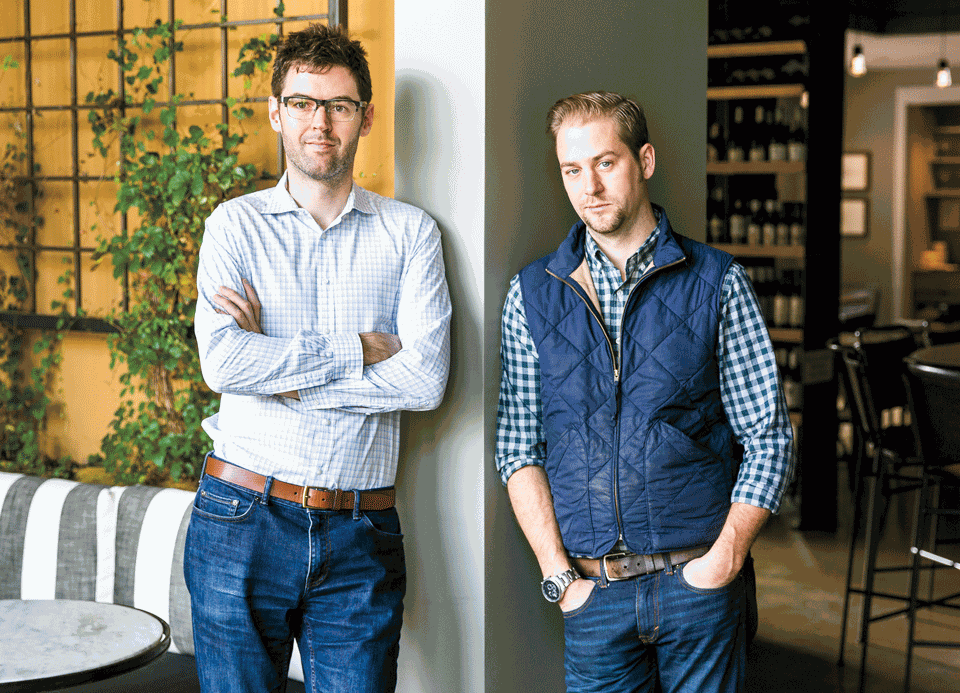 October 12–13, Napa and Oakville
Cooler temperatures and low winds Thursday night and Friday morning allowed firefighters to make critical progress on containment efforts. The Tubbs and Atlas Fires, which had collectively burned more than 85,000 acres, were significantly curtailed for the first time. By Friday evening, both fires were more than 40 percent contained.
At Napa Valley College, evacuees from as far away as Santa Rosa wore face mask respirators to protect themselves from the thick smoke hanging in the air. American Red Cross cots filled up three separate buildings, where large fans helped recirculate the indoor air. Cases of water were scattered across the campus, and relief vehicles lined the parking lot.  
"We had 391 people stay on Monday night, with many more in their cars or RVs in the parking lot," says an American Red Cross representative. Volunteers served breakfast at 8 a.m., then Cal Fire held a briefing on the status of the fires. 
Staff from The Meritage Resort and Spa arrived around 11 a.m. to replace the sheets and towels with clean ones. "Local businesses have been instrumental in helping out," says the representative. "T-Mobile gave out free phones to people, with a month of free service and charging packs. AT&T set up charging stations, and insurance companies [have] set up tents to help people get going on their claims." 
Meanwhile, resources continued to pour in from outside the region, with more than 10,000 firefighters working together to battle the blazes. 
"We came up here from Redwood City and had a briefing at 6 a.m. in Napa," says Officer Brian Brown, who blocked all entry to Oakville Grade at Highway 29 with his Highway Patrol truck, granting access only to firefighters. Although improving, the situation was still grim. "I'm told there were a lot of structures in there. It had been burning for a long time."
His point was underscored by the National Weather Service Bay Area, which issued a red flag warning for the fire-ravaged area, predicting winds would whip up again on Saturday. The fight was far from over.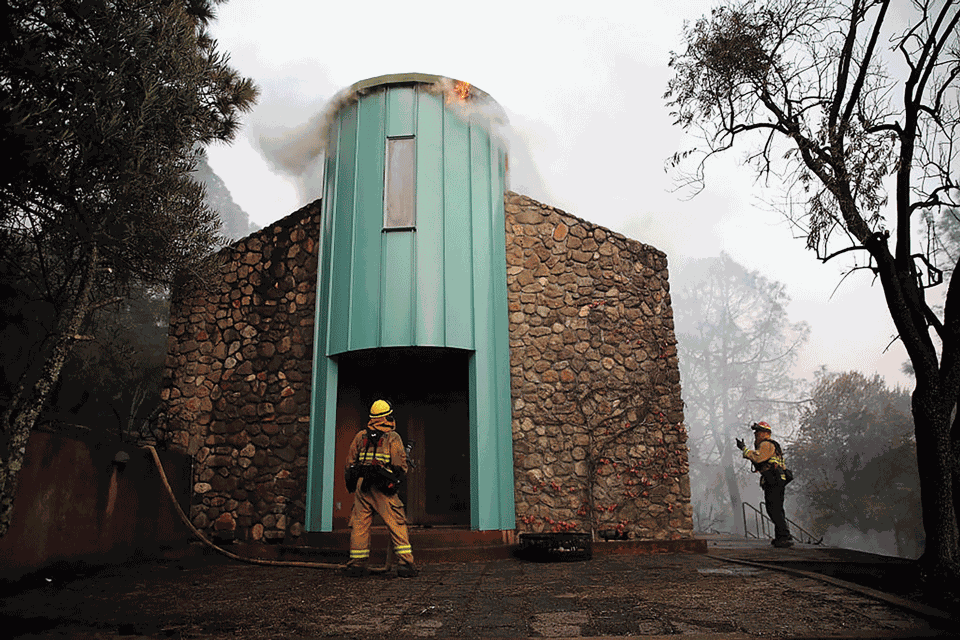 October 15, Yountville
While firefighters slowly gained the upper hand on many of the fires in the area, new blazes ignited throughout Wine Country. The National Guard was out in force, fighting fires from Far Niente to Corison. In Sonoma County, new evacuations were ordered for the area around Sonoma Square, as hundreds of firefighters hurried to protect neighborhoods in Sonoma and Santa Rosa from new offshoots of the Nuns Fire.
Just off Highway 29, a crew pumped water from a white fire hydrant. "We were just ferrying water," says Eric Fleming of Wildfire Defense Systems, a private contractor out of Bozeman, Montana. "We were making sure the guys didn't run out of water." After filling up the truck's tank, he quickly disconnected the hose from the hydrant, then sped away to the Oakville Grade, where a fleet of bulldozers was preparing a fire barrier against a wall of flames heading for St. Helena. 
Farther south, Yountville faced its own dangers, with a fire on the west side of Highway 29 threatening to spread into the town. Despite the inferno, wineries and their employees stood strong.
"It sounded like a war zone here," says Victoria Acquistapace, a tasting room associate at Bell Wine Cellars. "The military planes and helicopters were buzzing overhead, picking up water from the reservoir just east of Bell and taking it across to the crest of the mountains in Oakville. About every two minutes, another chopper flew overhead to fill up." 
Inside the Yountville winery, forklifts buzzed about, moving some of the dozens of bins of fermenting grapes out into the warm sun for a stretch. It was a critical time of harvest for winemakers, as the closely monitored fermentation process was starting. 
"Our crews were circulating the grapes on eight-hour shifts," says Acquistapace. "Every square inch of the winery was in use. We were doing pump overs and punch downs and everything since we were right in the thick of it now." 
Despite the danger from the wildfires, owner Anthony Bell chose to remain open both to tourists and for harvest. "We've been open every day and having guests," says Acquistapace. Nevertheless, customers called in to cancel their reservations.
"When people canceled their trips and asked what they could do to help, my answer was to please come. The wine industry needs you. If nothing more, please buy a few extra bottles of wine to help," says Acquistapace. "Anthony Bell [held] a meeting to tell us that he brought us all into work mostly because he didn't want us sitting around watching the news and getting depressed. He wanted to know that we were all safe." 
The winery hadn't finished picking its grapes when the fires started. Workers spent the rest of the week rushing to finish the harvest, using generators to power the lighting and other machinery. "We've been picking, fermenting, crushing—all of it. Our winery is completely full right now," she continues.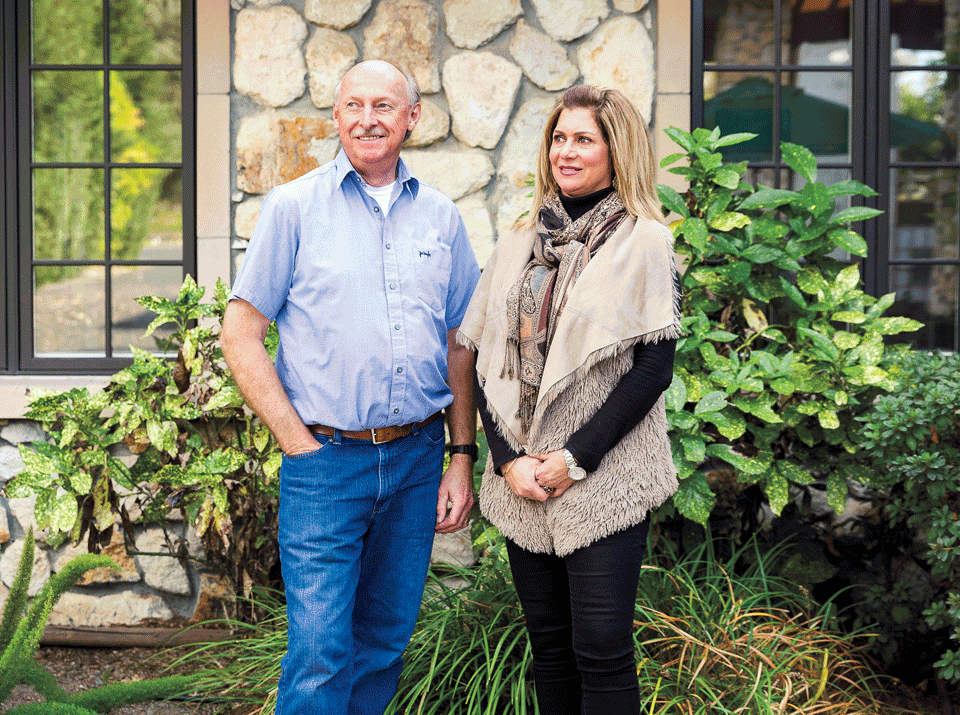 October 19, The North Bay
Rain was in the forecast for the day, but it held out until 6 p.m., when a fine mist spilled from the dark clouds above, clearing the air of smoke and providing firefighters much-needed relief. By that time, the fires were mostly contained.
Preliminary estimates of the losses from the wildfires exceeded $3 billion and were expected to rise. More than 15,000 people were still under evacuation orders, although some areas allowed residents to visit their homes with a police escort to see what remained. 
But the light rain cheered a region in desperate need of good news. Bars, restaurants, and wineries began to reopen, and smiles came out for what seemed like the first time in an eternity. Around 10 p.m., sheets of rain poured down. It felt like a turning point, a time to focus on healing and rebuilding. 
Cal Fire reported that the fires had consumed nearly 220,000 acres. More than 14,000 homes and businesses were damaged or had burned down, and more than 100,000 people had been evacuated. As of November 1, more than a dozen people still remained missing.
Even so, the expressions of compassion continue to astound. "The community support has been so humbling," says Blair Guthrie, winemaker for Stewart Cellars and Guthrie Family Wines, and a Sonoma resident. "Things like a free coffee after people learn I've been up all night, to my neighbor's loading up his car with all my family's valuables during the evacuation [while I was at the winery]. Just amazing."
The rebuilding of Wine Country will take months, even years. But as the region comes together in the face of this disaster, there is no doubt that those who call the North Bay home will meet the challenge.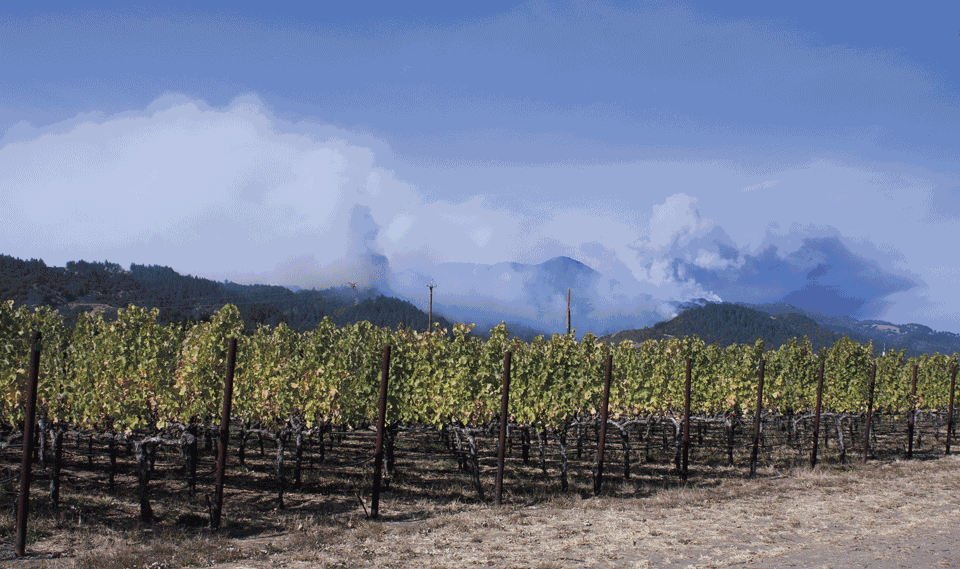 October 26, Napa and Sonoma
The Napa Valley Wine Train chugged up the hilly landscape. The train was unusually sparse, with fewer than 100 passengers—it typically carries almost 400 passengers per ride—but among the crowd were some special passengers: the mayors of Calistoga, Yountville, and Napa, along with state Senator Bill Dodd. Their message was clear: Come pay Wine Country a visit.  
"In some cases, people want to be given permission to come back to enjoy the Napa Valley, and that's part of our message here," says Yountville mayor John Dunbar. "We have small businesses that can't sustain extended losses of revenue. They employ many locals who were affected by the fires, so visiting [Wine Country] is really about supporting the people."
Napa mayor Jill Techel provided another compelling reason to visit. "Come now because you can get a deal!" she says. "You don't need a reservation to get into some of the best hotels and restaurants around, and the community needs the business." 
In Sonoma Valley, recovery efforts were also in full force. Tourism organizations began the hard work of addressing the misperceptions that the entire valley was up in flames.
"We are trying to mitigate the message that's misrepresented the area," says Jonny Westom, executive director of the Sonoma Valley Visitors Bureau. 
To this end, the bureau partnered with Sonoma County, Sonoma Valley Vintners and Growers Alliance, Sonoma Valley Chamber of Commerce, Sonoma County Tourism, and Visit Napa Valley to get the message out. "We're all working together on positive messaging and a unified voice that Wine Country is open for business," Westom says. "This crisis unified our community."
The North Bay Fires
Starting October 8, a dozen wildfires ignited across the North Bay, spreading throughout the region. Three fires—the Tubbs, Atlas, and Nuns Fires—were responsible for the most damage. 
Tubbs Fire: Spread between Calistoga and Santa Rosa, and burning almost 37,000 acres, the Tubbs Fire became the most destructive in California's history, reducing more than 5,300 structures to ash and killing at least 22 people.
Atlas Fire: One of the first fires to start, the Atlas Fire surrounded Napa to the north and west, consuming more than 51,000 acres of land.
Nuns Fire: Just north of Glen Ellen, the Nuns Fire merged with five other fires to become the largest of the North Bay wildfires, spreading across more than 56,000 acres. 
Information as of November 3. For up-to-date details, visit fire.ca.gov.
The Fires and The Harvest
October is the height of harvest season for many wineries. The Napa Valley Vintners provided an update on how the North Bay fires have affected this year's harvest.
Although harvests were not yet complete at the time of the fires, about 90 percent of grapes were picked before October 8.
Almost all remaining grapes were the Cabernet Sauvignon variety. Because this grape variety is especially thick-skinned, winemakers believe the smoke will have little to no impact on the quality of future wines. 
Power outages as well as employees being evacuated from affected areas created challenges for wineries. However, many wineries had emergency generators, helping maintain production capabilities
How You Can Help
Plan a Visit to Napa, Sonoma, Mendocino, Lake, and Solano Counties and stay, sip, dine, and play. Or, if you can't make the trip, head to your local wine shop to buy a bottle or two from the affected regions. You can also find businesses who are committing a portion of their proceeds to recovery efforts at northbayfires.com.
Additionally, community foundations in each of the counties impacted by the North Bay wildfires have created relief funds to provide aid to those affected by the fires.