It takes chops to open a Japanese restaurant just down the street from downtown Napa's Morimoto, the eponymous restaurant of world-famous Iron Chef Masaharu Morimoto.
That didn't stop chef Curtis Di Fede from opening Miminashi, an inspired take on izakayas, or Japanese pubs.
The former owner/chef at Napa's Oenotri, Di Fede fell in love with Japanese cuisine early in his career. While working as a culinary extern at Wagamama, a chain of popular Japanese restaurants in London, he took a trip to Japan and found himself drawn to the country's izakayas. Sometime later, he moved to Napa, where he worked with Hiro Sone, the Japanese-American chef at Terra in St. Helena. 
Even with that background, it still takes chops. And heart. And gizzards. And wishbones and chicken tails and shoulders, all of which are listed on Miminashi's menu. "Yakitori means 'chicken on a stick' in Japanese," says Di Fede with a laugh. Miminashi's selection of grilled yakitori items celebrates the chicken, with 14 dishes showcasing the bird.
Judging by the crowds on a recent weekday evening, Di Fede's homage to casual Japanese dining has paid off. With good reason: Di Fede captures the best flavors of Japanese cuisine in a menu that includes savory ramen noodle bowls, bacon-fried rice, crunchy salads, and buttery sashimi, as well as exotic yakitori items. And the restaurant's horseshoe-shaped, blond-wood bar routinely lures in cocktail and wine aficionados.
Timid diners shying away from the yakitori "game of chicken," as one diner described it, may choose from more standard offerings such as a crispy breaded chicken katsu, chile pepper rock cod, or a delicious tare-marinated skirt steak that pairs magically with cold sake.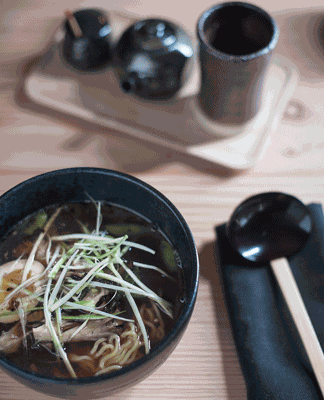 Which brings us to dessert. Do not leave without sampling the spectacular soft-serve ice cream that can be purchased in the restaurant or at a take-out window. The soft serve comes in a rotating selection of seasonal flavors—roasted nectarines, cherry, coconut, and more. You can take your cone to go and linger for a while outside with the throngs of locals by the carved wooden wall at the restaurant entrance, which serves as a tribute to Japan's Mount Fuji. miminashi.com.