Jeff Mall is tinkering with his cocoa ​bean crusher, prepping a batch of chocolate in his commercial kitchen in Windsor. He checks the top bin, a plastic grape-​harvest lug from which hand-sorted, hand-roasted beans pass into two Champion juicers to be crushed. The beans flow through food-grade PVC pipes and into a vacuum-hose wind tunnel powered by a Shop-Vac, where they're winnowed to separate roasted cocoa nibs and bean-hull discards.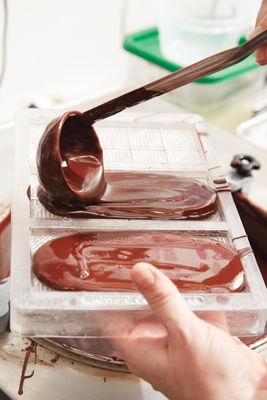 There is no duct tape involved, but it's certainly a MacGyver setup, and Jeff is clearly proud of his handiwork. The almost-six-foot-tall machine is efficient for making his new artisanal dark chocolate bars, and it's set on wheels so it can navigate the tight quarters of his 500-square-foot production kitchen.
Already, though, Jeff's own wheels are turning, as he considers how he and his wife and business partner, Susan Mall, will likely need a bigger crusher soon. After launching just under three years ago, their chocolate company, Volo, is growing so quickly that last year they doubled their shop size, and they recently purchased more equipment and expanded production from 1,200 to 3,000 bars a week. A few months ago, they added three new bar varieties to their original arsenal of six.
Then, in June, Volo's MexiCali chili–dried cherry 70 percent dark cream chocolate and its Chocolate Orange candied orange peel 73 percent dark chocolate won bronze medals in the Academy of Chocolate's international awards competition in London, amid a pool of 1,500 entries from 46 countries.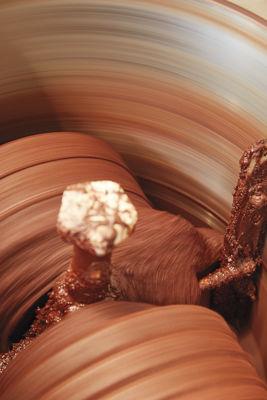 "We were going though our chocolate so quickly, we weren't keeping up with demand," Jeff says. "We had actually reached capacity in November and couldn't take on any new business. We were afraid if everyone ordered at once, we'd be in trouble."
It's a sweet situation for the Malls, who just a few years ago didn't know beans about chocolate making—and certainly not artisanal chocolate making. Their gourmet products are crafted from ultra-premium beans imported from Guatemala, Haiti, and Madagascar, then gussied with finery like Healdsburg's Plank Coffee, salted caramel, figs, and hazel­nuts. The couple—who met in 1999, when Jeff was opening his Zin Restaurant and Wine Bar in Healdsburg—had made plenty of things by scratch, from bacon to bread, but had never explored the ancient confection of cocoa solids, cocoa butter, and sugar.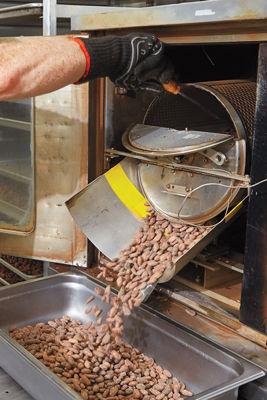 Sowing the Seeds
At the end of 2014, Jeff and Susan closed Zin and moved to Todos Santos in Baja California Sur to gear up the farm and restaurant at a friend's Rancho Pescadero resort on San Pedrito Beach. It was work, but also a retreat and a bit of vacation.
"It was nice to have an interim for many reasons," Susan says. "Every time we'd run into somebody [in Wine Country], they'd say, 'Ohhh, I can't believe Zin is gone,' and there's only so much of that you can take."
Life together in Mexico was a challenge, as the duo navigated a new environment and, oddly, a more relaxed schedule. "We'd only really known each other in a work relationship before," Susan says. "We had to learn how to be a couple and not have the restaurant distraction."
Jeff, especially, was going a little stir crazy. "He always likes to have a side project," Susan explains. "I am very self-contained: I read, do a little writing, make jewelry, knit, and I'm totally fine. But for Jeff, he had been growing zinfandel in Healdsburg and mashed up some grapes to create a wild sourdough starter. He brought the starter to Mexico and made pizza crust, English muffins, and bagels to keep busy."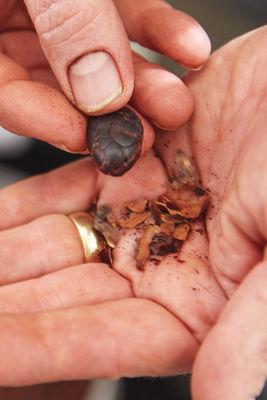 "Once you've developed the menu and recipes and trained staff, it's maintenance," Jeff admits. "We were making tortillas from heirloom corn we stone-ground, and set up the Rancho farm gardens with heirloom seeds from Petaluma Seed Bank. We were in a different kind of awesome."
Yet the couple felt antsy.
"Then we found cacao beans, and it was like, Oh!" Jeff recalls. "Susan and I had never seen them before. So we wondered, What would it take to make chocolate?"
Their first dip into using beans from the southern Mexican state of Chiapas turned out pretty well.
"We looked at an online recipe first, but I thought, I'm a chef; I can wing it," Jeff says. "And the chocolate turned out edible—far from good, but rustic. … So then we actually followed the recipe, and it was inedible."
"It was awful," Susan confirms.
The couple dug deeper and found that many recipes come from new chocolate companies started by tech professionals and lawyers. "As chefs, we understand in our gut how to create flavors," Jeff says. "So let's just follow our instincts."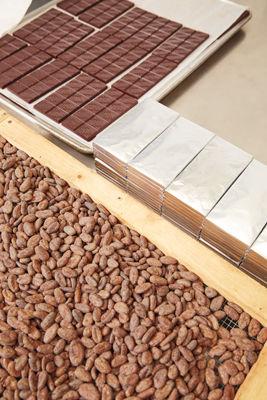 While much modern dark chocolate is made by roasting beans at low temperatures to enhance their acidity, the Malls turned to higher heat in their wood-fired pizza oven. That released the fudgy, intense coffee notes they sought, highlighting the beans' distinct flavors. As they kept refining their technique, every batch turned out better than the last, but there was a wild card.
"At Rancho, you use whatever wood they find out in the desert," Jeff says. "Sometimes the smoke is really awful-​smelling, sometimes really sweet."
The couple used the roasted cocoa nibs for crusting meats and adding to sauces. Their coworkers introduced them to champurrado, a warm, thick drinking chocolate, and gave them pointers on grinding with a traditional metate. Jeff wanted to speed things up, however, and found that his corn grinder fit the task.
"We made one batch of chocolate, and never made another tortilla," he says, grinning.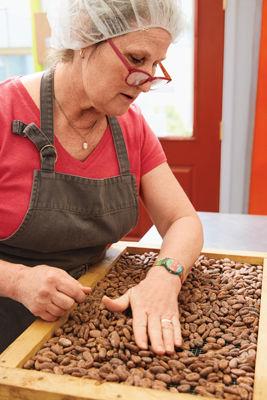 Sweet Dreams
Graduating to crafting bars was tougher. All Volo chocolates are dark, which can easily be bitter and chalky. Each bar variety contains a pinch of sea salt, Mexican cinnamon, and organic unrefined sugar; three have a base of browned butter, caramelized milk, sea salt, and cinnamon; and three are blended with cream instead of milk. Some add in extra ingredients, such as the 62 percent dark milk chocolate bar laced with figs and hazelnuts.
"All dairy has to be added as a powder," Susan explains. "You can't use anything that has any water in it whatsoever, or else it completely changes the chemical structure. In the early days, before I understood this, Jeff would yell, 'Get away from my chocolate!' It's incredibly sensitive."
Jeff, meanwhile, played mad chef, dreaming up novel ideas like tortilla chips crushed into the bar, and using hotel guests as helpers and tasters.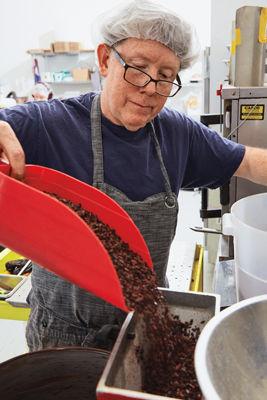 "We'd lure them in," Susan recalls. "We'd start roasting in the palapa at 6 p.m., just as guests got back from their day. The place smelled like fudge brownies. We would hand-shell the beans and hand-stamp the wrappers, and guests wanted to join in. They'd buy 15 or 20 bars to take home."
Yet because of Mexico's humidity and heat, the Malls could make chocolate only from December to May. And after 18 months abroad, they were missing their Healdsburg home, so they returned in August 2016.
"We really weren't sure what we were going to do," Jeff says. "We knew we weren't going to start another restaurant or go into catering."
They bought a few sacks of Chiapas beans and made some bars to share with pals. One day, their friend Justin Wangler, the executive chef at Kendall-​Jackson, invited them to participate in the winery's Heirloom Tomato Festival. The Malls made dark chocolate–covered cherry tomatoes, the crowd went wild, and a business was born.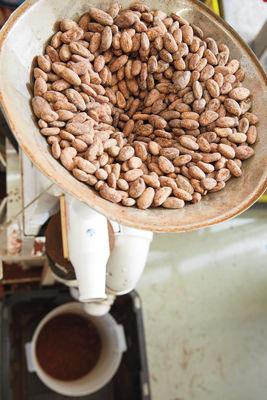 Learning Curve 
The first step was finding a large quantity of beans, and the Malls came across a chocolatier in San Diego who was moving his business to Costa Rica. He had 180 pounds of Oaxacan beans he could deliver to a warehouse in Sacramento, for cash only.
"We had to go to a crazy part of town and ask for Eddie," Susan says. "I thought I was doing a dope deal. The beans looked really different, kind of purplish, but we figured that's what Oaxacan beans look like."
Long story short, the batch turned out, as Susan puts it, "What the hell? Oh, god, what?" It seems the beans were purple because they were improp­erly fermented and rancid. "We had to write it all off," Susan says. "I felt like one of those dummies who just bought oregano from the kids selling marijuana. We laugh now."
The couple finally came across the Berkeley-based bean wholesalers Uncommon Cacao, and the managers invited them for a guided tasting. The Malls learned they were supposed to taste cacao without any sugar at first, and how to do a sensory evaluation for profiles that might reflect flowers or fruit. After roasting eight different test samples from Bolivia, the Dominican Republic, and beyond, the duo focused on Guatemalan beans sourced 15 miles from Chiapas, among other varieties.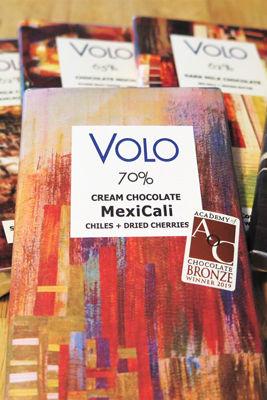 "It has the same characteristics of fudgy, darker flavors and coffee we enjoyed in Mexico," Jeff notes. "But the finish brings a lot of fruit and a bright cherry zing."
Volo's dark, classically bitterish bars use Guatemalan beans, while others use Haitian beans for their richer chocolate profile that's less astringent, with a finish of toasted nuts and caramel.
After several months of testing equipment and various rental kitchens, where the Malls had to pack up all their gear each night, the couple found a space off Shiloh Road and Highway 101 in Windsor. Jeff built a rotating drum into a convection oven for more reliable roasting and put together his crusher contraption. He gave a peanut butter grinder a new life, turning their precious cocoa nibs into creamy paste.
Soon, the couple settled on a brand name: Volo means "to want or desire" in Latin. And they developed packaging, utilizing designs from Jeff's aunt, textile artist Cathy Shanahan.
Back in Business
Now, Jeff and Susan Mall are fluent in the language of chocolatiers, nimble with words like conching, melanger, and tempering. They've gone from refining 100 pounds of beans over five days to practically that same amount in just two days—a much faster process for achieving the silky, creamy grind that differentiates their dark chocolate from many other drier, grittier versions. They splurged and bought an enrober coating machine, so they can make delicacies such as, say, Cowgirl Creamery Mt Tam cheese covered in dark almond chocolate for special events. And in August, they launched a new flavor: a Meyer lemon and extra virgin olive oil bar made with Madagascar beans.
These days, they're working on producing smaller bars for snacking, per many clients' requests, and candy bars with creative fillings. Thanks to a recent equipment purchase, the Malls are also developing a more efficient wrapping process, instead of laboriously hand-packaging each bar. Someday, Jeff laughs, he and Susan will beef up their staff, too, which currently numbers one full-time team member: former Zin pastry chef Elena Nau.
In the meantime, Jeff and Susan are enjoying one of the best parts of working in the chocolate business: When they forget to take off their hairnets before stopping at a grocery store, people crowd behind them in line.
The Malls are used to the sniffing at this point, and people asking, "Why do you smell so good?"