In the two years since it opened, the CIA at Copia has seamlessly integrated itself into the fabric of the Oxbow District; in fact, it's difficult to remember the space was vacant for almost a decade after the closure of the original museum and educational center. As the first public-facing Culinary Institute of America outpost, Copia contains a restaurant, store, museum, and plenty of room for culinary and wine education, making it a perfect fit for the Napa Valley lifestyle.
"The intent for Copia was always to be a place for you to come and learn about food and wine and culture, and the Culinary Institute really carried that mission forward," says Maryam Ahmed, assistant director of California public programs for the CIA. "A big part of the development process for us was making sure we had something to offer the community."
With classes Wednesday through Sunday most weeks, Copia certainly has a wealth of options. Its two main cooking spaces—the demonstration-style Napa Valley Vintner's Theater and hands-on Hestan Kitchen—host seminars on everything from food and wine pairing to the fundamentals of cooking. And with the addition of multiday programming this February, there are even more ways for enthusiasts to hone their craft.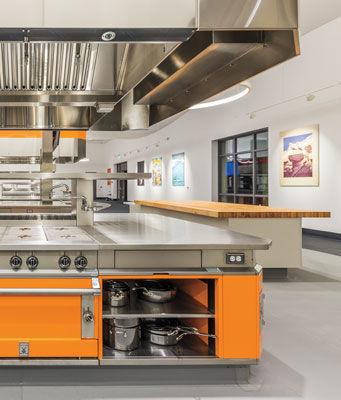 "We really want everyone to feel like they're coming and walking away with something new they didn't know," Ahmed says. Here are a few classes Ahmed is looking forward to:
Flatbreads From Around the World (March 14)—"A lot of people have been asking for savory baking classes or savory breads, so this was our  way to meet that request from the guests," says Ahmed. $95.
Mastering Mole (March 23)—Chef Valentin Atayde from the Mercadito Food Truck will give a hands-on lesson on this popular Mexican dish. $125.
Culinary Boot Camp: Basic Training (April 8–12)—This five-day morning class will teach the fundamental skills and methods of cooking. $2,250.
Keep your eye on Copia's calendar for more amazing classes this spring. ciaatcopia.com.