It's 7 p.m. on a Wednesday in the kitchen at The Restaurant at Meadowood—prime time for dinner service—and the room is brimming with action.
In the prep areas, nearly two dozen white-clad chefs ply their craft, grilling and searing and chopping and trimming with the intensity of heart surgeons. At the pass, where every dish is inspected before heading out to the dining room, the expediter scribbles with a black Sharpie on table tickets, keeping track of each meal. Smoke creeps from the pastry station, where chefs are freezing ice cream with liquid nitrogen. Occasionally, a sommelier dashes by with a three-figure bottle of Cabernet.
Amid this frenzy, chef Christopher Kostow is hard at work. He demonstrates technique for scoring grilled abalone. He hand delivers cod cooked in sunflower petals to three guests dining at a counter table at the front of the kitchen, and takes three minutes to explain the dish to the awestruck diners. He uses a small bottle to add drops of local walnut oil to a chilled avocado soup.
With two James Beard awards under his belt—including one for best chef in the West—three Michelin stars, a cookbook generating major buzz, and a brand-new dishware line, Kostow is the hottest chef in the entire Bay Area.
The thing is, based upon this scene from his workspace, you'd never know it.
Unlike other culinary luminaries here in Wine Country—many of whom are notorious for their exacting standards and larger-than-life personalities—the 38-year-old Kostow is about as quiet, humble, and unpretentious as they come. He forages for ingredients. He works the line himself. He interacts with guests. He collaborates with artists. The guy even blasts jazz and rap music in the kitchen during work hours.
For Kostow, food is one part of a bigger story, a constantly evolving tale about the Napa Valley as a whole.  
"We're just starting to understand what this place is and what we can do with it," he says. "Everything we do is tied to the Napa Valley. I want people to come in, find the food thoroughly delicious, have a memorable experience, and if they're so inclined, gain a better understanding of the narrative we're trying to weave."
Philosophy of cooking
Kostow has been cooking for most of his adult life. In high school, he was the one who prepared meals for friends late at night; at Hamilton College, in upstate New York, he cooked for his philosophy professors. Back then, most of his signature dishes came straight from the pages of Joy of Cooking. After college, Kostow decided it was time to write his own script and give the "chef thing" a shot.
Over the years that followed, he cooked in the celebrated kitchens of George's at the Cove in La Jolla; Campton Place in San Francisco; Le Jardin des Sens in Montpellier, France; and Chez TJ in Mountain View, where he earned two Michelin stars.
In each of these jobs, Kostow pushed hard on two fronts: always practicing and sharpening his technique, and striving to work with new and interesting materials indigenous to the local food scene.
"One of the things I always loved about Chris is that he sees food as culture," says Daniel Humm, the chef-owner at Eleven Madison Park, who worked with Kostow at Campton Place. "More than being science or something intellectual, food is soulful and delicious and creative. Chris understands that fundamentally."
Kostow brought that understanding to St. Helena in 2008, when he took over as chef at The Restaurant at Meadowood, one of Napa's most renowned eateries.
He didn't exactly arrive at the best time: Just a few months later, the economy tanked. Still, Kostow persevered, focusing on the ingredients, vibe, and special attributes that made the Napa Valley unique.
"After a short period of time, I had the realization that there was something here that was very untapped," he says. "There's so much 'chef' out there: You can cook in a way that nobody else can, but it gets to a point where, in order to do something completely different, you need to create your own narrative."
Pioneering style
Using the bounty of the land as a jumping-off point, Kostow created that narrative gradually, incorporating überlocal ingredients into many of his dishes.
He hired a full-time forager, and tasked him to search the area two or three times weekly for the best and freshest wild things around. He connected with local purveyors who raise tasty squab and the best beef. He tracked down growers who successfully cultivate forgotten heirloom vegetables. Then, he tweaked existing recipes, and devised new and exciting approaches to work all of these unfiltered expressions of the Wine Country environment into his cooking.
Consider one of his popular dishes: halibut acorn truffle celery. The dish is the essence of culinary vertical alignment: Acorns foraged from a 100-year-old oak tree near the chef's home are used to encrust halibut; wood from that oak is used to cook the celery root; and a jus to accompany the dish is made from truffles that grow under oak trees. With the exception of the halibut, the dish is about as localized as humanly possible. And it works, without being too highfalutin.
"We try not to be supercomplicated with what we're doing here," Kostow explains. "It's about being graceful and elegant, but not beating people over the head."
Winning over customers with this approach was a cinch, and word of mouth spread quickly, especially among foodies who can afford to spend big bucks on dinner. Critics caught on in 2010, when The Restaurant at Meadowood earned its first of five consecutive three-star ratings from Michelin. The accolades kept coming: In 2013, Kostow nabbed the James Beard Award for Best Chef in the West, and in 2014, The Restaurant took home a Beard award for Outstanding Service.
Up and down the Napa Valley, other chefs started to take notice, describing Kostow as a genius and a pioneer. Chef Thomas Keller, arguably the biggest name in the history of Napa Valley food, also is impressed.
"Many have marveled at the bounty of the Napa Valley, but so few have found a way to continue discovering that bounty over and over, presenting it in a thoughtful, innovative, and fresh way," Keller says. "I am always struck by Chris Kostow's curious demeanor and humble reverence for the land around him."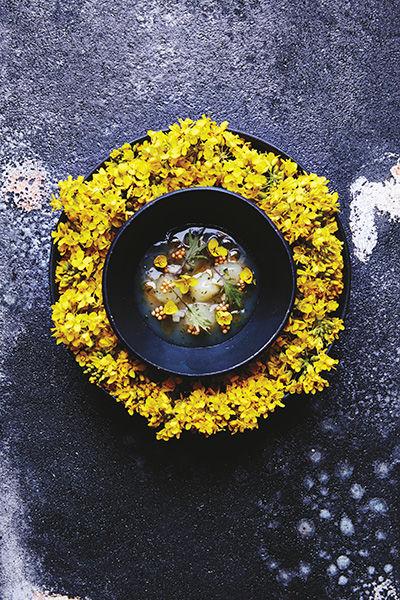 Elevating the art form
Kostow's cookbook, A New Napa Cuisine, debuted in fall 2014. It is the perfect embodiment of the chef's approach.
Yes, the book has recipes—100 in all. But it also showcases the people with whom he works, contains stunning photographs from famous food photographers Peden + Munk, and features anecdotes from Kostow about discovering wild plums and radishes growing along the creek behind his house, and about foraging for mushrooms with his toddler.
Even before the cookbook, Kostow was thinking about ways to extend and amplify some of the stories he crafts in the kitchen for customers. His answer: an entire program devoted to collaborations with local artists.
Most of these partnerships revolve around ceramics. Plates, bowls, and saucers—just about everything on which food is served in The Restaurant at Meadowood dining room—have been made by local artisans. Some of the pieces have polished and finished looks; others are very rough. Kostow says over the years, he has amassed such an inventory—more than 1,000 pieces in all—that he now is able to change out the dishware seasonally, using dark-hued pieces in the fall and winter, and brighter works in the spring and summer.
"It's a purely aesthetic thing. Over the course of a meal, we didn't want a series of plates but rather a series of vignettes, each thing a self-contained idea," Kostow explains. "It's all about trying to do something that's specific to us, creating separation between ourselves and everybody else."
Glen Ellen potter Lynn Mahon is one of the collaborators on the artisan program, and says the plates and bowls he has made for Meadowood represent the first "functional" pieces he has made for use outside his own home. Mahon adds that composition is a huge part of these pieces and that each item must have enough texture to complement the food, but not too much texture to take away from it.
Most of the time, Kostow gives Mahon a sense of the dish he'd like to create, and Mahon then crafts plates or bowls around that vision. One of the duo's biggest successes came in 2010: For Kostow's abalone dish, Mahon used tiny fragments of rock to make a bowl that resembled an abalone shell.
"The pieces can work on their own, but they are at their best when the food is on them," Mahon says. "It's taking these individual stories, adding to them, and making them bigger and better."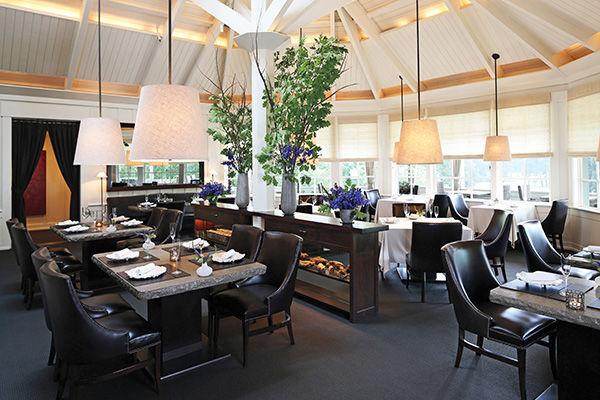 On the horizon
Some of the other artisans involved with The Restaurant at Meadowood will play an even bigger role in the next chapter of Kostow's professional life.
In December, Kostow and Pope Valley potter Richard Carter—as well as potter Eric VanderMolen and design editor Sarah Lonsdale—launched their own line of plates and other dinnerware, which is available at select retailers and will eventually be sold online. The collection, dubbed Carter|Kostow, stands out for its simplicity and impossible-to-replicate surfaces that result from being cured in kilns. Customers rave about this dishware: Numerous diners have insisted on purchasing plates and a cookbook as mementos of their meal at the restaurant.
"To bring something to market that illustrated the dynamism of the Napa Valley was really cool: Instead of another jar of Napa preserves, we have these dishes," Kostow says. "It would have been easier to put my name on dinner plates that someone else made, but that's not what we were trying to do."
Kostow also is branching out into other endeavors, bringing the flavors and tastes and stories of the Napa Valley to the world at large.
Earlier this winter, he curated a menu for the new Centurion Lounge, a VIP club in Terminal 3 at San Francisco International Airport where American Express card members can relax. Though this particular gig is completely independent of The Restaurant at Meadowood, Kostow has designed the entire culinary program to include his own dishes, such as slow-roasted pork shoulder with apple lees vinegar.
Kostow also has aligned with international electronics company Samsung to participate in a program called Club des Chefs. As part of this partnership, Kostow helped Samsung design high-tech, next-generation kitchen appliances. He appeared in Las Vegas to debut the products at the 2015 Consumer Electronics Show and is featured in the program's marketing campaign. (Internet videos spotlight him foraging for ingredients and preparing food in Napa.)
For Kostow, the retail dinnerware and Centurion Lounge are both opportunities to take his philosophy mainstream, and introduce the Napa Valley narrative to those who might not have a chance to get it in St. Helena, or who want to extend and amplify the Wine Country vibe outside the region.
"There's a whole avenue of things that the valley has yet to show the world it possesses," Kostow says. "Everything we do in the years to come will be in that vein, and that's a great opportunity for everyone. I've been here seven years, and I've never been so excited about the direction we're going." therestaurantatmeadowood.com.
Front-Row Seats
Most of the people who dine at The Restaurant at Meadowood sit in the main dining room, which seats roughly 44 patrons. For those who want a real treat, however, there's the four-seat Chef's Counter, a small spot inside the busy kitchen.
Consider this perch a front-row seat: Not only do diners get to watch chefs preparing food all night long, but they also get to interact with chefs directly throughout the 20-course meal. Kostow even delivers some of the dishes himself.
Kostow says that when the counter debuted in 2012, it was a bit of an experiment on both sides: a way to give diners a unique perspective on The Restaurant at Meadowood experience as well as a way to give chefs a chance to see first-hand how customers react to and interact with their food. Since then, due largely to serious media buzz, the counter has become one of the hottest tickets in town.
"The counter is a great opportunity for people to have a more intimate experience," says Kostow. "The four guests at the chef's counter are proxies for all the guests, and it creates a nice relationship between back of the house and the dining room. All in all, it makes for a more personable place."
---
Matt Villano is a freelance writer and editor based in Healdsburg. Learn more about him at whalehead.com.