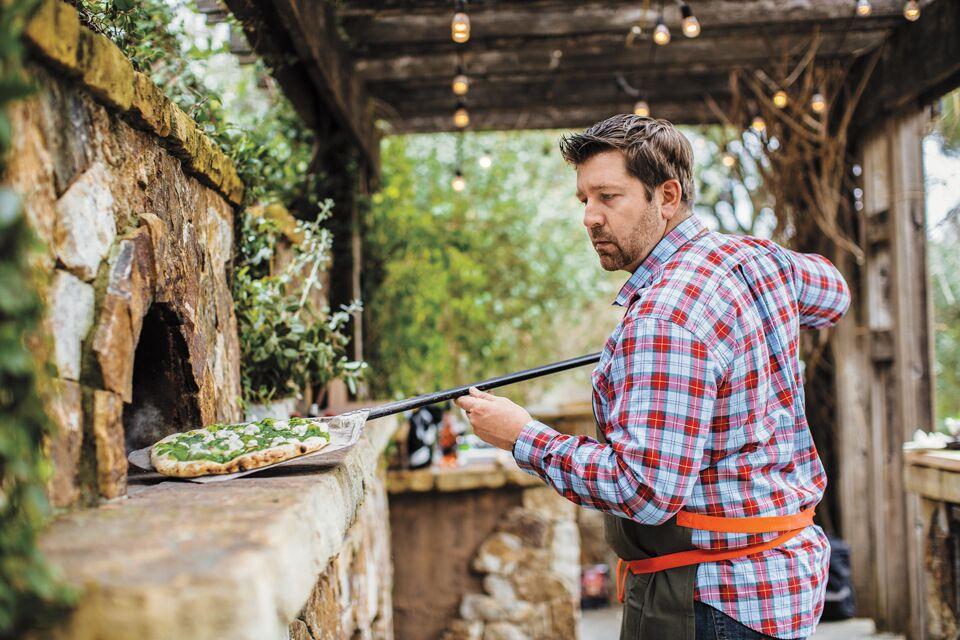 In any other legend, the Matheson would be haunted. Built more than a century ago, and owned by what is now the third local generation of the Valette family, the historic structure on Matheson Street off the Healdsburg Plaza boasts a rich history. And, like all good haunted places, it met some turmoil as it made its way into a new incarnation slated to open this summer.
Indeed, when owner and chef Dustin Valette announced his plans for the space back in 2018, a group of Healdsburg residents protested the project, worried that it would be too modern and large for the area. There's a lot going on here, 
it's true—the three-story building holds a 65-seat upscale restaurant, a boutique sushi bar, a dining loft with reserve wine lockers, and a 90-seat rooftop cocktail lounge called 
Roof 106.
Except the Valette family has long been a Healdsburg point of pride, having helped establish the Wine Country burg as a culinary mecca. As early as the 1920s, Valette's great-grand-
father and French immigrant Honoré Valette owned Snowflake Bakery on what is now the Matheson's site. The family lived in an 1872 house just north of the plaza, where Valette lives now, and in the 1940s, Honoré opened Home Bakery in the space that now is Valette's first restaurant, called Valette, at Center and North streets.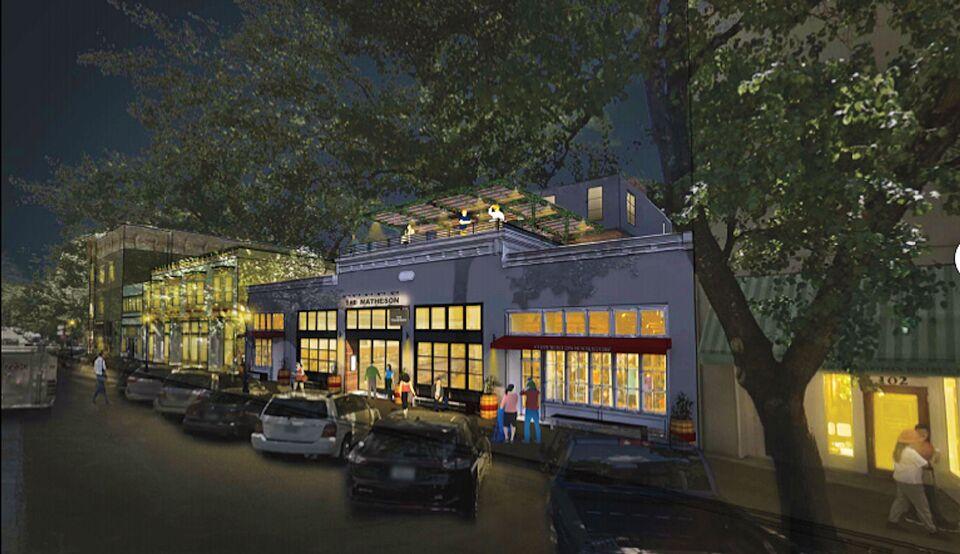 "Three and a half years ago, the building came up for sale, and people were going to buy it, tear it down, and build condos," Valette says. "But I was fortunate enough to understand the history and value of this property, and from the beginning, 
the goal was to preserve it. I want to preserve it for the next 100 years and be able to pass this down to my kids' kids."
It wasn't long before the protests died down, and today the Matheson is being embraced by the community just how Valette always meant it to be: as a gathering place to share ideas over food and drink, and a celebration of Healdsburg heritage.
While the pandemic wasn't kind to the project, Valette and his business partner, Craig Ramsey, worked some creative financing and were able to keep on track with the ambitious design from architect Cass Calder Smith of San Francisco and New York. The rooms brim with meaningful details, from the first-floor ceiling designed to look like a Bordeaux wine barrel cutout, to the clever, bee-themed third-floor lounge.
"When I was a kid, my great-uncle was a beekeeper, and I was super into bees," Valette says. The space is framed in redwood walls to represent a hive box, a counter is finished in a honeycomb pattern of Italian cobblestones, and lights hanging from the ceiling look like plants and flowers (to feed the bees, of course).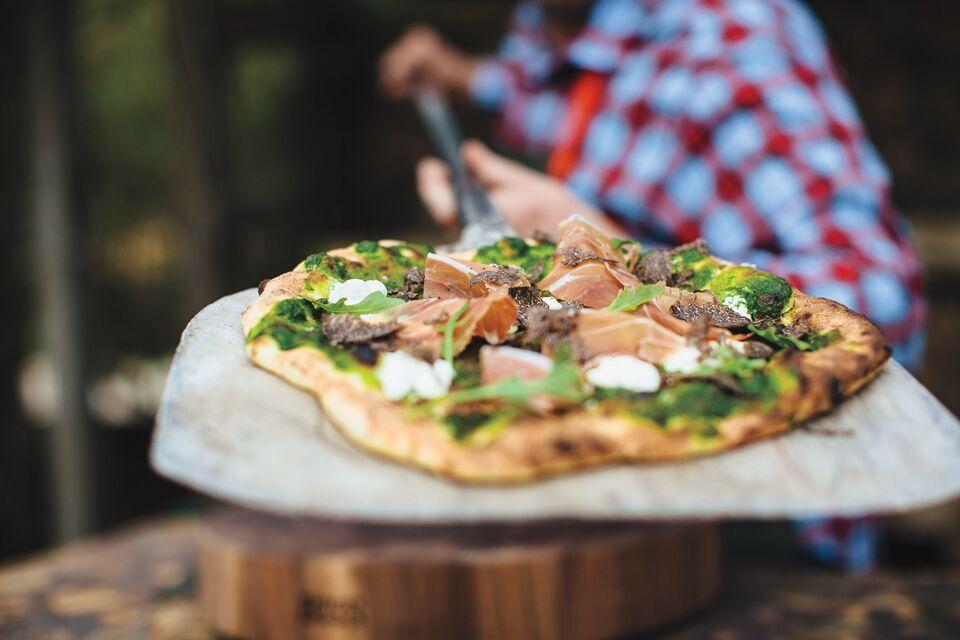 Even the lounge's monster-size, custom-built Mugnaini wood-fired pizza oven has a story. The 3,800-pound beast is wrapped with thousands of black and copper penny tiles that were applied by hand. The intricate design, says Valette with a laugh, was a comical payback for the local Mugnaini saleswoman who had teased him mercilessly for the past seven years for not installing one of the ovens at his Valette restaurant.
Artwork adorns the walls, much of it from 
San Francisco's acclaimed Jay Mercado Studio.
The artist specializes in oversize paintings celebrating farm life and migrant workers, and was commissioned by Valette to create tributes to Healdsburg agricultural icons such as the Dry Creek Peach ranch and the late, beloved vintner Ulises Valdez.
The chef is particularly proud of his new wine wall, a high-tech setup that occupies part of the footprint that once was Snowflake Bakery. Computerized self-serve stations hold 88 different wines on tap, capped by argon gas to preserve them for individual pours.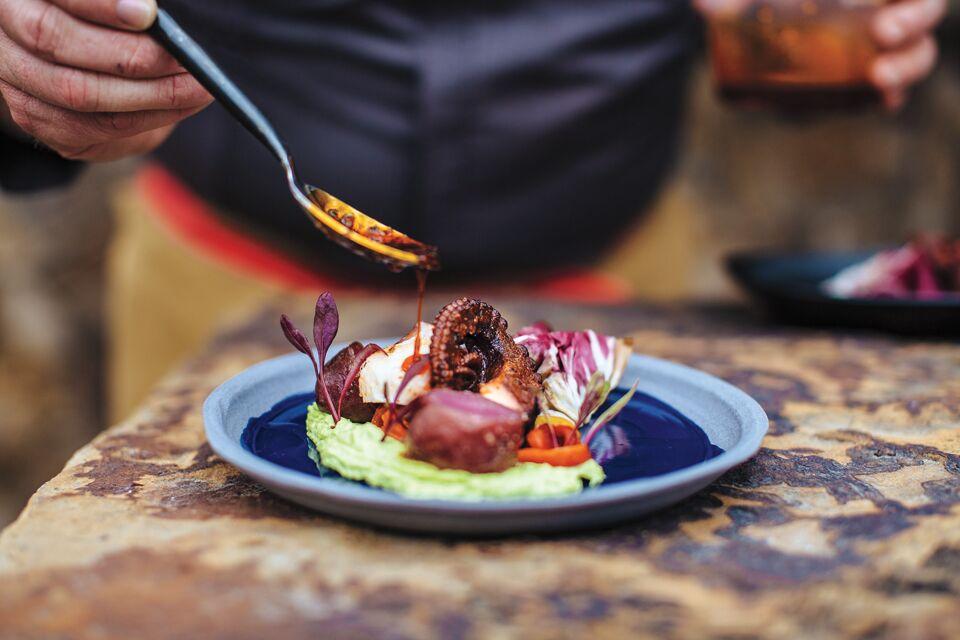 "I think about going to a restaurant, and I love a white wine with my first course, a bigger pinot maybe with my second, and a big cab with that steak," Valette says. "But I can't drink three bottles of wine."
The service also allows the chef to offer more premium wines by the glass, and at more reasonable prices. "Most restaurants can't sell $50 to $100 glasses of wine," he notes. "Instead, for by-the-glass choices, you get value-driven examples of good wines. But here, a customer comes in from Chicago and says, 'I love chardonnay—chewy oak sticks and butter cubes.' That's cool, but there are other kinds of chardonnay, except he may not want the commitment of buying a whole bottle. For us, it's more fun, too, because we can pair wines with food for something unique."
Those high-end wines tend to be rare 
allocations from the vineyards surrounding Healdsburg and selections from top local winemakers, a few of which have collaborated with Valette on his own wine label—important names like Bob Cabral, the Rochioli family, and Jesse Katz.
The chef's fans will recognize the Matheson menu, which changes with the seasons and reflects his training with award–winning chefs Thomas Keller, Charlie Palmer, and Laurent 
Manrique. As has been Valette's style through his career, his cooking showcases modern Wine Country cuisine, working with local farmers and also drawing from Valette's own garden across the street from his Valette restaurant.
But in a novel twist, chef Ken Tominaga has branched out from his renowned Hana Japanese Restaurant in Rohnert Park and operates a boutique sushi bar next to the open kitchen's chef's counter.
"You can mix it up," Valette says. "Start out with some champagne, a martini, cheese and charcuterie, and nigiri. Then move into pasta, some seared tataki."
Meanwhile, the rooftop pizza oven is a workhorse, christening golden flatbreads with its flames, for snacking in the indoor/outdoor lounge space. This is no ordinary crust, either, but a thin and crisp beauty made from wheat flour grown and milled on the biodynamic organic farm and vineyard of Lou Preston, a famed Dry Creek Valley winemaker, farmer, and baker. The yeasts are special, too, including one strand identified as the historic "Williams Selyem strain" from Burt 
Williams, a famed pinot noir pioneer who passed away two years ago.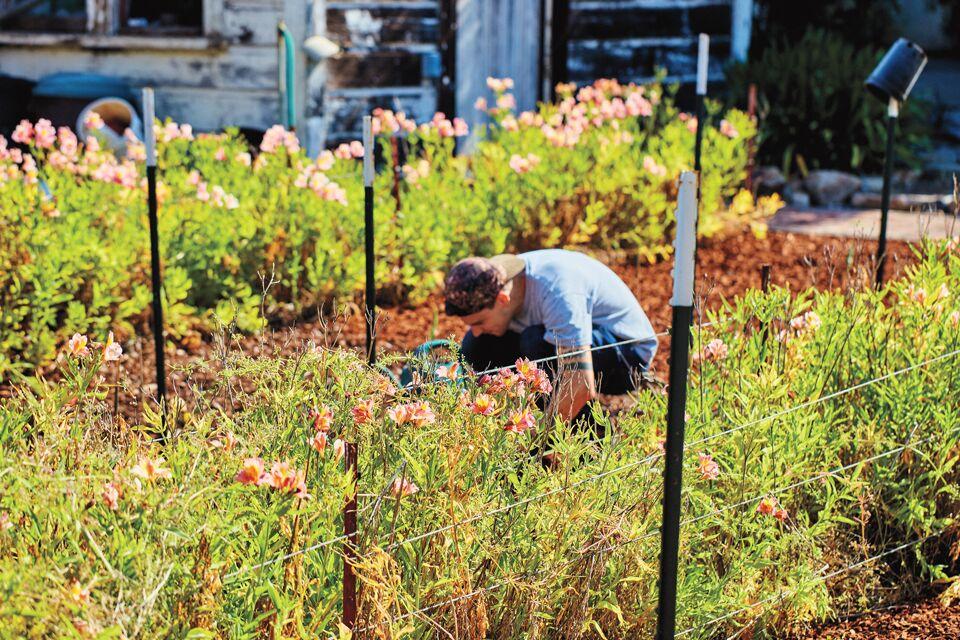 "The spent yeast comes from the winemaking process and adds amazing depth of flavor and 
enhanced fruity notes in the dough," Valette says.
Toppings reflect what's fresh from the farms and ranches, such as Preston-grown tomatoes, smoked mozzarella, micro basil, Split Rock 
extra-virgin olive oil, Valette's handcrafted 
soppressata, local eggs, and wild arugula.
"Downstairs is fancy, the loft is for overflow, and up here, it's fun and giggles," Valette says. "Just eat small plates, drink craft cocktails, and have a good time around the fire pits."
Still, as meticulous as every detail is, Valette 
insists that guests aren't in for a fussy experience, no matter which space they dine in. The chef is well known for being almost impossibly nice, 
welcoming friends and strangers alike with a big grin and a hearty "Hey, how are ya!"
As for any ghosts, the chef is quite sure that his great-grandfather would appreciate the energy that's returned to his former bakery. Honoré was an ambitious soul, too, Valette recalls, and when Prohibition kicked in, he came up with a solution.
"Since he had access to sugar, malt, and corn, and lived up on rural Mill Creek, he decided to use the ingredients in a different way," Valette says. "He wasn't a bootlegger, per se, but he just learned how to enjoy the fermentation process."
To toast the opening of the Matheson—and the original Valette who once ran his bakery there—the chef has created a special brandy-infused cocktail named En Honoré. Guests are invited to raise a glass to the portrait on display of Honoré working the old hearth ovens, and wish him, "Cheers."