The French Laundry
After 24 years, the Michelin three-star restaurant has unveiled a $10 million renovation, which glitters with an updated interior and new wine cellar, private dining room, kitchen, and garden. The daily changing nine-course menu ($325 per person) highlights French techniques and the finest quality ingredients, as always. 6640 Washington St., Yountville, (707) 944-2380, thomaskeller.com/tfl.
NapaSport
Combine a contemporary sports bar with a high-end steak house, and you've got the ultimate man cave from Morimoto's Michael Galyen. Ladies love it as well, and why not—think elegant seared ahi soba alongside the luscious fried chicken and custom-cut 12-ounce New York strip. 145 Gasser Dr., Napa, (707) 927-5956, napasport.restaurant.
Lowell's
Formerly known as Peter Lowell's, this hip café has tweaked its name to celebrate its 10th anniversary and sports an updated "hyperlocal" menu—meaning ingredients sourced from surrounding Sebastopol and West County. It is oh-so-good, with soupy-savory beans and greens topped with two baked eggs, bread crumbs, and Parmigiano; or house-made ravioli stuffed with roast pork and ricotta under rich pork leg ragu and Pecorino Romano. 7385 Healdsburg Ave., Sebastopol, (707) 829-1077, lowellssebastopol.com.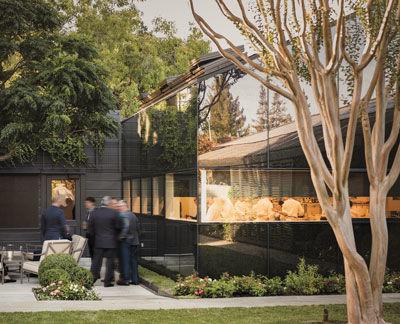 Perch and Plow
Mike Mullins worked at Michelin-starred Cavallo Point and the former Petite Syrah and Kenwood restaurants. His talents still shine at his more casual eatery. Small plates are big business at the popular spot, such as ahi poke with ponzu sauce, radish, sesame, avocado, and crispy rice chips. 90 Old Courthouse Square, Santa Rosa, (707) 541-6896, perchandplow.com.
Protéa Restaurant
Caribbean-inspired cuisine in Yountville? It's true. Chef-owner Anita Cartagena has debuted a small fast-casual eatery featuring a daily changing menu of slow-roasted, braised, seared, and fried global street foods. Standout snacks include Puerto Rican picadillo empanadas, a citrus soy pork belly Bomba rice bowl, and marinated top sirloin and onions over rice and beans. 6488 Washington St., Yountville, (707) 415-5035, proteayv.com.