Hal Yamashita Napa
Kobe-born chef Hal Yamashita was part of Iron Chef All Stars in Japan, and now he brings his distinctive "nouvelle Japanese" cuisine to Napa. Featuring robata hot charcoal grilling, sushi, and yakitori, Yamashita's menu signatures include rolled Miyazaki A5 Wagyu beef stuffed with silky sea urchin, and robata black cod in Saikyo sweet miso. For even more indulgence, order the $120 Goyomatsu nine-course feast. 1300 Main St., Ste. 100, Napa, (707) 699-1864, halnapa.com.
Han Bul Korean Barbecue
Owner Han Soh pampers us with real-deal cuisine from his homeland, South Korea, such as banchan omakase—a sampler of 20-plus tiny side dishes/condiments. Go big with a family-style "BBQ set," featuring three to four meats of your choice (such as pork belly, short rib, and brisket), that banchan omakase spread, soup, vegetable crepes, steamed eggs, and rice. 522 Seventh St., Santa Rosa, (510) 206-3947.
Perry Lang's
Dry-aged beef and barbecue master Adam Perry Lang is famous in Hollywood thanks to his APL Restaurant, and now his cult-status cuts have landed in Wine Country. A la carte steaks are dry- and wet-aged for up to a remarkable 400-plus days; pair them with hearty sides and sauces like cabernet bone marrow jus, creamed spinach gratin, and brown butter–roasted mushrooms with black truffle butter and celery root puree. 6539 Washington St., Yountville, (707) 945-4522, perrylangs.com.
Shige Sushi
Owners Shigekazu and Toki Mori wanted to expand their original Shige, which opened in Cotati in 2012. So they moved to Sonoma and debuted this authentic Japanese-style izakaya. Tokyo-born chef Shige salutes street food, such as delectable grilled whole squid, crispy tempura udon, and tuna tartare crowned with a quail egg. 19161 Sonoma Hwy., Sonoma, (707) 933-9331, shige-sushi.com.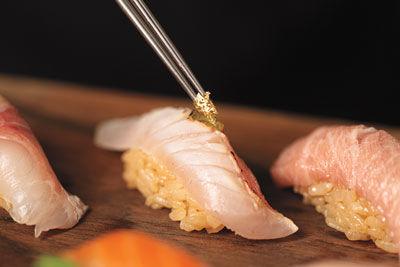 Sushi Koshō
Reopened after the devastating Sebastopol floods last spring, the Barlow's upscale Japanese sushi salon has been reimagined with a dine-in bar and a fresh menu. Chef-owner Jake Rand crafts edible magic, like toro aburi sashimi of silky seared fatty tuna in a textured tapestry of crispy potato, velvety avocado, and delicate white onion dressing. 6750 McKinley St., Sebastopol, (707) 827-6373, koshosushi.com.
Valley Ford Cheese and Creamery
The Bianchi family's 1918 dairy now boasts a nearby storefront serving their cheeses, house-made pastries, local wine, beer, and noshes including a special porchetta sandwich with the creamery's own Highway One old-style Fontina tucked between two slices of ciabatta from Forestville's Nightingale Breads, then griddled golden. 14390 Valley Ford Rd., Valley Ford, (707) 293-5636, valleyfordcheese.com.