Bollywood Bar and Clay Oven
Chef Niven Patel shows Santa Rosa why he was a 2018 James Beard Award finalist for Best Chef in the South with his Cal-Indian cuisine. Savor delights such as pork belly vindaloo spiked with habaneros and peanuts, alongside mixologists Scott Beattie and Andrea Mota's show-stopping cocktails. 535 Fourth St., Santa Rosa, (707) 535-0700, bollywoodbar.net.
Butcher Crown Roadhouse
Here be barbecue, jazzed with Latin American accents. You'll find gems like piri piri chicken, tender and fiery from an assortment of chiles, or the Tony Montana sandwich with slow-smoked pork and black bean puree, apple, and cabbage curtido on a Portuguese sweet roll. 1905 Bodega Ave., Petaluma, (707) 559-3735, butchercrown.com.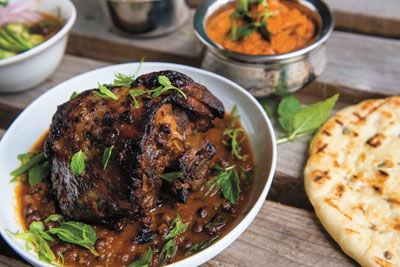 Fern Bar
Owners Lowell Sheldon and Natalie Goble (Lowell's, Handline) have partnered with Sam Levy (Restaurant at Meadowood), chef Joe Zobel (Lowell's), and Gia Baiocchi (Nectary) for this eclectic cuisine-and-cocktail dream. Nibble on sopaipillas stuffed with rabbit, chile, Cotija, and Mexican herbs, and sip on a Guera of blanco tequila, Aperol, St. Germain, Thai pepper shrub, grapefruit, lime, and bitter lemon tonic. 6780 Depot St., Ste. 120, Sebastopol, (707) 861-9603, fernbar.com.
Gran Eléctrica
At the West Coast outpost of the Brooklyn hot spot,  diners can pose with the Napa Valley-themed Day of the Dead wallpaper and enjoy the crowd-pleasing chile relleno paired with a divine frozen margarita from the slushy machine. 1313 Main St., Napa, (707) 258-1313, granelectrica.com.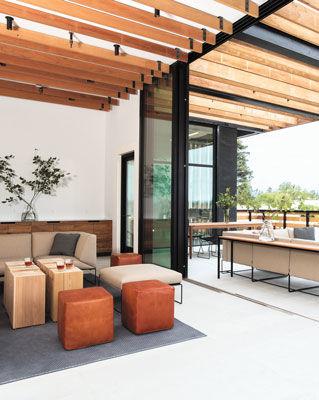 Harmon Guest House's The Rooftop
It's an awesome view, gazing across downtown Healdsburg to Fitch Mountain. And it's a great spot for a sumptuous snack and cocktail. Chef Matthew D'Ambrosi (Spoonbar) sends out sophisticated bites like yellowfin tuna crudo with smoked dashi ponzu, or decadent caviar–crème fraiche blinis. 227 Healdsburg Ave., Healdsburg, (707) 431-8220, harmonguesthouse.com.
La Calenda
Thomas Keller and Oaxacan food? It's true, in a delicious mash-up restaurant, spiked with herbs grown in the French Laundry garden and homemade, stone-ground corn tortillas. 6518 Washington St., Yountville, (833) 682-8226, lacalendamex.com.
Roadhouse 29
The short-lived Two Birds/One Stone has transformed into Roadhouse 29, a hub for smoked meat—think pulled pork shoulder, St. Louis ribs, and andouille sausage. Plus, at this counter-service eatery, corkage is complimentary. 3020 St. Helena Hwy., St. Helena, (707) 302-3777, roadhouse29.com.