English pea soup with crème fraîche, orange olive oil, candied zest, and chive. Seared pork tenderloin with a fava bean and spring onion ragout, pickled cherry, and au jus. And for dessert: raspberry shortcake with pistachio and brown sugar chantilly.
Sounds like what you'd find at a Michelin-starred restaurant, right? Yet it's part of the standard food and wine pairing at Ram's Gate Winery.
Tastings at this Sonoma winery are certainly memorable. While you sit at your table in the vineyard and soak up breathtaking views of San Pablo Bay, servers deliver wine and food that almost makes those Michelin stars seem ordinary, bringing out the hard-to-discern flavors in both the food and wine.
Sure, they make stellar wine here—small-lot, site-driven wine from some of the best vineyards in Sonoma. But the place is also a foodie destination—a true wine and food emporium.
How else can you explain the classically trained culinary director? The incredible organic garden that grows everything from snap peas to basil and more? The bee program that is leveraged to make honey? Ram's Gate even offers cooking classes and special dinners with guest chefs. It's the kind of place you plan to visit around 11 a.m. and end up spending the entire day.
"We see ourselves as much more than just a wine destination," says Taylr Behnam Cuneo, the culinary director. "That's what makes us unique."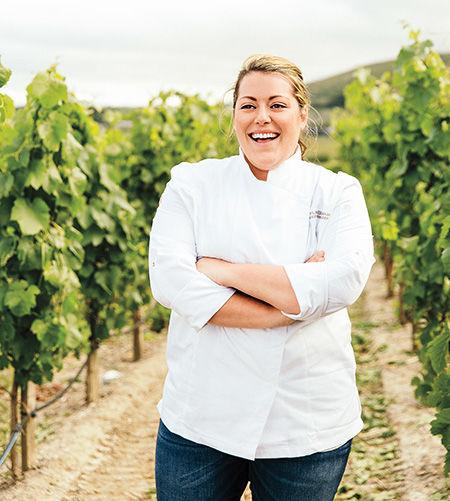 Taylr-made
Pretty much every conversation about the culinary program at Ram's Gate begins with Cuneo. She's young. She's a new mom. And she thinks about gastronomy in new and somewhat groundbreaking ways.
While other chefs think of wine and food as complementary, Cuneo sees them as part and parcel of one flavor, one experience in the mouth. Owners Jeff O'Neill, Michael John, Peter Mullin, and Paul Violich, and Managing Director David Oliver like the fearlessness in this approach and Cuneo's unique point of view.
"What we love about her is that she has a strong perspective, yet the pairings always seem to work," says Oliver. "I think of her as a magician."
Cuneo learned about pairing food and wine while working as a sous chef for Timber Cove Resort on the Sonoma Coast, near Jenner. The executive chef at the time, Riley Huddleston, was fond of winemaker dinners, and brought in a number of heavy-hitters from wineries such as Hirsch and Williams Selyem to collaborate.
For Cuneo, those meals were a trial by fire.
"Prepping for these meals was the exact opposite of what I had always done for myself and every other chef I'd worked with," she says. "We tasted the wines before we developed the menu. I'd never done that before. To be honest, it took some serious getting used to."
The secret: breaking down the wine, reducing it on the palate to its finest flavors, then building up dishes from there.
Cuneo got the hang of it in no time, and joined Ram's Gate as a sous chef when the winery opened in 2011. Six months later, after some staffing changes in the kitchen, Cuneo moved up to the top chef role, which she's held ever since.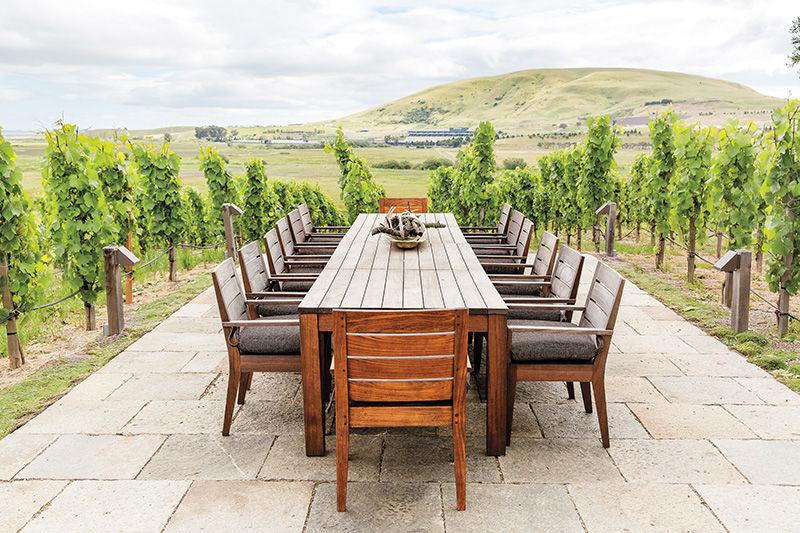 Pair by Committee
At Ram's Gate, Cuneo has full control over which wine pairs with what dish. Every time she gets her hands on a new wine, she sits down at the 20-seat chef's table with Assistant Winemaker Luke Stanko and the rest of her team, and gets the group talking about three things: What do you taste, what food would go well with those tastes, and what sort of food does the wine make you want to eat?
"Someone will yell out, 'This Pinot would work well with a fatty piece of salmon,' or, 'This one needs something spicy,' and I take notes the whole time," says Cuneo. "When the meeting is over, I go back through these notes, add some of my own impressions, and build dishes around that."
This approach has won Cuneo some big fans. Bob Cabral, the former winemaker at Williams Selyem and current winemaker at Three Sticks Wines in Sonoma, worked with Cuneo on winemaker dinners during her tenure at Timber Cove, and remembers her skills shining through even then.
"Taylr has this remarkable vision when it comes to pairing food with wine," says Cabral. "I've been making wine for almost four decades, and there are very few chefs who truly have the ability to create flavor sensation every time."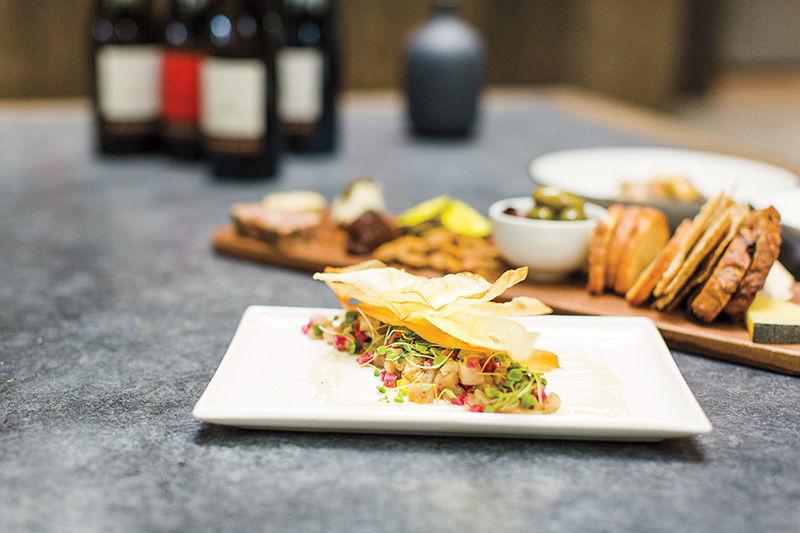 What's Next
Cuneo prefers to cook the cuisines of her ancestors: Mexican and Middle Eastern. She enjoys using seasonal ingredients and notes, "In this day and age, you're a jerk if you're not seasonal or local."
She adds that she also values variety—which she gets to experience in her work, too.
"The beauty of this job is that I'm not walking in every day to an Italian restaurant or a steak house, where I have to cook the same few things," she says. "That means I'm always learning new techniques, trying new ingredients, and expanding my experience as a chef."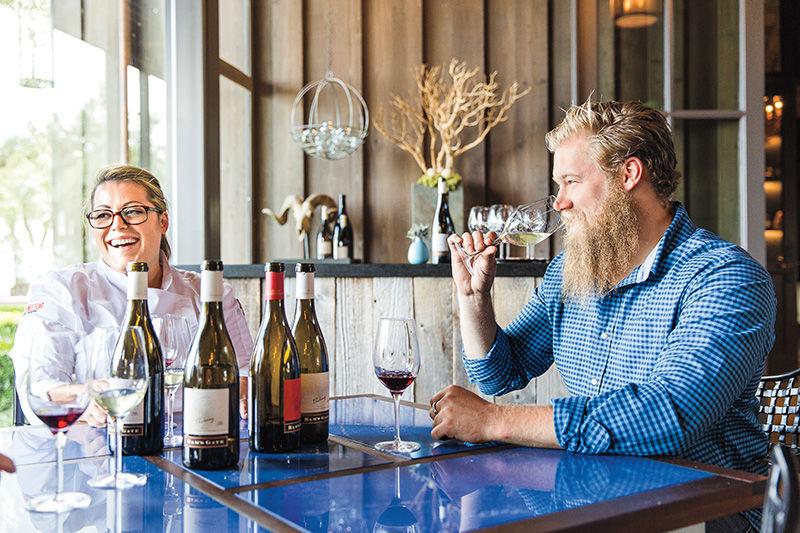 Looking forward, Cuneo will set down some of her techniques in the first-ever Ram's Gate cookbook. Slated for publication in the spring of 2019, the book will feature 80-100 recipes and will focus on wine pairings—how the wines relate to occasions and different styles of party menus.
When asked to put the cookbook into the context of her career, Cuneo is circumspect; she feels she's earned the opportunity but tosses major gratitude to her bosses for making it happen.
"Our owners stand behind me and pretty much let me do whatever I want," says Cuneo. "You might expect that kind of support from a restaurant owner, but from winery owners, it's pretty amazing. I'd like to think the results shine through in what we offer." ramsgatewinery.com.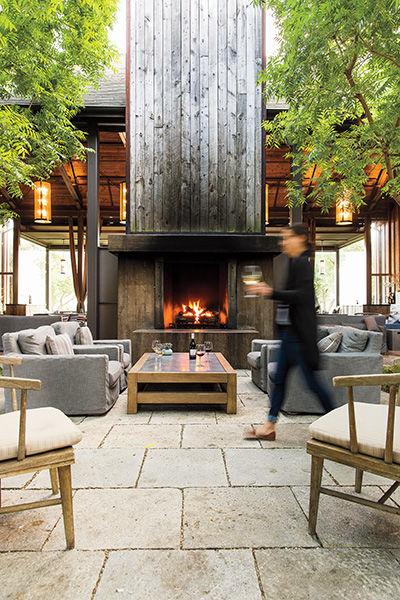 Pairing Options
Ram's Gate offers four unique food and wine experiences. Be sure to call ahead: Reservations are required.
Vineyard Table Experience.
The most elaborate of the tastings, this option includes a consultation with a sommelier, as well as a tour of the gardens and kitchen. Guests are then treated to a five-course wine and food pairing in the vineyard. $250 per person.
Carneros Estate Picnic.
This option transports the experience from the tasting hall to the winery's grounds. Guests begin with a full single-vineyard tasting, then choose their favorite bottle to be tucked into a wicker basket with an array of delicacies from the kitchen. $175 for two.
Palate Play Wine and Food Pairing.
This option includes a private or semi-private five-course meal, featuring seasonal ingredients and a mix of new and library wines. The fifth course is usually a dessert, and servers sometimes open extra bottles for vertical tastings upon request. $90 per person.
Vineyard Designate Tasting and Tour.
This tour lets visitors taste up to five vineyard-designate wines. $65 per person; a charcuterie platter can be purchased for an extra $32.