News travels fast in Wine Country, especially when good food is involved.
"Got the keys today," the Facebook post read. "Here we go!" The we in the attached photo was husband-and-wife chef team Matt and Sonjia Spector, smiling with keys in hand.
Cheers, congratulations, and drooling began almost instantaneously. Their previous restaurant, JoLe, called Calistoga home for nearly eight years. Its coconut cream pie (crafted by pastry chef Sonjia), along with countless other delicious dishes, gained the duo a faithful following of visitors and locals alike.
Unlike its upscale predecessor, Zoftig Eatery is casual and relaxed. There's no fine china, just compostable paper plates, cutlery, and straws. Located in the neighborhood surrounding Santa Rosa's Memorial Hospital, Zoftig is a bit off the typical Wine Country path but worth the diversion. The restaurant's name comes from Matt's grandmother, Bronka Steinfeld, who always told her family, "Your life should be zoftig." Loosely translated from Yiddish, zoftig (or zaftig) means living a full, complete, or well-fed life. Loaded with tasty, good-for-you foods, Zoftig's menu takes her wise words to heart.
"It's all the stuff that we like to eat," says Matt. "I want it to be fresh. To be quality stuff."
Comfortable and casual, Zoftig Eatery focuses on catering and lunch. Menus are seasonal and use local ingredients whenever possible.   
"We're making beautiful salads and killer sandwiches," says Matt. "There's soul in that, too."
The roasted chicken sandwich is topped with apple and brussels sprouts slaw. House-made porchetta stars alongside chicken liver mousse and jalapeño mayo in the Vietnamese banh mi. The Philly special—with chicken cutlet, broccoli rabe, oven-dried tomatoes, roasted garlic, and provolone—pays homage to Matt's East Coast roots. (A Rocky movie poster also hangs in one of the restaurant's bathrooms.)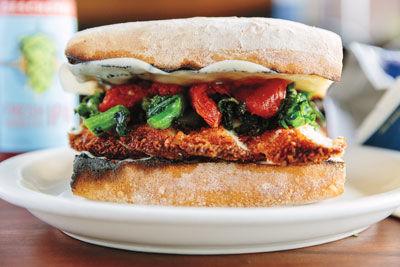 After years of working 18-hour days, Matt can now enjoy dinner with his family instead of serving it.
"I just want to have some fun," says Matt. "I'm excited to be able to check out early."
As for that famous coconut cream pie, when asked if it'll make a comeback, Matt laughs and says, "You will have to ask Sonjia."
Fingers crossed. But until she decides, the house-made white chocolate blondie will do nicely.
Zoftig Eatery is open for breakfast and lunch Monday through Saturday. zoftigeatery.com.