If you grow up in an Italian winemaking family—whether in Italy or Wine Country—it's a pretty good bet that delicious food and great wine figure heavily into the landscape of your life. If you're Pete Seghesio, a third-generation Italian Sonoma winemaker, you were raised learning almost as much about crafting sausage as making the wines that defined your family's brand.
So, it wasn't much of a stretch when Seghesio launched a new business on the strength of this other family tradition, opening Journeyman Meat Co. with his wife and sons a few years ago. A producer of authentic Italian-style cured salumi, fresh sausages, and aged, hand-carved meats, Journeyman operates out of a historic building off of Healdsburg Plaza.It's one part butcher shop; one part tasting room for Seghesio's new wine brands (such as the luscious San Lorenzo); and one part swanky salumeria, where boards of smoked and cured meats are served at the counter and bistro-style tables, taking the art of Californian salumi to an irresistible new place.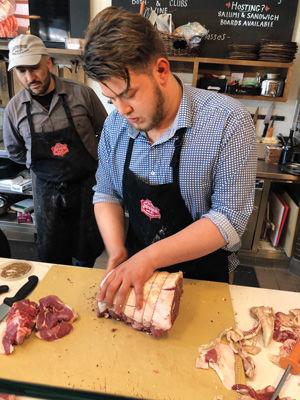 Even on a sleepy Sunday morning, Seghesio's charming shop draws crowds of discriminating carnivores who gobble up thin, tender slices of soppressata, coppa, and salumi in flavors ranging from fennel to chorizo. As you might have guessed, wine is a key ingredient in many of the products.
"We are a wine-based salumi brand," explains Seghesio, as customers sip little tumblers of complimentary Chardonnay while waiting for their orders. "Wine figures into many of our recipes, so our products are the ultimate [pairing] with wine."   
Seghesio crafts his inventory in Cloverdale at Journeyman's production factory, where he creates salumi the old-fashioned way, with air curing and slow fermentation, using equipment from Italy. To perfect his technique and fulfill his lifelong goal of improving upon a cherished family tradition, Seghesio studied with famed Italian butchers (such as Dario Cecchini of Panzano and the Marini Family) and brought a handful of young meat workers back to California to assist him.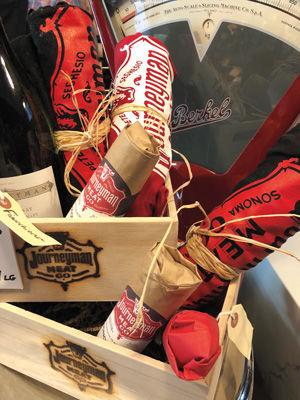 The Healdsburg storefront on Center Street is just as romantic as Italy itself, sporting red enamel Berkel meat slicers, dark wood cabinets, and showy display cases. Pizzas and sandwiches are served, and their aromas waft through the stylish shop. If you can't get in the door, you can always join Journeyman's Meat Guild, a subscription club that mails you products on a quarterly basis complete with serving and wine pairing suggestions. journeymanmeat.com.