Unlike many professions in the United States, the business of making wine is relatively young. After Prohibition, it took many decades for winegrowers and winemakers to rebuild; by the time the industry was thriving again, there had also been a cultural shift, with women gaining significant advancement in the workplace. By the early 1980s, as wine regions like Napa and Sonoma Valleys began to flourish, women were landing positions in the wine world that were rare in standard corporate America.
We spoke with some of the industry's most accomplished women about work-life balance and finding success in their chosen field.
Celia Welch
Carving Out a Niche
Winemaker Celia Welch was captivated by wine as a young adult in Medford, Oregon. Her father was a home winemaker and wine collector, and she and her siblings picked the grapes for his home brew from the half acre of vines in their backyard. While attending the University of California, Davis, Welch followed her passion and honed her viticulture skills. She graduated in 1982 and held a series of short-term wine-related positions, but was soon faced with a dilemma familiar to many women—how to balance her family and career.
In 1991, Welch was hired by Shari Staglin of Staglin Family Vineyard as a consulting winemaker just as her first child turned six months old. This served as the launching point for her career trajectory over the next decade. "I began working as a consulting winemaker largely out of a strong desire to stay professionally connected to winemaking while raising two young children and helping to care for my mother, who was experiencing health challenges," Welch says.
She found herself highly in demand during the Napa Valley small-winery boom of the early 1990s. Welch spent over a decade making highly acclaimed wines for top wine labels, including Scarecrow, Barbour, Keever Vineyards, Lindstrom, and Yount Ridge. By 2004, family responsibilities had lightened, and she was able to spearhead her own label: Corra.
Welch believes that creating a classic Napa Valley wine is all about blending, and she works with the finest fruit from almost every corner of the valley, using grapes from three of its premium growing regions—Oakville, Rutherford, and Pritchard Hill—to create the powerful, yet elegant, Corra Cabernet Sauvignon. This attention to fine detail doesn't go unnoticed: In 2008, Welch earned Food and Wine magazine's Winemaker of the Year Award.
"Today, I enjoy being a consulting winemaker as well as managing Corra," Welch says. And while work-life balance remains a challenge, she admits to enjoying every minute of it.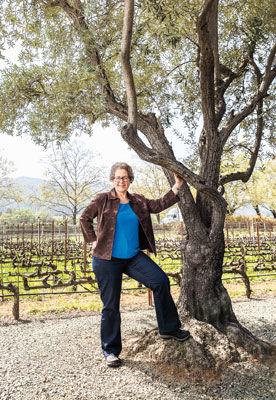 Janet Myers
Finding Inspiration
When Janet Myers found her passion in the world of wine, it wasn't a big stretch: She grew up in southern Illinois on a peach farm. "Farm life is natural for me," she says. And while Myers initially studied anthropology in graduate school at the University of Wisconsin, she became restless and took time off to travel to Europe, where she fell in love with wine. Exploring regions in France and Italy, Myers was taken by the culture of wine, from the beauty of the vineyards to the people involved. She shifted academic gears, refocusing on enology at UC Davis, and "hasn't looked back since."
Myers worked harvests around the globe, from in Napa at Mondavi to various regions in Italy and the Margaret River in Western Australia. Eventually, tracing her family roots back to Sicily, she did a harvest internship at the acclaimed Antinori estate, Santa Cristina. She soaked it up and took that inspiration back with her to the states.
Prior to joining Rutherford's Mount Veeder Winery in 2003, Myers gained more invaluable experience at several other venerable wineries in Napa, including Beaulieu Vineyard, Stag's Leap Wine Cellars, and Louis M. Martini Winery."I feel extremely fortunate about my opportunities and who I worked with," she says. She moved from associate winemaker to director of winemaking and general manager at Mount Veeder Winery and Franciscan Estate within two years—and she didn't even have to apply for the new position. It was given to her in recognition of her work.
"I was the one who worked hard," says Myers. "I took the extra jobs, stayed late until the work was done. So I tell others to just be yourself, say your opinions confidently—and the doubters come around.
"I've never felt held back by anyone and currently work in a very good culture for women at Constellation Brands," she says. "While there still may only be a small percentage of women in the head winemaker position, it's changing as more and more assistant winemakers are moving up."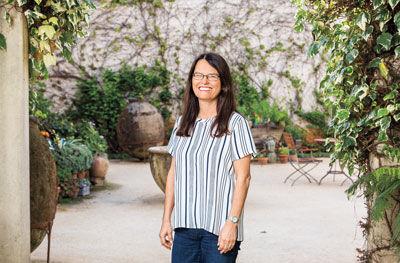 Margo Van Straaveren
Changing With the Times
Like many young winemakers in the early 1980s, Margo Van Staaveren attended UC Davis to study fermentation sciences, landing her first job as a lab technician at Chateau St. Jean in Kenwood soon after. She dedicated herself to learning the ins and outs of her new position, and by 1989, she was named assistant winemaker under the chief winemaker, Don Van Staaveren—who now happens to be her husband.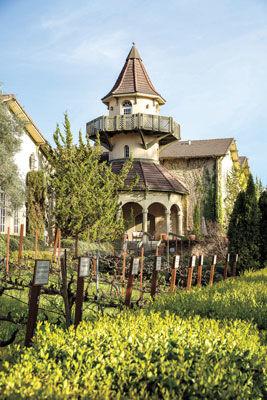 Van Staaveren, who recently celebrated her 30th year with the winery, has certainly had a whirlwind career. She has lived and worked through many shifts in the industry, from consumers' changing drinking patterns to a growing respect in the industry for the land.As appreciating wine has become a greater focus for Americans, the audience for wine has broadened; more and more, wine has become a part of everyday life for many citizens instead of something to be saved for special occasions. Educated consumers lead to better wine overall, Van Staaveren believes.
Technology has also advanced in both the cellar and the vineyard. "As we replant, we're able to take everything we've learned over several decades and improve the vineyard by introducing the proper rootstocks and clones, row orientation, spacing, and more," Van Staaveren says. Additionally, both she and Chateau St. Jean have become more focused on reducing the impact on the environment.
While her career has advanced and she's taken on an executive role, Van Staaveren notes that the industry broadly draws people with passion and ambition, but "there has always been a greater proportion of men than women at all levels, from winemaker to wine marketer. I've been lucky enough to have been given a number of opportunities with increasing challenges in my career, and I've never felt that being a woman has come into play in that process.
"It takes a variety of personalities to create a wonderful Cuvée," she adds. "We're more often judged by how our wines are received by our consumers—and OK, some critics—than whether we're male or female."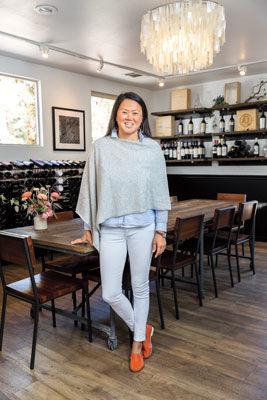 Kerrin Laz
Defying Convention
Kerrin Laz got into the wine business in 2003—"the perfect time," she says, as many new wineries were emerging in California. She was only in her twenties when she landed a job selling premium wine at Dean and DeLuca in St. Helena. "I was able to form relationships with many wineries from their inaugural vintages, often tasting first vintages in barrel before they were even bottled," she says.
Laz introduced many of her customers to high-end wines from lesser-known wineries. She sold directly to the consumer, which was common at most wineries, but also placed wines into a retail environment at Dean and DeLuca. She developed a reputation as a top wine taster in the area and began selling wines she liked—even before they were reviewed and rated by the critics.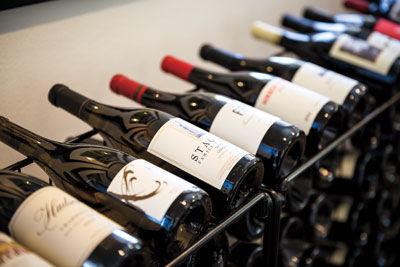 "I think my best asset is the strength of my relationships in the industry," Laz says, "not just with premium wineries but also with wine enthusiasts that have been loyal to me, following my taste and palate since 2003." These relationships, she says, are the reason she was able to open her boutique Yountville tasting room, K. Laz Wine Collection, in 2015 (with a second salon opening at CIA Copia soon). At her Yountville spot, Laz features sought-after wines that are difficult to find elsewhere due to their small allocations and cult status.
In the early 2000s, when Laz was fresh out of college and looking to join the workforce, many people in the industry were significantly older, but she didn't let that stop her. "I didn't have the experiences of some," she says. "I never formally studied wine, but I got a million-dollar education learning from the best winemakers, viticulturists, vintners, geologists, and farmers in the business."
Laz has expanded beyond her tasting room: She recently launched Laz Wine, a small brand specializing in Cabernet Sauvignon (made by one of her favorite winemakers and mentors, Celia Welch). Laz also founded the nonprofit organization Inspire Napa Valley, which partnered with the Alzheimer's Association to raise funds and awareness for the disease in an inaugural event held in Napa Valley the first weekend in May.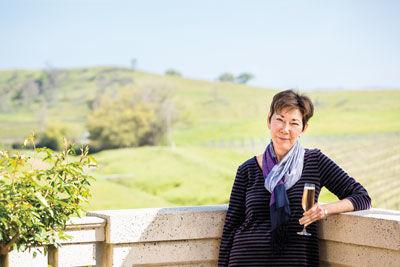 Eileen Crane
Fulfilling Sparkling Dreams
As the daughter of a former military officer—turned—international businessman, Eileen Crane was exposed to French and German wines by age eight. During Sunday dinners, her father shared both wine and colorful stories with her. One night, he opened a bottle of champagne, and Crane discovered her true passion.
After receiving a masters in nutrition from the University of Connecticut, she made her way to UC Davis, intending to enroll in wine studies (then called fermentation sciences). For a moment, it seemed like her dreams might be stopped short when a male professor told her the wine industry was no place for a woman. But Crane was encouraged by Professor Ann Noble—famous for creating the Wine Aroma Wheel—to take classes without undertaking an entire degree. Crane followed her advice. Now, she is the winemaker and CEO of Domaine Carneros in Napa—one of the top sparkling wine producers in the United States.
Crane got her professional start in the wine industry in 1978 as a tour guide at Domaine Chandon—the first sparkling winery owned by a Champagne, France–based company. She stayed for six years, working her way up to assistant winemaker.
By 1983, Crane had shifted to Gloria Ferrer, a Carneros winery also owned by a European house (the Spanish company Freixenet, which is famous for its black bottle). Not only was she its winemaker, but she also oversaw the construction of its new winery.
When Champagne house Taittinger decided to take a stab at California sparkling wine in 1987 with Domaine Carneros, Crane was well-positioned to take the helm. "They were looking for a man from UC Davis, but I was encouraged to apply," she says. Crane got the job and has remained there ever since.
"I think the Europeans thought that American women had moved further ahead professionally," Crane says. "They were more open to hiring women here even when it was almost unheard of in Europe at the time."
She and Michaela Rodeno (former CEO of Napa's St. Supery Winery and Crane's colleague from Domaine Chandon) were the only two women outside of wine-making families to hold CEO/president positions at the time. With over 40 years in the wine industry, Crane is now the most experienced sparkling winemaker in America.