On April 6th, the drawbridge was lowered and the 30-foot-tall wooden doors flung open at Calistoga's Castello di Amorosa to celebrate the castle and winery's 10th anniversary. Owner Dario Sattui, the great-grandson of pioneering California vintner Vittorio Sattui, welcomed a crowd into the courtyard to reveal the driving force behind this 13th-century castle facsimile: a passion and love for medieval architecture.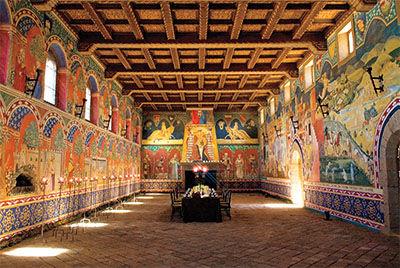 Sattui visited Italy annually for years, traveling from castle to castle looking for a new home. Finally, he made the bold decision to take elements from his favorites and build his own castle in Napa County. "Instead of semi-retiring to Italy as I had envisioned, I worked harder than ever on building Castello di Amorosa," Sattui said. "I loved it and couldn't wait to get out of bed in the morning and hurry to the construction site."
The astounding 136,000-square-foot structure, which can be toured by visitors, was crafted over 15 years by several artisans: fresco painter Fabio Sanzogni, whose work adorns the Great Hall and many other rooms; blacksmith Giorgio Mariani, who made the hand-forged iron gates and hardware; and bricklayer Fritz Gruber, responsible for the hand-chiseled local stones in the castle's vaults.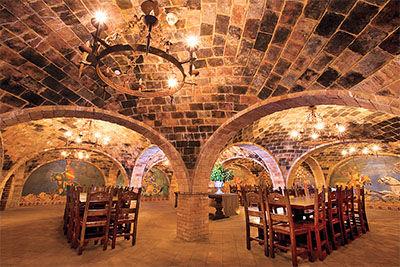 The anniversary celebration also served as an introduction to Sattui's new book, Castello di Amorosa: A Labor of Love, now available at the winery. The visually stunning book covers the years of research in Italy before and during the construction of the castle, with a foreword by Francis Ford Coppola. 
Castello di Amorosa is open daily, offering a variety of wine tasting and winery tour options. Reservations for tours are recommended. 4045 Helena Highway, Calistoga, (707) 967-6272, castellodiamorosa.com.