After more than two years of challenge and uncertainty, Paradise Ridge Winery is looking forward to the future. Located in the foothills above Santa Rosa, the family-owned Wine Country estate debuted its new events center and tasting room in December. The Tubbs Fire of 2017 devastated the property, destroying the winery, three homes, and tasting room.
"It's been quite a journey," says Paradise Ridge co-owner Rene Byck.
The new building is reminiscent of its predecessor. Large decks overlook rolling vineyards that lead to a sculpture garden and the winery's iconic LOVE sign, a cherished 12-foot-tall artwork. An exhibit dedicated to Kanaye Nagasawa, a Japanese immigrant who came to the area in 1875 and became known as the "grape king of California," has been re-created. Nagasawa's priceless samurai sword, rescued from the winery's charred remains, hangs on the wall, offering visitors a glimpse of the community's history and resilience.
What guests might not notice is the use of fire-resistant materials. Wood decking has been replaced with tiles, and the building boasts a metal roof. While the team put the final touches on the tasting room in late 2019, Sonoma County watched with a fearful sense of déjà vu as the Kincade Fire came incredibly close to nearby Windsor, Healdsburg, and Geyserville.
"We're so proud to have what we have today," says Sonia Byck-Barwick, co-owner of Paradise Ridge Winery and Byck's sister. "It takes a village, and our community is the best."
Paradise Ridge Winery has scars from the firestorm, but you have to know where to look. The estate vineyard suffered little damage. The three-acre sculpture garden survived, and still brings a smile to visitors' faces as they make their way to the tasting room. Paradise Ridge is open daily; reservations are recommended. prwinery.com.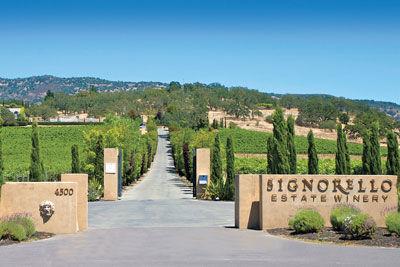 Signorello's Road to Recovery
Of the more than 425 wineries in Sonoma County, Paradise Ridge was the only one destroyed by the 2017 Wine Country firestorms. Neighboring Napa Valley also lost one winery: Signorello Estate. That property hopes to begin rebuilding this spring, with construction of the new facility expected to take more than two years. Once it opens, wine tastings will be private experiences. Signorello has an extensive library that its winemakers intend to highlight in tasting flights. A temporary tasting space, with views of the Napa estate's 40-year-old chardonnay vines, welcomes guests by reservation Thursdays through Mondays. signorelloestate.com.