Any wine lover will recognize the iconic Mondavi surname. But rather than following in family members' footsteps or rest on their laurels, fourth-generation Mondavi brothers Carlo and Dante are taking their cues from the wines they tasted as kids growing up in Wine Country, which couldn't be more different from the Napa Valley Cabernets often associated with their family name and the region itself.
While growing up in Oakville, the brothers' interest in Pinot Noir was fueled by the respect and admiration their father, Tim, and grandfather Robert had for the great red wines of Burgundy, as well as the sophisticated gems being made with fruit grown in the cooler-climate areas of the West Coast and on their own family's estate vineyards. As a result, they had many opportunities to try library selections that Tim made in the 1970s, '80s, and '90s.
"We pretty much talked about wine every meal. Not intentionally—the conversation would just naturally end up there, and we all enjoyed it," recalls Carlo. "For those reasons, the older bottles of Pinot Noir selections our dad made continue to impress and inspire us today."
To learn more about the process of wine growing, some of Dante and Carlo's early jobs included picking grapes, cleaning barns, changing the oil in tractors, and checking frost machines during the colder months of the year. "We touched just about every job on the farm and had the best teachers in the cellar and vineyard," says Dante.
Following high school, Carlo studied at the University of Aix-en-Provence in France and the University of Milan in Italy, while Dante attended Webster University in Geneva, Switzerland, as well as the University of California, Davis.
After returning to the United States, both worked at Robert Mondavi Winery and Opus One. Dante eventually became the first cellar master at Continuum Estate, where he helped develop and farm his family's prestigious vineyard on Pritchard Hill. Carlo returned to France to hone his wine-making skills while working the harvest at Domaine Dujac, one of his favorite wineries in Burgundy.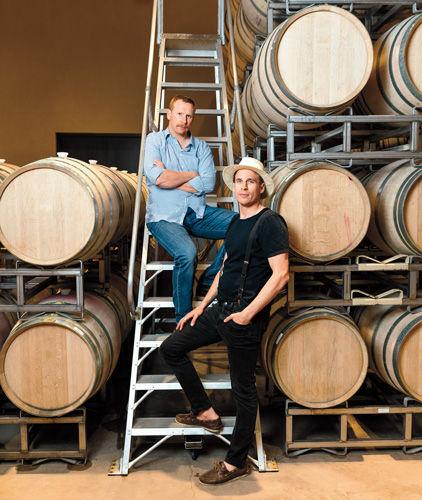 The brothers' lifelong dream of producing their own series of world-class Pinot Noir offerings finally came true in 2013.
In contrast to cabernet sauvignon and the other hearty red grape varieties their family worked with in the warmer regions of Napa Valley, pinot noir grapes are more delicate and thin-skinned, proven to perform much better in cooler-climate conditions. Although a wide array of dazzling vineyards can be found in the coastal ranges between Santa Barbara County and Oregon's Willamette Valley, the brothers ultimately headed due west to start their winery in Sebastopol—a quaint town in western Sonoma County that now serves as a gateway to the Pacific Ocean and the beautiful Sonoma Coast appellation.
"We felt that these sites offered us something special and unique that we were drawn to," Dante says.
"Cool weather mixed with diversity in soils and micro flora on the coast combined with the right amount of sunshine during critical months allow us to have fully ripe fruit with loads of flavor," Carlo agrees.
The winery's name, RAEN, is an acronym for research in agriculture and enology naturally. Dante explains, "As kids, we grew up surfing this coastline and discovering the vineyards on our adventures. For these reasons, our goal is to balance the natural forces of light, wind, and distinctive soils with the pinot noir clones, rootstock, and row orientation we are working with to create unique flavor profiles. A sense of that sets our wines apart from all the rest."
To put their plans in action, the brothers built relationships with the growers of the highly sought-after grapes in the remote coastal areas of Sonoma County. "We were the squeaky wheel, asking people we respected and admired," says Carlo.
They began working with pristine fruit from three distinct vineyards, which now form the base of their annual series of limited-release RAEN wines. In the 2016 vintage, the Bodega Pinot Noir is made with fruit from a hillside vineyard near Occidental, featuring three special clones of the noble grape planted on a mixture of two separate soils: the classic Goldridge sandy loam and the iron-rich Franciscan soil. The grapes are picked when the level of natural acidity and ripeness are in balance. When the special blocks are combined in the bottle, this unique setting creates a tightly woven profile with deep flavors of wild crushed strawberry, rhubarb, mineral, rose petal, and black tea.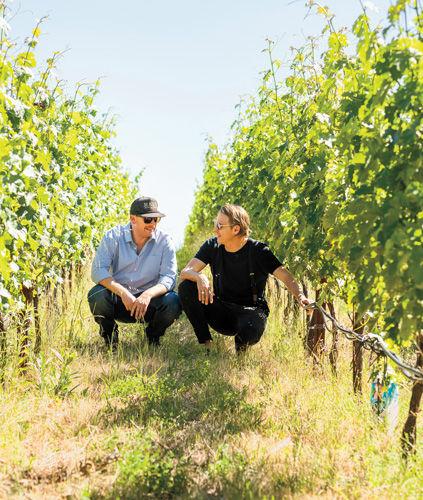 Another impressive source is located just north of Bodega Bay. Due to the area's close proximity to the ocean, the fog lingers over this vineyard until the late morning, which allows for a slower ripening process and better retention of acidity. Made with fruit predominantly from this vineyard, the Royal St. Robert Cuvée is centered around layered tastes of crushed red cherries and ripe berries, a silky texture, and aromas that will remind you of fresh thyme, the forest floor, and wildflowers growing in a meadow in springtime.
In contrast, the Home Field vineyard northwest of Freestone is a much more extreme site. Located just a few miles from the ocean in the Fort Ross-Seaview appellation, the vines are perfectly placed above the fog line at 1,200–1,500 feet, so they get plenty of sun to ripen despite the cool maritime breezes that blow inland each afternoon. For these reasons, the Home Field Pinot Noir is an excellent expression of pure mountain fruit, with elegant notes of ripe raspberries and sweet red fruits, along with nuances of sea moss, white tea, mandarin orange peel, and clove. 
Because the Home Field vineyard is so remote, the brothers often bring sleeping bags if duty calls. "When you wake up, there is always a calm feeling," remarks Dante. "To me, it's like a true sense of Zen."
Once picked, the fruit from each lot is treated with the same amount of love and care. To preserve the natural flavors from each site, the grapes are fermented in wild yeast with plenty of whole clusters intact to add more structure to the finished blend. To avoid masking the flavors with too much sweet oak, the barrel program includes only 10 percent new barrels and 90 percent neutral. As a result, the team is able to capture the perfect balance of vibrant acidity and ripe berries.
"To me, it's minimalist intervention," says Carlo. "It is truly best to let the vineyard shine, not the barrel."
Beyond selling their new releases to a small number of high-end retail shops and sommeliers at fine restaurants, the brothers offer Pinot Noir lovers and collectors the opportunity to join RAEN Society for a guaranteed yearly shipment of the three wines, as well as the chance to purchase larger format bottles when available.
When asked what his grandfather would think of these wines, Dante pauses and then replies, "To us, he was the king and a genuine person who taught us so many lessons about aiming for excellence that we use on a daily basis. I think he'd be proud of these wines and the way we work together as brothers."
To learn more about RAEN Winery, visit www.raenwinery.com.