Back in 2005, a dedicated group of winemakers founded the Petaluma Gap Winegrowers Alliance to raise awareness of the area's unique growing conditions. Over 10 years later, with the added goal of promoting its high-quality wines, the group lobbied for and received American Viticultural Area (AVA) status for the region in 2018, making it the 18th AVA in Sonoma County.
Petitioning for an AVA is no simple task. A group has to prove that the viticultural area is a delimited grape-growing region with distinguishing features, a given name, and a delineated boundary. In the Petaluma Gap, for example, cool coastal air comes in from Bodega Bay and passes through the hilly areas and into the San Francisco Bay, keeping the vineyards cool and allowing for a longer ripening time for the grapes, which aids in wonderful flavor development. This unusual setting, location, and weather pattern were just what the Gap winegrowers needed for their petition.
Thrilled when their dreams were finally realized with AVA status in early 2018, wineries in the Alliance immediately began submitting wines to the Alcohol and Tobacco Tax and Trade Bureau with labels bearing the Petaluma Gap AVA as the region of origin. Now, the fruits of their labor are paying off, with a plethora of wines on the market bearing the identifier.
"This last year has been amazing," says Erica Stancliff, president of the Alliance and winemaker at Trombetta Family Winery. "We've captured a lot of momentum with the AVA and have lots of new wineries that are superexcited to put the AVA on their label this year, as opposed to using the more general areas such as the Sonoma Coast."
Napa Sonoma was fortunate to attend an Alliance tasting held in January at the recently remodeled Hotel Petaluma. Some highlights included: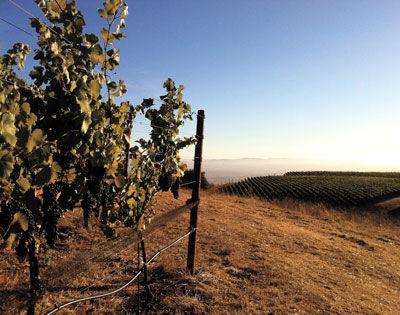 • 2017 Fogline Vineyards Rosé of Pinot Noir
A pink wine that shines with hints of blood orange and watermelon.
• 2015 Keller Estate Brut Rosé
A sparkler with nice, round red fruits and juicy acidity.
• 2017 Kendric Vineyards Viognier
A wonderfully refreshing white wine with body and balance.
• 2015 Thirty-Seven Reserve "The Hermit" Red Wine
A fuller red wine.
• 2015 Trombetta Family Pinot Noir Gap's Crown Vineyard
A crowd-pleasing red wine rich with layers of blueberry and dark cherry.