Something big is happening with sustainability in Wine Country. Even at additional expense and with extra effort, today's industry leaders are going above and beyond to conduct business with an eye on the environment.
Much has been written about eco-conscious building design such as gravity-flow winemaking and LEED certification, but less has been said about the small sustainable practices a business can adopt that can add up to a big difference.
Here, we look at some of the leaders in Wine Country sustainability.
Green Vineyards
Napa and Sonoma counties' venerable wine industry is adopting new and ecologically friendly practices.
Avian Abatement
High above Carneros, a peregrine falcon named Rambo flies toward a flock of starlings hovering near pinot noir grapes. Steely-eyed, he soars over manicured vineyards. The starlings scatter.
Rambo is Bouchaine Vineyards' best hope of keeping their grapes peck-free and perfect, explains Rebecca Rosen, owner of Authentic Abatement, a company used by numerous Napa and Sonoma wineries (including Cakebread and Robert Sinsky) to repel the starlings, finches, and blackbirds that do real damage to grapes in their final weeks of ripening.
According to Rosen, her aviary abatement program—which is 80 to 90 percent successful in keeping bird pests out of the vineyards—is the most effective and environmentally sound technique available.
"Lots of wineries still use Mylar," Rosen says, referencing the silvery strips tied to vines to deter birds with their flashing. "But for the starling, a bird that's smart enough to learn to talk, that's just like ringing the dinner bell."
Many wineries also use loud propane cannons to scare away birds, but, for obvious reasons, this practice has detractors. Thankfully, per Rosen, the use of "crazy corn"—a type of poison—has been mostly eliminated.
With the number of vineyards Rosen manages increasing each year, falcons like Rambo are the technique of the future.
Dry Farming and Hydration Monitoring
With thousands of acres of vineyards in Napa and Sonoma counties, water usage is of critical importance. A number of wineries have committed to dry farming, or nonirrigated cultivation of crops, and not only because of its potential to reduce water consumption. The densely flavored berries that result produce highly concentrated wines.
Emeritus Vineyards of Sebastopol is one of the few wineries in Wine Country that is 100 percent dry farmed. The winery estimates that it saves as much as 15 million gallons of water per year.
The interest in dry farming has given rise to companies such as Fruition Sciences, a data provider that aids winemakers in determining the optimal way to treat their vineyards in order to get the best possible fruit. For instance, the company uses a sap flow sensor to measure vine transpiration and estimate the amount of water it requires.
A handful of wineries have shown interest in converting to the practice, including Viader, Arrowood, and Dominus. Expect more dry farming in the future, as California's chronic drought issues seem here to stay.
Sheep Leafing
Most wine growers "leaf" their vines to remove excess leaves from the canopy and expose clusters of grapes to the sun. A painstaking process, leafing is almost always done by hand.
This is not the case at Sonoma's Cline Cellars.
For more than a decade, Cline has employed its flock of 1,500 sheep and goats to selectively leaf and weed its nearly 1,000 planted acres. "We bring them in several times a year," says Megan Cline, daughter of founder Fred Cline. "During the summer, we use sheep for leafing. In the fall they eat the yellowed leaves and tidy things up. Then in the winter, we use them to mow down the weeds between the trellised rows."
Cline's sheep do a great job leafing the canopy, and they also fertilize the vineyards and aerate the soil with their hooves at the same time.
But why don't the sheep eat the grapes? It's because leafing happens before veraison, when grapes change color and become sweet. When the sheep come through, the grapes are still too bitter. In leafing, as in life, timing is everything.
Transforming Pomace
After harvest is complete and "juice" is in fermentation tanks, winemakers need to manage the pomace, or leftover grape skins and seeds.
Most wineries compost pomace, bringing it back to the vineyard to fertilize the vines. But that solution goes only so far, according to Scott Forsberg, COO of Sonomaceuticals.
"At some point, spreading grape pomace in the vineyards becomes a bio-burden," Forsberg says. "Pomace creates unwanted acidity in the soil. It can also mold. After harvest there is such a large volume of material that it's difficult to compost it properly without creating a bio-reactor, which can affect the water table."
That's where Sonomaceuticals comes in. The company seeks "higher, better uses for the byproducts of winemaking." Supported by a $500,000 grant from the USDA to look into the health benefits of pomace, Sonomaceuticals is currently at work creating ingredients for supplements which could increase heart and gut health.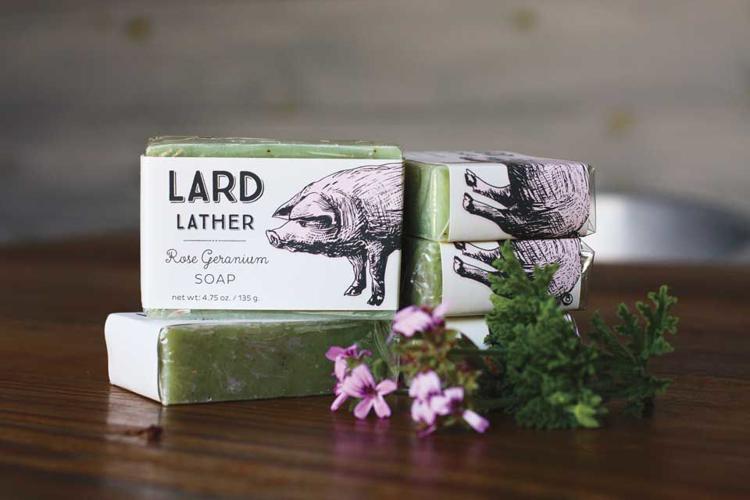 Smart Food
Restaurateurs, chefs, bartenders, and food suppliers look to lower their carbon footprint and waste.
Plant Composting
"We turn our garbage into food," says Katina Connaughton, co-owner of Healdsburg's highly acclaimed Single Thread restaurant. "We return it to the earth."
Single Thread's two-and-a-half-acre garden is home to dozens of different varieties of rare Asian vegetables, five colonies of bees, and 90 chickens. To support them, more than 100 pounds of kitchen scraps are composted every week at the restaurant.
"By growing our own produce instead of importing, we drastically lower our carbon footprint," says Kyle Connaughton, Single Thread chef and Katina's husband.
"There's an incredible synergy that occurs when a restaurant farms its own garden," Katina continues. "We grow about 70 percent of our produce. The remainder comes from other farms in Sonoma County."
In recent months, Single Thread has embarked on a new project with Zero Food Print, a nonprofit organization that works with restaurants around the world to measure their "food miles" and identify ways to create a carbon-neutral restaurant.
Plastic Straw Alternatives
Perhaps the green practice that commands the most attention these days is banning plastic straws.
Videos of turtles impaled by straws have gone viral, drawing attention to the fact that plastic straws are among the least biodegradable of all plastic products. Zero Waste Sonoma County has been leading the local campaign to limit plastic straws with its Sip It Sonoma program, and Wine Country businesses are listening.
According to Alexis Perez, former bartender at Healdsburg's Spoonbar, the challenge has not been getting customers to adapt, as guests often can't tell the difference between a plastic straw and one made from potato or corn starch. The problem is the extreme shortage of high-quality compostable straws.
"Not enough manufacturers are producing them," says Perez. Spoonbar has black, potato-starch recyclable straws on back order with Bi-Rite, a San Francisco-based food supplier. Restaurants have been getting by with inferior paper or more expensive metal straws as they wait for eco-straws to become more widely available. For now, plastic straw boycotts are voluntary in Napa and Sonoma, but San Francisco has passed a law banning plastic straws, which goes into effect Jan. 1, 2020.
Single-Ingredient Menus
By offering a tasting menu based on a single ingredient, Farm at the Carneros Resort and Spa has significantly lowered the carbon footprint of the meals it serves.
Chef Nick Wells crafts his single-ingredient menu using seasonal products that are fresh and abundant when they are featured as the primary (but not exclusive) ingredient in the five-course menu. Recent offerings have focused on corn, plum, pea, and winter squash.
Products are usually grown right in Farm's garden, which is fertilized by composted kitchen scraps that also feed its flock of 17 chickens. With the low-impact, open-air setting of the restaurant and its focus on organics, Farm stands out as an innovator in sustainability.
Using the Whole Animal
Zazu Kitchen and Farm's Duskie Estes and her husband-partner, John Stewart, just might be the most resourceful chefs in Wine Country.
In addition to their thriving location at The Barlow in Sebastopol, they also stage a weekend pop-up Black Piglet food truck at Davis Family Vineyards in Healdsburg. Between both spots, they compost 10 to 15 gallons of kitchen scraps per day. The compost nourishes their garden and feeds the 50 to 100 chickens, rabbits, ducks, goats, sheep, and pigs they raise each year.
They seek to achieve zero waste in whole-animal utilization, from snout to tail. For example, they offer fried chicharrónes (pig skin) with their burgers instead of fries. That philosophy applies to vegetables, too. Some of Zazu's best-loved items are the fennel-top chimichurri sauce and the fava leaf pasta, in which vegetable leaves are pureed to provide healthy goodness with minimal waste.
As if that wasn't enough, they've launched a line of goodies made with animal byproducts with their Black Pig Meat Co., including Rodeo Jax bacon caramel corn; pig head–shaped Piggy Pops made of chocolate, bacon, and toffee; and pink foil-wrapped chocolate, chicharrón, and peanut butter Swine Sweets.
Not satisfied with just cornering the sweet section, Zazu also makes personal care products. A rose geranium-scented soap called Lard Lather is among its most popular and whimsical products.