Erase all unwanted side effects of an epic wine-tasting day with Wine Country's new hair of the dog. Crafted by St. Helena–based Aussie winemaker Donna Katz, G's Hard Ginger Beer brings a unique spin to the flourishing Napa and Sonoma fermentation game.
A bit of a mad scientist in the kitchen, Katz has played with everything from molasses to coffee. She began experimenting with fermenting ginger for her own digestive purposes, eventually narrowing in on its potential to add a buzz.
Hard ginger beers are currently few and far between, and G's—named for Katz's nickname and middle initial (although Katz is keeping mum on the name itself)—is one of the only products on the market made from organic ingredients with no added sugar or artificial sweeteners. Katz also processes her own ginger from scratch and sources her botanicals locally whenever she can, sometimes even foraging for them herself; for example, she picked Meyer lemons from her neighbors' trees in exchange for some of the final product.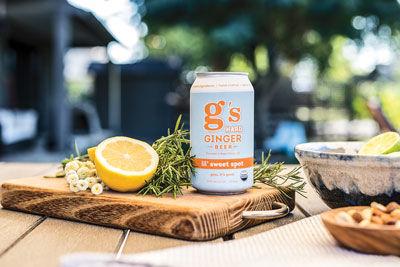 "I wanted something that was clean, didn't have copious amounts of sugar, was plant-based, and in which I knew my ingredients and could pronounce them," she says, adding that the beverage is a great alcoholic alternative for vegans, those with gluten allergies, and anyone on the popular keto diet.
Sold at more than 75 Bay Area retailers and restaurants (among them: both Oakville Grocery locations, Sunshine Foods, and Oliver's Markets), G's has two flagship beers: The Dry, which lives up to its name and is truly bone-dry with zero grams of sugar, and G's Lil' Sweet Spot, made with just a touch of real sweetness. Both are fermented with a Meyer lemon profile at 4.5 percent alcohol and have unexpected complexity and mouthfeel.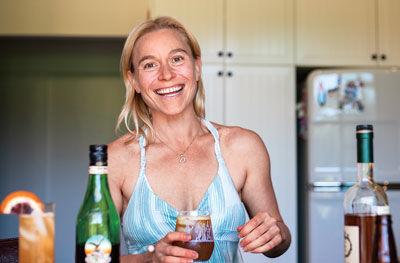 "What I've found with these beverages is that they're like wine," says Katz, who also makes a small amount of wine from her half-acre home vineyard, which she dry-farms herself. "They can have a structure, a length, and they change through the front to the middle to the back of the palate."
Since founding G's, Katz has continued to run at-home fermentation experiments, often in small buckets placed throughout her house. Not every batch passes the taste test—and a few have literally exploded along the way—but some have been slotted for future seasonal releases under the G's label. The Wild One, fermented with mint and lime, made its debut this spring, and there are also plans to make a sparkling ginger beer.
Delicious and refreshing on its own, G's makes for the perfect cocktail mixer as well. From the obvious Moscow Mule, to aperitifs and digestifs, to hot toddies and spritzes, a good ginger beer is integral to libations for every season. As Katz says, "It's a good clean slate, a blank canvas, to be able to create any mixed drink."