Over the course of just a few decades, Napa and Sonoma have expanded at an exponential rate, growing from a handful of wineries to hundreds and welcoming millions of tourists annually. Saying times have changed is a major understatement.
"Long gone are the days guests belly up to the bar, taste five wines, and leave," says Gio Balistreri, winemaker and cofounder of Russian River Vineyards.
The competition to woo tourists through winery doors is fiercer than ever. Simply crafting great wine no longer cuts it; today's Wine Country visitor also craves connection, knowledge, and that perfect Instagram shot. "We welcome guests who have done their research beforehand," says Balistreri. "Most are ready to learn, explore, and immerse themselves."
As a result, some of the area's most historic properties—the very ones that put California on the world wine map—are feeling the pressure. They must modernize or get lost in the shuffle.
"Up until about 10 years ago, the focus with guests was on sampling the wines," Shannon Muracchioli, director of DTC and marketing at Clos Du Val says. "Now, there is a real desire by our guests to feel a part of their favorite wineries, so our experiences reflect that desire. We spend as much time sharing the lifestyle of the Napa Valley as we do sharing our wines."
For many traditional wineries like Clos Du Val, the obvious choice has been to evolve with the times. From glass-walled tasting rooms with a view to 19th-century structures renewed, these reborn California classics are well worth a revisit.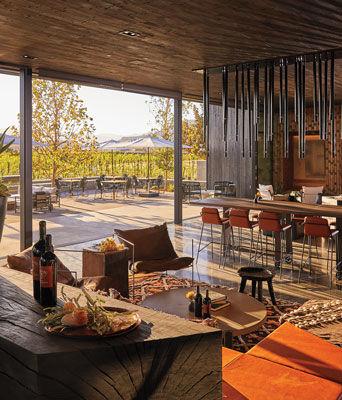 Clos Du Val, Napa
Clos Du Val's ivy-clad 1972 winery is a Napa Valley icon, so when it came time for a new vision, the building remained unchanged. Instead, the Hirondelle House, a modern visitor center, was built next to the original.
Looking out on a large patio and estate vineyards, the entire front wall of the house is made of glass. All of the natural light brightens up the inside, designed with warm materials like wood, iron, leather, and copper. But not everything here is new: Recycled barrel staves from original casks create a three-dimensional wallpaper, and tasting experiences give visitors the chance to sample library wines dating back to the early days. "The immense effort that we put into creating world-class wines needs to be mirrored by the experience that we provide to guests here at the winery," says Muracchioli. "They go hand-in-glove and one simply doesn't work without the other." closduval.com.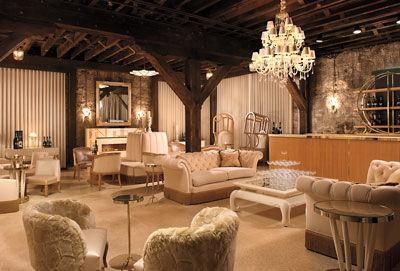 Buena Vista Winery, Sonoma
Founded in 1857, Buena Vista Winery is the oldest operating winery in California. Shuttered in 1989 following the devastating Loma Prieta earthquake, the winery sat vacant for more than 20 years before vintner Jean Charles Boisset came along and restored it.
Boisset seismically retrofitted the Champagne Cellars to withstand future earthquakes and added touches of his signature flair—incorporating crystal chandeliers, fur, and gold in a Gatsby-inspired Bubble Lounge—while still maintaining the building's original heartbeat. As a tribute to Buena Vista's rich history, he's also curated a Historic Wine Museum, featuring a display of antique wine tools. buenavistawinery.com.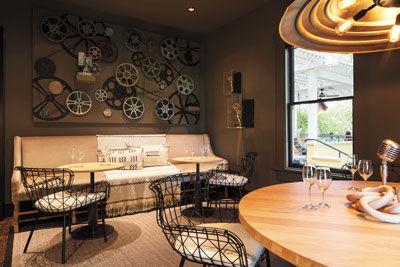 Frank Family Vineyards, Calistoga
Great wine happens every day. That's the message painted on a massive, 1920s-themed mural at the entrance of Frank Family Vineyards, one of several new murals that hark back to simpler times. Home to an 1884 stone cellar—the third-oldest building in Napa Valley—the winery reimagined its homey tasting room a few years prior to its 25th anniversary.
The iconic 1930s yellow craftsman still oozes charm from the outside but now offers a handful of completely unique tasting spaces inside, such as the Hollywood Room, a tribute to founder Rich Frank's past as the president of Disney and wife Leslie's career as a Hollywood reporter. On display are the couple's two Emmys, but the true star of the renovation is a spacious outdoor deck. A pair of cocoon-shaped swings has become a favorite spot to sip and pose for pics. "We wanted to keep the integrity of the walls, the feel and warmth of the house, and keep it comfortable," says Leslie. frankfamilyvineyards.com.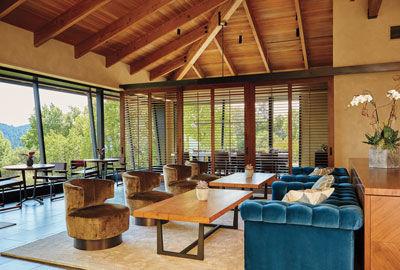 Gary Farrell Winery, Healdsburg
Russian River Valley pioneer Gary Farrell Winery unveiled a posh new tasting salon that takes full advantage of its prime hilltop location on Westside Road. It took roughly 35 years, but the winery finally has a visitor experience to match the renowned, single-vineyard Pinot Noirs and Chardonnays that helped put this beloved region on the map.
Views abound thanks to floor-to-ceiling windows and an expansive outdoor terrace. Inside, a lounge area furnished with plush, oversize sofas has replaced the customary tasting bar, and a pair of private rooms with picture windows host premium tasting experiences. garyfarrellwinery.com.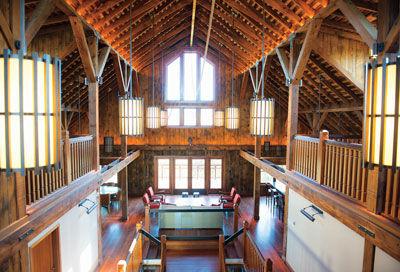 La Crema Estate, Windsor
La Crema opened a stunning, new estate in 2016 after refurbishing a four-story redwood barn that dates back to 1900. Over the course of nearly 120 years, the barn has been home to horses, hops, and La Crema founders Saralee and Richard Kundee. Today, it hosts all kinds of wine-loving visitors to the Russian River Valley.
Much of the barn—which looks out at the famed Saralee's Vineyard, first planted in 1989—has been preserved. The vaulted roof and redwood beams stand on their own, but the interior has been transformed into a chic gathering place. lacrema.com.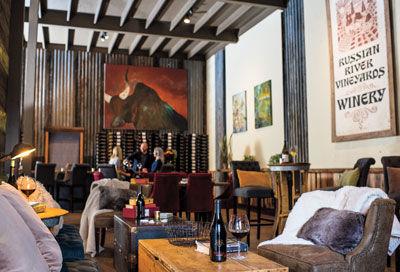 Russian River Vineyards, Forestville
A working family farm and winery since the 1890s, this historic property was home to one of the region's first vineyards. But after eventually falling into disarray, it's been painstakingly restored over the past 10 years as Russian River Vineyards. Major changes include converting the old Hop Kiln winery into a cozy, indoor tasting space and building a magical wine garden among towering redwoods.
Sticking to the property's agricultural roots has been a top priority at Russian River Vineyards. Chickens can be spotted roaming about and there's even a pollinator garden. "The goal was to create a space where guests could feel like they were in their very own backyard, sampling handmade, one-of-a-kind, small-lot wines," says cofounder Gio Balistreri. "When you get down to it, what you see at Russian River Vineyards is an authentic, rustic, natural sense of place, which speaks to who we are." russianrivervineyards.com.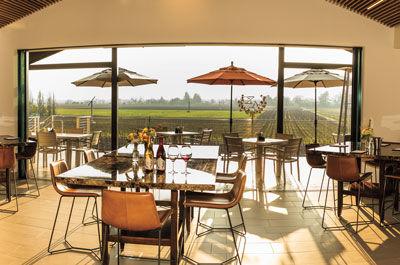 ZD Wines, Rutherford
When ZD Wines was founded 50 years ago, a tasting room for visitors was last on the priority list. "ZD Wines started as a part-time business in a small, 400-square-foot rented farm building," recalls Robert deLeuze, CEO of ZD Wines.
ZD moved to its current location in 1978, but it wasn't until the '90s that there was demand for tastings. Back then, the cost for a full tasting was just $5.
In celebration of its 50th, the family winery redesigned its tasting room. Complete with glass walls and a spacious new deck, it shows off picturesque views of the valley floor and the Mayacamas mountains. ZD has also added a commercial-grade kitchen and additional private nooks for luxury experiences. zdwines.com.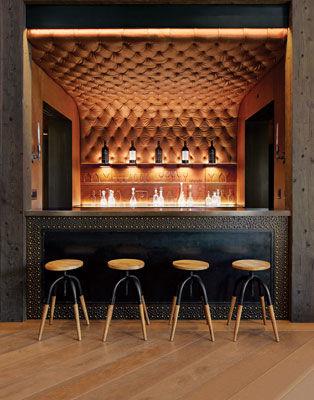 Trinchero Napa Valley, St. Helena
One of the most successful winemaking families in California history, the Trincheros founded Sutter Home back in 1948 and celebrated their 70th anniversary last year. They also recently completed a massive overhaul of their namesake estate, Trinchero Napa Valley, which encompasses a tasting room, VIP room, hospitality center with a secret bar behind a hidden door, wine cellar, and wine cave.
Every detail, from old family recipes painted on the walls to a pair of cowboy boot Rollerblades, has a connection to Trinchero family history. "Our location offers visitors a relaxing place to feel surrounded by a beautiful, luxurious estate that we like to think of as an extension of our home," says Roger Trinchero, son of founder and Italian immigrant Mario Trinchero. trincheronapavalley.com