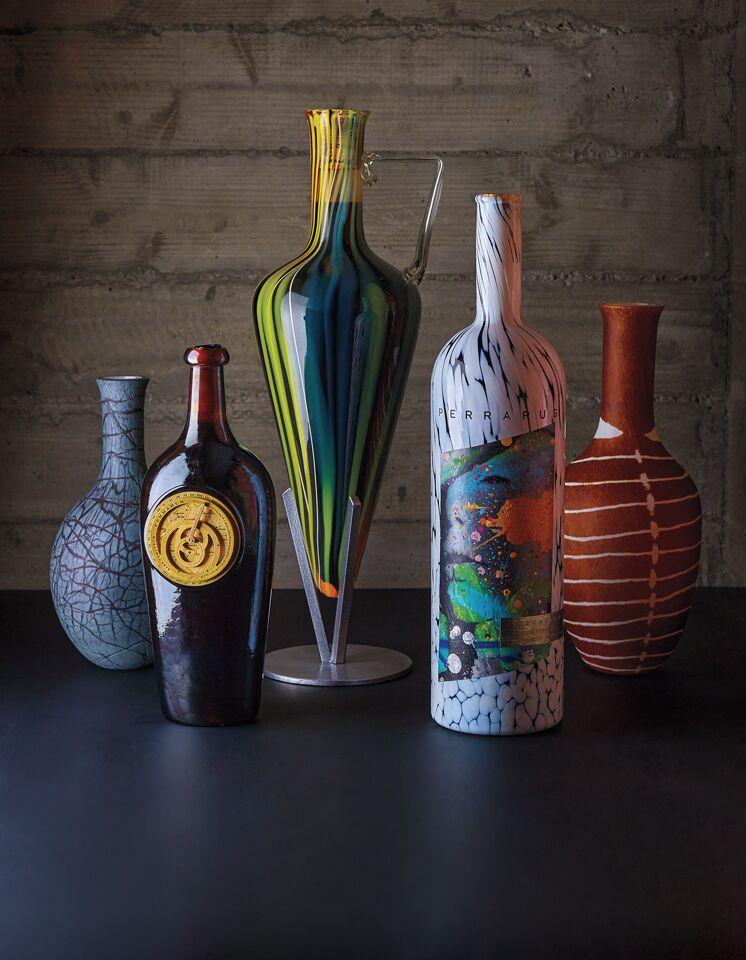 It depends on whom you ask, but many believe 
that wine is an art form, a stunning composition of texture and structure, of flavors, 
aromas, and color skillfully pieced together by a winemaker in their laboratory.
So while most vintners indeed have an 
advanced understanding of chemistry, many also possess a knack for creativity. Taking their artistry one step further, these three Napa and Sonoma vintners have infused creativity into their wine beyond what goes into the bottle.
FAIRCHILD WINES
Cult Napa Valley vintner Lawrence Fairchild, who grew up on a farm in Nebraska and says he was likely "the only 
university student reading GQ and buying entry-level Armani,"
has fostered a lifelong love for art, design, and architecture. His home in Napa Valley's Deer Park, which narrowly 
escaped the 2020 Glass Fire, feels like a small art gallery, and it's his personal collection of modern art that often inspires 
the design of Perrarus, an annual limited-release, non-​
vintage bottling of cabernet sauvignon sourced from five of Napa's most coveted vineyard plots, including Tench 
Vineyards in Oakville.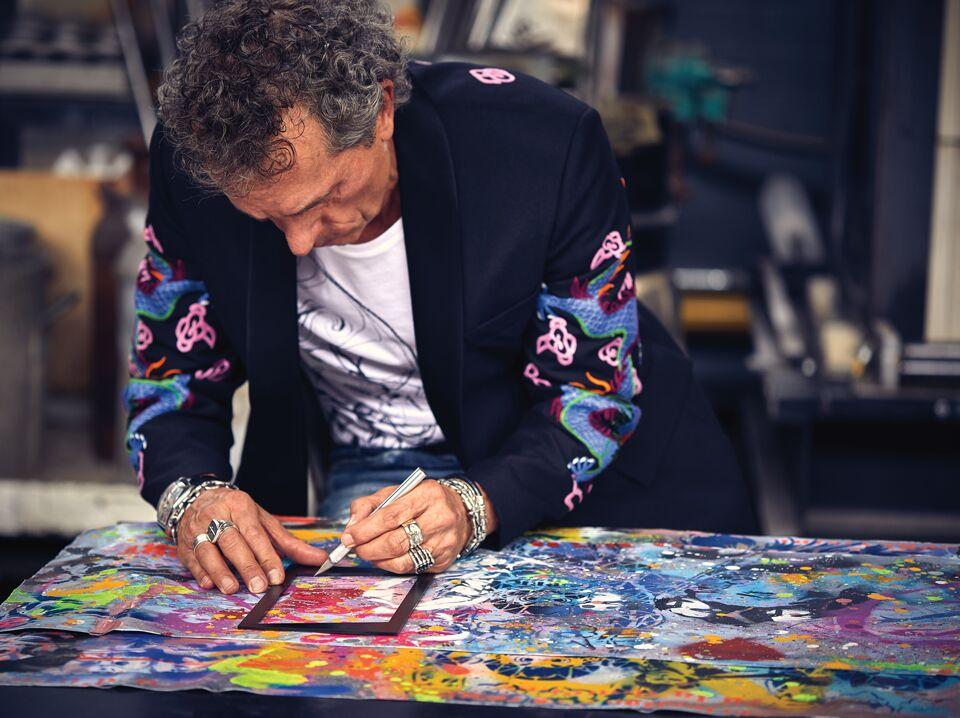 The Latin word for rare or exceptional, the name Perrarus 
encapsulates not just what's in the bottle, but the bottle itself. Each release of Perrarus is bottled in a literal work of art, often a totally unconventional vessel, which changes every year.
"With each of my wine collections, my goal is to create something that has never been done before and is collectible to create
the rarest bottle of wine in the world," says Fairchild, who 
sketches, conceptualizes, and designs the collections himself.
The latest release, Perrarus 3, was inspired by ancient Greek amphorae, used for transporting valuable liquids in the bottom 
of ships in 6000 BCE. Named "the Museum Series," Fairchild's 
modern interpretation is made up of colorful handblown glass 
amphorae that celebrate history's most beloved artists, with five 
renditions that capture the spirit of Van Gogh, Basquiat, Warhol, Pollock, and Picasso.
"I am a huge fan of their works," says Fairchild. "Each vessel is my interpretation of their style, reflected through the color palettes and design that I chose based on each artists' collective works, not a specific piece."
Perrarus 3 can be displayed on its side or propped up in a 
multicolored translucent box. A mere 350 bottles were made, distributed through a members-only lottery. Fairchild is already working hard on Perrarus 4, which he's calling "the Animal 
Series." houseofperrarus.com.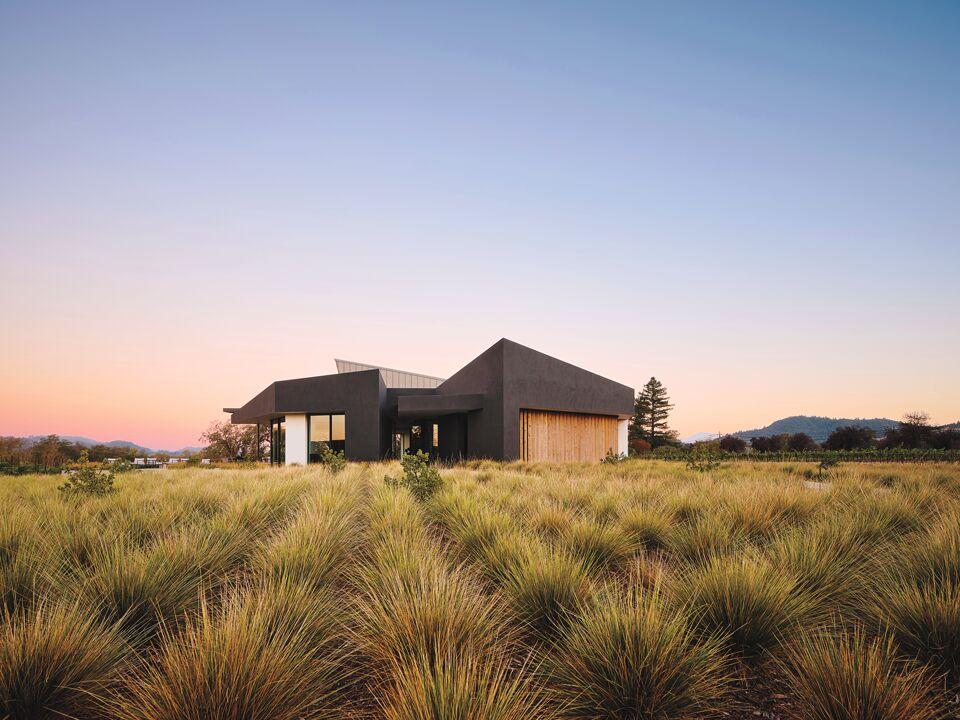 APERTURE CELLARS
As its name suggests, Healdsburg's Aperture Cellars, which opened its doors in the Russian River Valley in 2020, has strong ties to photography. Even the unique architecture of the building, designed by Signum Architecture, mirrors the hexagonal shape of a camera shutter, though you may need a drone to see the full effect.
The interior feels more like a gallery than a tasting room, as the white walls are covered in large-scale photographs captured across the globe by renowned photographer Andy Katz. He just so happens to be the father of Aperture Cellars vintner Jesse Katz, one of California's most of-the-moment winemakers, who isn't even 40 yet.
Andy Katz's work has graced album covers and 
coffee-table books and, now, wine labels. Aperture Cellars 
is a poetic union of two inspirational artists: father, with his art affixed to the outside of the bottle, and son, with his art inside it.
Each Aperture Cellars wine label features a photo selected
from Andy Katz's collection. Aperture's Soil Series, consisting of blends and single-origin wines crafted to express the unique soil types they're sourced from, has raw, close-up 
imagery of the individual elements of the winemaking process.
The 2019 Aperture Cabernet Sauvignon label zooms in on a cluster of bright blue cabernet grapes that look ready to be picked. The barrel-fermented chenin blanc dons a newly grown chenin blanc grape leaf with surprising purple coloring 
and dewy bubbles on its tips. A bright, almost opaque yellow bulb—a new sauvignon blanc grape—jumps out on the 
barrel-fermented sauvignon blanc, while the 2019 Aperture Bordeaux Red Blend depicts fiery oak barrels mid-toast.
The grape photos are especially avant-garde compared to standard Wine Country photography, but Andy Katz isn't one to do much editing in post-production. Capturing the fruit in such a mystical way is instead a delicate balance of light and timing. "This imagery is very directly related to the craft of winemaking but showcases those elements in a truly unique and interesting light," explains Jesse.
For the Site Series, a line of single-vineyard wines produced from premier Sonoma County vineyard sites, the label imagery
is less literal and more abstract, leaving room for interpretation beyond what's in the glass. "They're indicative of the 
vineyard sites and profiles of the wines themselves," Jesse says.
Scenes featured on the Site Series labels were captured all over the world, from the Katz's home in Sonoma County to the Tuscan coast. There's a tunnel of trees on the Oliver Ranch cabernet sauvignon and what appears to be a lone sprawling oak tree backed by mountains on the Del Rio Vineyard cabernet
sauvignon. "We were inspired by the way art influences wine," says Jesse, "and how both photography and wine have the ability to capture a moment and space in time and carry that 
moment into the future." aperture-cellars.com.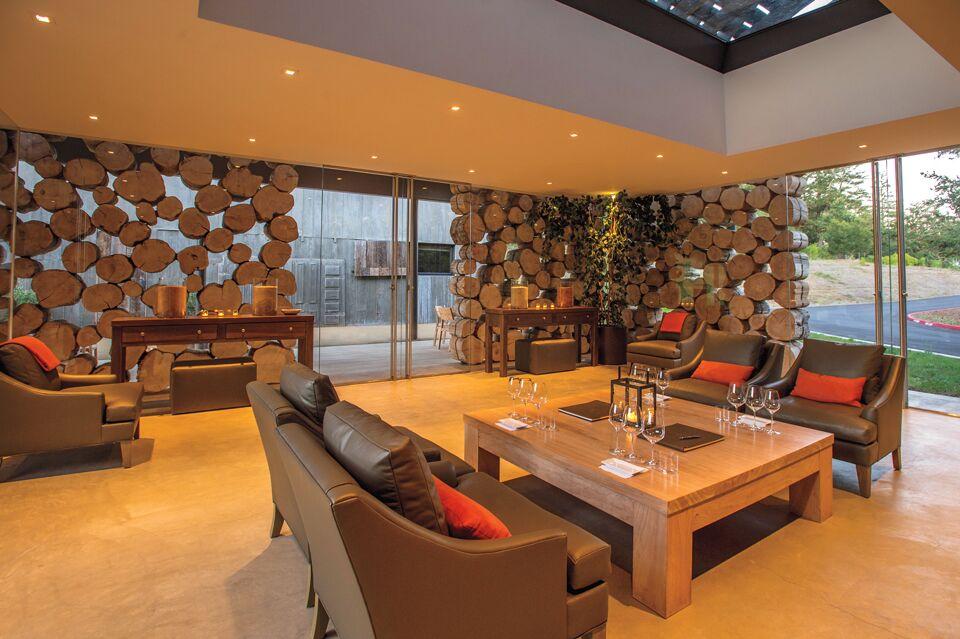 ADAMVS
If this land could talk. The rural 80-acre estate that belongs 
to Adamvs (pronounced "Adam-us"), set up on Napa Valley's 
Howell Mountain, had a history before grapes. Its first inhabitants were the Wappo people, commemorated today by an archaeological site on the property. In the 19th century, George Yount, the Napa Valley pioneer who the town of Yountville is named after, grew walnuts and plums here. Later, it was a dude ranch; vines weren't planted on the property until the 1970s, just as the wine industry was staging its big comeback after Prohibition.
When Bordeaux vintners Denise Adams and her husband, 
Stephen, purchased the estate in 2008, the preservation of the land was of the utmost importance. An oil landscape painter, Adams 
developed a fierce love for nature and gardening as a child, and her first order of business with Adamvs was to fully convert to 
organic and biodynamic farming.
"From the moment I set foot on this piece of land here on Howell Mountain, I could feel its significance. I felt a deep responsibility
to preserve, uplift, and steward this land into the future," 
says Adams.
It was only natural that Adams would find a way to incorporate the land into the tasting room. She hired San Francisco–based 
architect Kurt Melander, who Adamvs general manager Kit 
Gilbert says is "more of an artist than a draftsman." Melander spent three hours walking the estate for inspiration, returning with a cypress log in hand.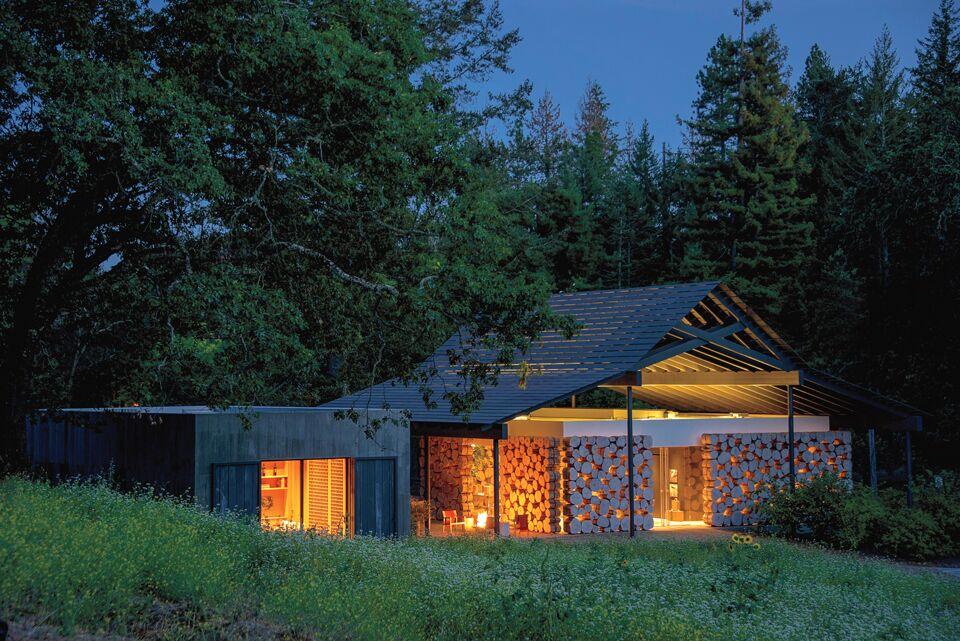 The property is laden with fallen cypress trees, and Melander's vision was to use the logs to create a series of freestanding sculptural walls around a glass-walled building, setting the logs just far enough apart to let in dappled sunlight.
To create this effect, all of the logs were cut into different widths and lengths and then laid out in an empty meadow. They sat there for a year, exposed to the elements, while Adams and Melander artfully arranged and rearranged them in order to achieve their ideal balance of positive and negative space. Above the structure is a floating roof, a replica of the one that topped the 1930s barn that once stood in its place.
The next project was preserving an old wooden shed next to the tasting room that was all but falling down. "There was nothing to save," says Gilbert. But Melander came up with another genius idea: they would remove the facade, press it into concrete, and then put it back together, essentially freezing time.
Look closely, and you can see the imprints of chipped paint and nails on the casting. Any parts of the building that they could 
ultimately save were repurposed into doors and window coverings, and inside, there's an intimate wine library and tasting room built out of fresh cypress.
"I believe deeply that the way in which we impact this land—whether it be through our farming, the native landscaping we 
install, or buildings we erect—must be approached with care," says Adams, "with attention to detail, artistry, and above all respect." adamvs.com.