New Releases
Brandt Rossi Family Vineyards, Dry Creek Valley
A fourth-generation Italian winemaker, Brandt Rossi carries on his family's tradition with his single-vineyard Sonoma Zinfandel blends. Try the recently released 66-case 2016 Dry Creek Valley Old Vine Zinfandel, Teldeschi Ranch—3 percent Petite Sirah adds to the richness. $36. brandtrossifamilyvineyards.com.
Ferrari-Carano Vineyards and Winery, Healdsburg
This long-standing Sonoma winery celebrates with the Ferrari-Carano Siena red blend 25th anniversary special release, a Sangiovese-based blend with hints of raspberries and cherries; it's made for everyday sipping. $21. ferrari-carano.com.
Gary Farrell Winery, Healdsburg
A Russian River Valley favorite, this winery recently released the 2015 Hallberg Vineyard Pinot Noir with lovely raspberry and pomegranate flavors, along with delicate aromas of violets and dried spices. It's a great food wine all around. $55. garyfarrellwinery.com.
Raen Winery, Sonoma Coast
Raen features Sonoma Coast wines crafted by Napa Valley natives Carlo and Dante Mondavi, who were mentored by their grandfather, Robert, and father, Tim. The 2016 Raen Vineyards Sonoma Coast Royal St. Robert Cuvée Pinot Noir is complex, full of red berries and exotic spices. It's succulent and sexy. $65. raenwinery.com.
Visit and Taste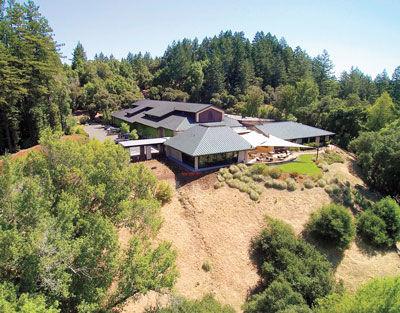 Burgess Cellars, Deer Park
The venerable winery has launched a new Mountainside Tasting, pairing panoramic vistas of Napa Valley with tastings of rare wines and current releases. The choices range from classic to Petite Sirah, along with other unexpected varietals. $60. 1108 Deer Park Rd., burgesscellars.com.
Clos Pegase, Calistoga
The Michael Graves architecture and cool caves are almost enough reasons to visit, but it's the 2015 Hommage Chardonnay—rich in deep apricots, bright acidity, and hints of vanilla—that seals the deal. $45. 1060 Dunaweal Ln., clospegase.com.
Goosecross, Yountville
Put the 2014 State Lane Cabernet Sauvignon on your must-try list for the spring, as it is brimming with wild berries, currants, and a hint of rose. Visit the recently renovated Yountville property for a sip, and stay to try its other wines. $70. 1119 State Ln., goosecross.com.
Stewart Cellars, Yountville
Stop at the northern end of Yountville for Stewart Cellars' gorgeous pink release—2017 Sonoma Mountain rosé—with mild hints of watermelon and strawberries. It's just right for drinking on a warm day perched on the cellars' patio. $28. 6752 Washington St., stewartcellars.com.
Von Strasser Wines, Calistoga
When the von Strasser Family of Wines relocated from Diamond Mountain to the more convenient Lava Vine space in Calistoga, it also purchased the brand, expanding its offerings significantly. The 2015 Apex Vineyard Pinot Noir from the Santa Lucia Highlands is one new release among many in its now-broad portfolio. $52. 965 Silverado Trail, vonstrasser.com.