New Releases
2015 Anaba Pinot Noir, Carneros​
The cool Carneros area is known for the breezes that blow over from San Pablo Bay. This wine hails from Las Brisas Vineyard, named for those breezes, on the Sonoma side of the appellation. Fog comes in the morning, then cool air in the afternoon—the ideal climate for pinot noir grapes. The wine shows nuanced flavors of red plum, black cherries, and a hint of orange peel. $48. anabawines.com.
Spottswoode 2015 Lyndenhurst Cabernet Sauvignon, St. Helena
A tribute to the original name of the Spottswoode property, this estate wine is a round blend of strawberries and blackberries with a velvety lush finish. Still family run, the winery prides itself on this luscious and fruity red, with hints of vanilla and spice from the oak barrel aging. Black cherries come through on the long and enjoyable finish. $85. spottswoode.com.
2016 Fort Ross Chardonnay, Fort Ross-Seaview​
This estate-grown white gets its character from the cool Fort Ross-Seaview AVA, set on the Sonoma Coast north of Jenner. With just the right amount of rain, 2016 was the perfect year to create the rich and sleek structure in this lip-smacking wine. Flavors of ripe yellow peaches and poached pears with a hint of lemon make this a truly quintessential food wine. $44. fortrossvineyard.com.
2016 Equality Vines Love Wins Rosé, Sonoma
Like all of Equality Vines' portfolio, a portion of the sales of Love Wins benefits a worthy cause—in this case, organizations in support of equality for all. A Guerneville tasting room for the brand recently opened on Main Street. Renowned Iron Horse Vineyards winemaker Joy Sterling handcrafts each vintage. This wine bursts with fresh watermelon and raspberries, with lovely acidity and ever-flowing bubbles. $35. equalityvines.com.
2015 Smith-Madrone Riesling, Spring Mountain District
Founded in 1971 by Stuart Smith, Smith-Madrone is one of the few entirely estate-vineyard mountain wineries in Napa's Spring Mountain District. The winery's grapes are dry-farmed, growing on the mountain's steep slopes at elevations between 1,300 and 2,000 feet. This white is refreshing yet round, with crisp citrus fruit, apricot, pear, minerality, and bright acidity. $32. smithmadrone.com.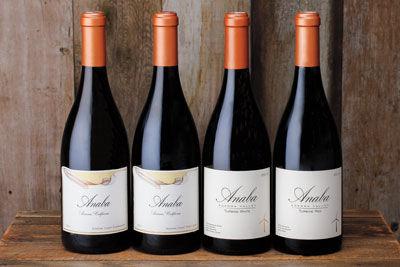 New Tasting Rooms for Spring
Domaine Carneros' Jardin d'Hiver, Napa
Domaine Carneros, an American outpost for the acclaimed French Champagne Taittinger, has opened its garden conservatory, Jardin d'Hiver. Inside the Art Nouveau–style addition, enjoy a tasting of their luxury wine Le Rêve Blanc de Blancs (celebrating 20 years since its release) along with a five-bite Asian food-pairing experience. Soon to be released: a special bottling of Jardin Cuvée in honor of the Jardin d'Hiver addition. Tastings start at $30. domainecarneros.com.
Jayson by Pahlmeyer, Napa
The Village at Vista Collina Resort is now home to Pahlmeyer Wines' new Jayson by Pahlmeyer tasting room. The brand, run by the founder's daughter, Cleo Pahlmeyer, has more than 100 acres of estate vineyards across Napa Valley and the Sonoma Coast. Try both the Jayson Sauvignon Blanc and Cabernet at the tasting room, one of nine at the resort. (The Pahlmeyer label is not poured here, just the Jayson brand.) $35. pahlmeyer.com.
ZD Wines, Napa
Celebrating its 50th anniversary, ZD Wines has launched its newly renovated Vineyard View Tasting Room and Deck, which is excellent for enjoying the recently released 2016 Founder's Reserve Pinot Noir, Carneros. $82. zdwines.com.