Boisset Collection's La Captive Cider, Sebastopol
The wealth of apples along Gravenstein Highway was begging to be transformed into a hard cider, and Brian Maloney and Jean-Charles Boisset of the Boisset Collection were up to the task. Made from pressed Arkansas Black and Pippin apples, the libation rings in at a low 6.5 percent alcohol, so you can sip away at the tangy, fruity beverage. $20. boissetcollection.com.
B.R. Cohn Winery's 2016 Olive Hill Estate Vineyards Cabernet Sauvignon, Sonoma Valley
B.R. Cohn's 70-acre sustainably farmed estate is nestled between the Mayacamas Mountains and Sonoma Mountain in Glen Ellen. Aged for close to two years, this Cabernet Sauvignon offers a bouquet of dark fruit with a hint of espresso. A long finish with cedar and cloves makes it great to pair with a steak grilled on the barbecue. $60. brcohn.com.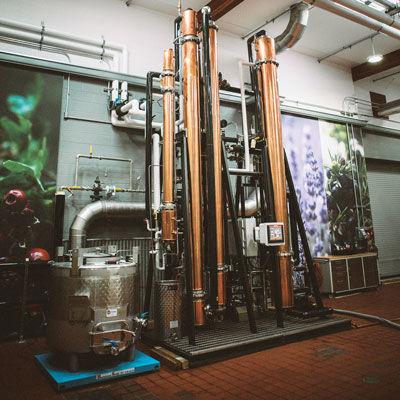 Graton Distilling Co.'s D. George Benham's Sonoma Dry Gin, Graton​
Distilled from juniper berries and coriander, this extremely fresh gin also adds hints of citrus and botanicals. Graton Distilling Co. uses an innovative continuous micro-column still to get the flavors and temperatures just right for its range of spirits, from gin, to vodka, to whiskey. $40. gratondistilling.com.
J. McClelland Cellars's 2014 50 Harvests Meritage, Napa
While this winery's namesake passed away in late 2018, the Scotto family and acclaimed Napa winemaker Mitch Cosentino are staying true to the vision, style, and traditions he helped them forge. To celebrate the family's 50th California harvest, they recently released this strong Meritage blend, which is predominantly Cabernet, with a splash of Petit Verdot. $60. jmcclellandcellars.com.
Loch and Union Distilling's American Dry Gin, American Canyon
This distillery is truly a product of Wine Country; after all, its whiskeys are distilled in premium wine barrels. The attention to detail doesn't stop there: The Loch and Union team ordered three custom-made CARL stills from Germany for its distillations. Aside from the American Dry Gin—which has won multiple awards across the country—the unique Barley Gin is also worth a try, as it uses malted barley in the mash, an ingredient generally seen in whiskey. $40. lochandunion.com.
Napa Native
The tour company now offers a six-hour jaunt around Napa-area boutique breweries, complete with a beer-paired lunch. The cost works out to just under $42 per hour—a smoking deal for an unforgettable experience! $250. napanative.com/brewtour.
Retro Cellars's 2015 Peloursin Howell Mountain, Howell Mountain
Mike and Kara Dunn make magic with site-specific Petite Sirahs, notable for their complexity and elegance. Retro Cellars—which refers to old world–style wines—is also a nod to patience, as the Dunns allow the time necessary to express the true terroir behind each bottle. Retro's Peloursin is rich, deep, and dark, with alluring black fruit flavors. $40. retrocellars.com.