Shivering in the frigid temperatures typical of Chicago winters, Barney Aldridge and his parents knew there had to be something better, somewhere. So in 1976, with the California sunshine calling, the Aldridges packed into the family car, drove west to Wine Country, and reinvented themselves in a Fulton vineyard.
Fast-forward to 2013, when Aldridge, now a successful developer living in Marin, has planted the seeds for The Barlow, a multi-faceted retail, food, and drink destination blossoming in Sebastopol.
Visitors will discover a bustling artisanal community of organic coffee and yerba maté vendors, a bronze foundry and glass-blowing artist, vintage and contemporary clothing boutiques, wine-tasting rooms, and fine-dining restaurants—all sharing one address.
Just shy of 13 acres and spread across 17 buildings, The Barlow occupies the site of the former Barlow Apple Cannery and retains part of the original moniker in honor of Sebastopol's heritage.
The design is sophisticated meets sustainable: corrugated metal buildings with high ceilings, spacious interiors, and large roll-up glass windows. "We call the architecture 'farm industrial,'" Aldridge says.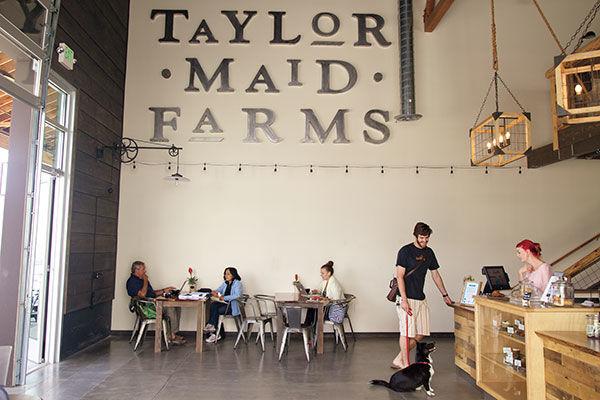 The Barlow is deliberately local, with Sonoma businesses sewing their wild oats in a fresh, communal place. Massive windows and ease of public access are integral to the interactive experience at The Barlow. "This allows people to see how things are made and buy directly from the artisans."
But the project almost didn't happen. Aldridge, who has developed residential, retail, and office space in California and Colorado, originally planned the site for 300 condominiums. Because of opposition from the community, Aldridge reimagined his plan.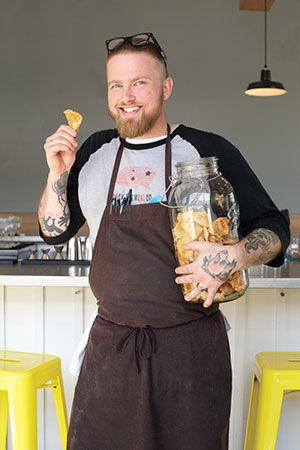 Now, realizing he made the right decision, he is inspired by how the project has progressed. The Barlow forms a commercial and cultural ecosystem, where, Aldridge says, "People appreciate engaging with others who are equally passionate about what they are purveying. It's a pretty tight community, and it's growing, continually unfolding, like a flower."
Many of The Barlow's 30-plus vendors have opened their doors, with others expected to arrive by the end of the year. Coming attractions include clothing boutiques, and myriad wine-tasting rooms by the likes of Marimar Estate Vineyards and Winery, MacPhail Family Wines, La Follette Wines, and Wind Gap Wines. Small-batch gin and whiskey makers Spirit Works Distillery will pour spirits, while beer lovers swill brews at Woodfour Brewing Co. and Warped Brewing Co. Also on the horizon are a farmers market, a vintage and specialty bookshop, garden delights from Lynn's Lavender, and Sub Zero Ice Cream and Yogurt.
With all it has to choose from, The Barlow may be the ideal destination to enjoy the changing weather this fall.  
200 Morris St., Sebastopol, (707) 824-5600, thebarlow.net.
---
What's Open
While the roster of occupants grows, here are some of the doors that have opened for business:
Food and Drink
➝ Sip and swirl Kosta Browne's sold-out cult favorite Pinot Noir founded by Sonoma winemakers Dan Kosta, Michael Browne, and Chris Costello, at its new state-of-the-art winery.
➝ For 20 years, the puckishly named Taylor Maid Farms has been a purveyor of rich, flavorfully roasted organic coffees, and now brews espresso beverages, conducts barista-training classes, and leads roasting tours for a happily caffeinated crowd.
➝ What would a savory stew or winter soup be without a bay leaf or two? Gypsy Bay Laurel has sold what it describes as wild and locally sourced bay leaves to Bay Area organic food markets since the late '90s.
➝ Find fair trade, energizing drinks that have "the strength of coffee, the health benefits of tea, and the euphoria of chocolate" at Guayaki Yerba Mate, serving up maté lattes and energy bars, among other delectable items.
➝ Village Bakery is the breadwinner, with its signature baked goods made fresh daily and sandwiches served on rustic breads. Danish pastries, pies, cookies, cakes, and fruit tarts cure any sweet tooth.
➝ Zazu Kitchen + Farm has been wowing eaters for more than a decade at its original Guerneville Road location. At its new address, fans can still savor some of the world's best salumi and bacon from Zazu's Black Pig Meat Co.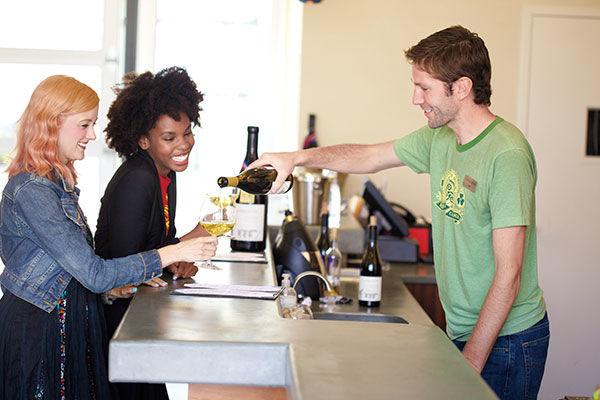 Art Shops and Studios
➝ For almost 25 years, the Bronze Plus Art Foundry has cast bronze pieces for artists, and its new workshop allows the public to fasten their eyes on the process.
➝ Spiral Fusion Glass Art and Design by DebraLea Comstock features the artist's kiln-fired glass bowls and water fountains, and also sells items such as windows, doors, room dividers, and lighting fixtures.