Winemaking and pro sports might not be the most obvious pairing, but closer inspection reveals many shared characteristics. Producing a complex vintage that withstands the test of time demands many of the same traits required to train one's body to perform at its peak potential for years: patience, perseverance, adaptability, and a focus on the big picture. Indeed, athletes and winemakers seem to be cut from the same burgundy-stained cloth. Unsurprisingly, Napa and Sonoma have been at the fruitful epicenter of this boom of athletic interest in viticulture. Some athletes-turned-vintners have chosen to partner with established vineyards to produce an eponymous line. Meanwhile, others go so far as to purchase and operate their own vineyards. Read on to meet some of the athletes who are transforming Wine Country into their new field of play.
Danica Patrick
As the only woman to win an IndyCar Series race, Danica Patrick has a history of single-mindedly pursuing her dreams. But for years, her dream of acquiring a vineyard of her own in Napa Valley remained just that. So when she finally opened her own label in 2016, it seemed appropriate to name it Somnium, or "dream" in Latin.
While Patrick's appreciation for wine dates back to her teenage years in England, her interest in creating her own label is rooted in a fateful trip she took to Napa Valley in 2006. "At our first stop, the fog that sits in the valley was just starting to burn off," Patrick says. "Sitting there as the fog cleared and we enjoyed amazing wines and a spectacular view, I fell in love."
When it came to choosing the land for her vineyard, Patrick's criteria were inspired by that experience: top-notch soil with a view. For some, that might sound like a tall order, but Somnium's 24 acres on Howell Mountain fit her specifications perfectly, with expansive vistas and volcanic soil that lends unique flavors to the wines crafted by Patrick and consulting winemaker Aaron Pott.
Thus far, Patrick's focus has been on Cabernet Sauvignon (the 2014 and 2015 vintages earned 91 and 90 points, respectively, from Wine Spectator), but the 2017 rosé and some new cabernet franc vines promise more to come. "I love wine that flows smoothly, that is bold and feminine and feels like silk in your mouth," Patrick says. "I'm not trying to make the biggest wine in Napa Valley; [for me], it's about beautiful balance and elegance."
Ultimately, the transition from racing to winemaking has been a natural one for Patrick. "I enjoy the art of wine, which is actually what I enjoyed so much about racing," she says. "I didn't necessarily care about driving the car; it was the art of it: setting a goal and achieving it, the feel of the car, the rhythm of the lap, nailing it. It's just getting it all right." somniumwine.com.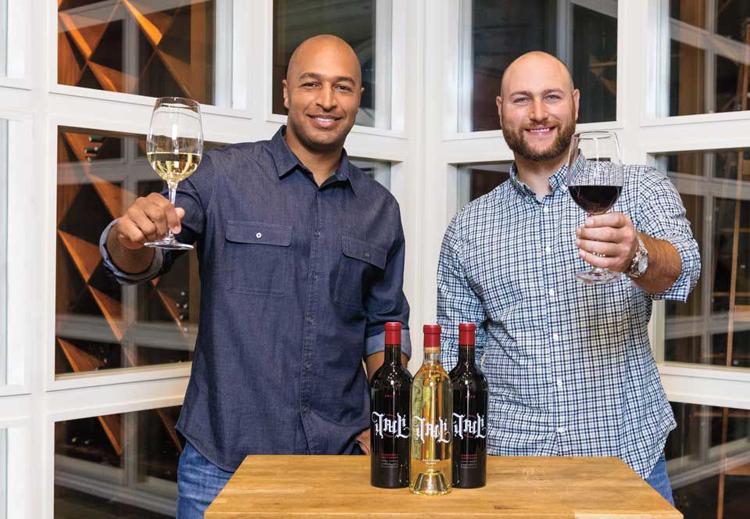 Chris Iannetta and Vernon Wells
Some of Chris Iannetta's earliest memories are of going to the farmers market with his grandfather and lugging home bags of grapes. The fruit was then crushed into wine to be served at family dinners, where English often succumbed to Italian and spirits were plentiful. "It all happened over bottles of wine," says the Colorado Rockies catcher.
Wine was also the medium Iannetta and former teammate Vernon Wells used to connect, talking about baseball, business, and family over a glass of wine. One of those conversations led to the two friends' decision to make a label together.
"The life of a baseball player involves a lot of traveling and going to restaurants, and you get a bottle of wine," says Wells, who retired in 2013. "You begin to understand what you like, what you don't like, the complexity. One night just sitting around after a bottle or two is when the conversation started."
Said conversation took place in 2012; later that year, the men released their first bottle under the name Jack, an acronym based off the initials of each of their two children: Jayce, Ashlyn, Christian, and Kylie. Wine Advocate gave Jack's 2013 vintage 94 points, with the magazine's Robert Parker saying: "I don't know this producer, but certainly they have delivered a stunning bottle of Napa Cabernet Sauvignon."
While Wells has immersed himself in his family life and Jack's Atlas Peak winery, Iannetta is still busy playing up to 162 games a year. "This is a passion project, deeply rooted in our love for family, for wine, and for competition," Iannetta says. "In baseball, we express passion for our teammates and the game day in and day out. When I finally hang up the cleats, I'm going to pour myself into the wine space, and we're going to make ourselves a household name in Napa." jackwinery.com.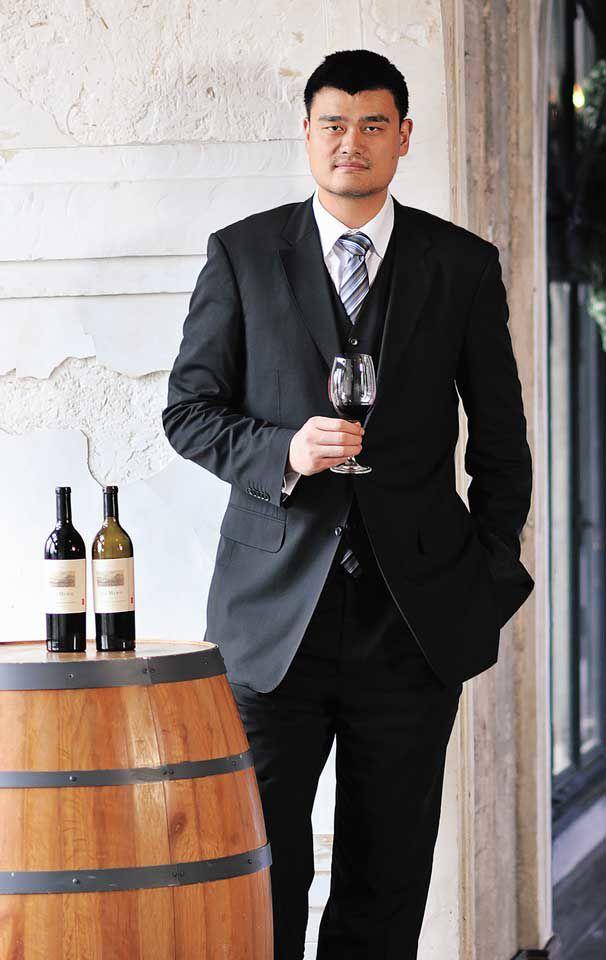 Yao Ming
During his almost decadelong span playing center for the Houston Rockets, Yao Ming was known as a competitive and well-rounded player. He would hit the fadeaway jumpers and sink the foul shots.
His wines embody a similar balance. "His personality is definitely apparent in our wines," says Tom Hinde, the winemaker behind Yao Family Wines.
While Ming's father drank wine when he was growing up, he was introduced to vino culture the way many professional athletes are: the steakhouse. Teammate Dikembe Mutombo taught Ming the nuances of pairing wine and food. Yet unlike many athletes-turned-wine aficionados, Ming hasn't concentrated solely on the bold, steakhouse reds. As Hinde describes, Ming's wines are not overly angular or high in alcohol; they are supple, with firm acidity but not too tight. "Our style is very refined and site-specific," Hinde says.
Yao Family Wines is situated in Napa Valley's climatic core, where, like Ming, the conditions remain fairly temperate. "We're not trying to make wines over the top; we're trying to be true to our core foundation," says Hinde.
Ming was 21 when he moved to the states to play basketball, and his parents came with him. He lived at home until he got married. Despite immense success, the eight-time All-Star has remained deeply rooted in family, hence the name.
"I am aware of all the arguments that major celebrities lending their names to wines is generally a formula for mediocrity, but that is not the case with Yao Ming," Wine Advocate's Robert Parker wrote after awarding the 2010 Family Reserve Cabernet Sauvignon 95 points. He later rated a 2012 Reserve 96 points. "These are high-class wines … actually brilliant." yaofamilywines.com.
All-Star Roster
Meet six more powerhouses who bring their A-game to winemaking.
---
Adobe Road Winery
Professional racecar driver and owner of The Racers Group Kevin Buckler cites preparation and attention to detail as two key ingredients in both racing and winemaking. Adobe Road's small-lot wines are handcrafted with the help of state-of-the-art equipment and have earned rave reviews from both Wine Advocate and Wine Spectator. adoberoadwines.com.
Andretti Winery
Another of America's most successful racecar drivers, Mario Andretti again proves racing pairs excellently with wine at the award-winning Andretti Winery. The Oak Knoll location has been transformed into a little piece of Italy, with Tuscan-style buildings and varietals like Barbera and Dolcetto. andrettiwinery.com.
Charles Woodson Wines
After winning the Super Bowl with the Green Bay Packers, former cornerback Charles Woodson knows something about excellence. Just like on the football field, he dedicatedly pursues perfection with Charles Woodson Wines, partnering with some of the best in the business to craft wines for his dedicated following. charleswoodsonwines.com.
Lewis Cellars
After 23 years as a professional racer, Randy Lewis is glad to be still doing something he loves, working with his wife, Debbie, and friend Dennis Bell at Lewis Cellars in Napa to craft world-class wines. The Cabernet Sauvignon Napa Valley was named the No. 1 wine of 2016 by Wine Spectator. lewiscellars.com.
Mirror Napa Valley
Celebrating its 10th anniversary in 2018, Mirror Napa Valley is under the steadfast leadership of former Seattle Seahawks quarterback Rick Mirer. "It's just an extension of the competitive stuff we have done forever, without slamming our bodies against something," Mirer told Sports Illustrated, speaking of his new venture. mirrorwine.com.
Seaver Vineyards
Hall of Fame pitcher Tom Seaver had long planned to retire to California after stepping off the mound. He realized that goal with Seaver Vineyards, which has been making limited production Cabernet Sauvignon since 2005. The former pitcher personally tends to the vines on his 116 acres on Diamond Mountain vineyard—with a little help, of course. seavervineyards.com.